In the past five years or so, photography has swiftly and resoundingly shifted from a niche pursuit - practiced by a handful of professionals and dedicated aficionados only - into an increasingly mainstream context where pretty much anyone and everyone with a cell phone and a social media presence considers themselves a photographer.
In South Africa - an unfailingly photogenic country - a handful of savvy local photographers and tourism operators have capitalized on this global trend and begun offering specialized photographic tours, activities and safaris for snap happy amateurs and pros alike, helping them to capture this beautiful country in all its glory.
Here's my pick of five of the best photographic experiences on offer in South Africa:
On the edge of the Kalahari Desert, Madikwe Game Reserve is one of South Africa's biggest and best game reserves - a lesser-known gem that is teeming with big game, set against striking bushveld backdrops. Madikwe has become particularly feted for its population of critically-endangered African wild dogs and spectacular leopard sightings, but all of the other usual safari suspects (including buffalo, cheetah, elephant, rhino, lion) are also found here.
Pangolin Photo Safaris have recently started offering photographic safaris in Madikwe in conjunction with Jaci's Lodges. All off Jaci's Lodges' safari vehicles have been fitted with custom-made camera mounts, while the guides have been trained to consider the specific needs of photographers, such as how to position the car to get the best light.
Pangolin have also recently unveiled a game-changing photographic hide, aptly-named the Terrapin Hide, which is accessed via an underwater tunnel and pops its head up just above water level in the middle of a deep waterhole. The hide affords a unique 360 degree perspective of the various animals that come to drink at the water's edge, and this particular waterhole is also a favorite for elephants to swim in, a special sight either with or without a camera.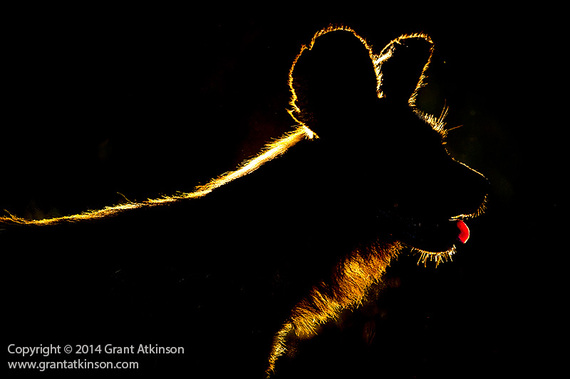 Zimanga is the first game reserve in South Africa to be designed specifically with the interests of wildlife photographers in mind. This pristine and exclusive photographic reserve has three state of the art and luxuriously-furnished photographic hides that were conceptualized by the award-winning wildlife photographer and hide expert Bence Mate.
There are currently two "bird bath" or "reflection" hides, and the "Zimanga Lagoon Hide" available at Zimanga, each of which offers a different unique perspective and is designed with specific wildlife subjects in mind. In the coming months there are plans in place to open an overnight hide - equipped with a coffee station, toilet facilities and even beds - and a vulture hide.
Zimanga is a favorite hotspot for birders to nerd out with their bazooka-sized lenses - there are over 400 bird species recorded here. But the reserve also has healthy populations of wild dog, leopard, cheetah, elephant, crocs and many other iconic African animals.
If you've had enough of the wildlife or your photographic interests are of the more urban variety, Cape Town has an almost unparalleled wealth of photographic subjects, whether you want to focus on the city's architecture - characterized by an eclectic mixture of pretty colonial stalwarts and cutting edge modern design - or on its equally vibrant and generally photo-friendly people.
Beyond the city itself, the sprawling and bustling townships of the Cape Flats show a very different but equally interesting side of Cape Town, and the contrast between the colourful but often ramshackle corrugated iron shacks and the natural beauty and symmetry of Table Mountain is particularly poignant.
Cape Town Photo Tours have various options that help you to get beneath the surface of Cape Town's rich cultural fabric and they provide versatile, user-friendly and discreet mirrorless Samsung cameras for you to play around with, whether you're documenting the making of a traditional Cape Malay feast in the historic Muslim quarter of Bo-Kaap, or trying to capture pigeons taking a crap on a bronze colonialist's head in the beautiful Company's Garden.
If you're looking for pulsating township life and culture steeped in South Africa's fascinating and complex history, then Soweto - sometimes referred to as "the heartbeat of the nation" - should be top of your list. The name alone may well call to mind vivid images of jazz clubs and music, protest and struggle, urban creativity, innovation and fashion.
Soweto played a central role in the history of South Africa's liberation movement. It was the sight of the feted and fatal 1976 Soweto student uprisings and also the former home of leading political lights such as Archbishop Desmond Tutu and the late Nelson Mandela, not to mention numerous celebrated musicians, writers and artists.
Veteran photojournalist Ilan Ossendryver has spent decades documenting life in Soweto and other nearby townships, both during the fraught years towards the end of apartheid and through the 21 years of fledgling democracy that have followed apartheid's demise. On his photographic Soweto tours, you can choose a particular photographic theme that you would like Ilan to help you focus on, and he'll also give you some insights into his experiences photographing the township during apartheid.

Springtime in Namaqualand
For most of the year, the region of Namaqualand is best-described as bare and arid semi-desert, without much to offer visitors. But for a small window of six weeks or so at the beginning of spring, Namaqualand suddenly bursts into life as thousands upon thousands of brightly-colored wild flowers cover the plains, fields and hills like a vast and beautiful mosaic.
David Rogers is a renowned photographer with a passion for floral and landscape images and he offers tours that will take you from Cape Town up South Africa's wild west coast and into the heart of Namaqualand, whilst sharing his practical and theoretical knowledge.
Aside from the wonderful displays of flora set against the backdrop of rugged mountains or the Atlantic Ocean, there are a number of charming (or sometimes just plain strange) provincial towns to capture along the route, with equally charming and/or strange inhabitants, and plenty of history - both natural and human.
Popular in the Community