Aloha! Hawaii's popularity as a tourist destination makes it one of the more challenging airline awards to find and book. To make your pathway to paradise as simple as possible, let's look at 5 ways to get there using reward miles & points.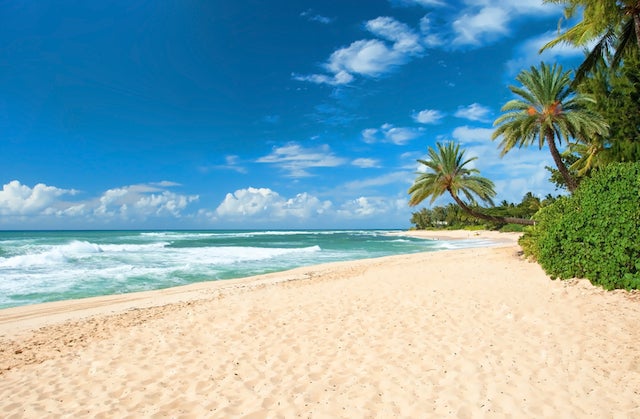 Rule #1: Look For Partner Flights
The first rule for finding an affordable award flight is to search for partner flights through the major carriers. In some instances, you can use your United, American, or Delta miles for flights with alliance partners for fewer miles. In other instances, you can redeem an affordable flight on one of "the Big Three" by redeeming your miles through one of the alliance members like Korean Air.
Since you may rarely fly these partner airlines, you might think it's impossible to accumulate enough miles to book an award seat. That's far from the truth.
Korean Air SkyPass on Delta
In addition to being a Chase travel partner, Korean Air also happens to be a SkyTeam partner. That means you can book award flights on Delta with your Chase Sapphire card. A round-trip flight will either cost 25,000 miles (economy) or 45,000 miles (first class) on Delta through the Korean Air SkyPass program. That's a great deal.
You can also use Korean Air to book a partner flight through Alaska Airlines or Hawaiian Airlines too for 30,000 miles (coach) and 60,000 miles (first class) round-trip.
Of course, you can fly Delta with Delta SkyMiles too, but Delta doesn't have a published award chart and their award ticket prices are constantly fluctuating in value based on the cash value price of the ticket.
British Airways Avios
The British Airways Avios program also has some valuable travel partners. Namely, you can redeem your Avios for partner flights with Alaska Airlines and American Airlines. By flying from the U.S. west coast, you can fly on either airline for 25,000 Avios roundtrip plus $5 round-trip for an economy class ticket.
Flying Blue
Flying Blue will let you fly 30,000 miles roundtrip for an economy seat on Delta and Alaska Airlines. Booking a partner flight through Flying Blue is more expensive than going through Korean Air or British Airways, but, it's still cheaper than booking directly through Delta or Alaska for the exact same seat.
You might also prefer booking through Flying Blue because they are a transfer partner for Chase and American Express, just like Korean Air Skypass so you can pool your points from both credit card programs if you desire.
Singapore KrisFlyer
If you enjoy flying first class, you need to give Singapore Airlines a try the next time you make a trans-Pacific flight. They are also an excellent way to fly United Airlines to Hawaii. Roundtrip award flights will range between 35,000 miles (economy) to 60,000 miles (first class) to fly United from the continental U.S. to Hawaii as a KrisFlyer partner flight.
Southwest Airlines
You will need to keep your eyes peeled on this route. Southwest recently announced they will begin flying to Hawaii in 2018. They are currently in the process of upgrading their airline fleet and finalizing the details of which airports on the U.S. west coast will serve Hawaii. Until more details are announced, we don't have any accurate figures on ticket prices or mileage redemption requirements.
What we do know is that flying Southwest to Hawaii might be your cheapest option if you need to buy a second ticket. This is because the Southwest Companion Pass lets your travel companion to virtually fly for free for up to two years as you only have to pay the taxes and fees. Conceivably, you can buy an award ticket for only $10 (typical taxes and fees for a domestic round-trip) when you buy your own ticket.
Another reason to fly Southwest is that your bags fly free. Since you might not own a co-branded airline rewards card with the other airlines, you never have to worry about checked bags fees with Southwest. They are one of the most popular discount airlines for a reason and opening the market to Hawaii has just made them even more valuable.
The Quickest Way To Earn Reward Miles
So how do you earn rewards miles for these carriers that you might never fly on? Simple. You own a flexible travel rewards card like one of these mentioned below.
Your best option to book award flights to Hawaii is to use the Chase Sapphire Preferred or Chase Sapphire Reserve. Both cards earn bonus points on every travel and dining purchase and they let you transfer your credit card rewards points to seven of the largest airline loyalty programs including British Airways Avios, Flying Blue Air France KLM, United MileagePlus, and Southwest Airlines on a 1:1 basis through its Ultimate Rewards program.
You will earn the following purchase rewards for each purchase:
Sapphire Preferred: 2 points for travel and dining/ 1 point for all remaining purchases
Sapphire Reserve: 3 points for travel and dining/ 1 point for all remaining purchases
As a new cardholder, you also have the opportunity to earn 50,000 bonus miles that can be transferred to any of the Ultimate Rewards travel partners to book your flight to Hawaii on all of the routes listed above.
Also, the $95 annual fee for the Sapphire Preferred is waived for the first year.
Premier Rewards Gold from American Express
The Amex Premier Rewards Gold is a great option for air travelers that want a rewards card that earns bonus miles on every purchase and also has an annual $100 air travel credit. The reasonable annual fee of $195 ($95 after the air credit) is competitive with the Chase Sapphire Preferred and is a reasonable way to gain access to the many 1:1 American Express Membership Rewards air travel partners.
You can use your Amex PRG to transfer points to Korean Air, Flying Blue, British Airways, and Singapore Airlines on a 1:1 basis. You might also be able to find a good deal through Hawaiian Airlines which is a regional discount airline favored by Hawaiians.
Platinum Card from American Express
If you enjoy high-end air travel, the Amex Platinum is a great option as well. Not only do you receive 5 points for airline and hotel stays, but you will also receive the additional air travel benefits:
$200 annual air travel credit
$200 in Uber credit each year
Complimentary airport lounge access to four different networks
Global Entry/TSA Precheck Application Fee Reimbursed
The annual fee is $550 and the above air travel benefits can easily out value the fee as the Amex Platinum has the highest purchase reward rate for air travel purchases. The additional non-air travel benefits including free Boingo wi-fi elevated Starwood Preferred Guest and Hilton Honors status can also be beneficial.
The Amex Platinum has the same Membership Rewards travel partners as the Amex Premier Rewards Gold. You will be able to transfer your miles to all of the routes mentioned above with the exception of Southwest Airlines.
Summary on Award Flights to Hawaii
While many planes will take you to Hawaii, some seats cost more than others. By taking a few extra minutes to transfer your miles to an air travel partner you can easily double the value of each point and pay less for the exact same seat as if you booked directly through Delta, United, American, or Alaska. I think we can all agree that you can say Aloha! to these good deals.
Related
Popular in the Community