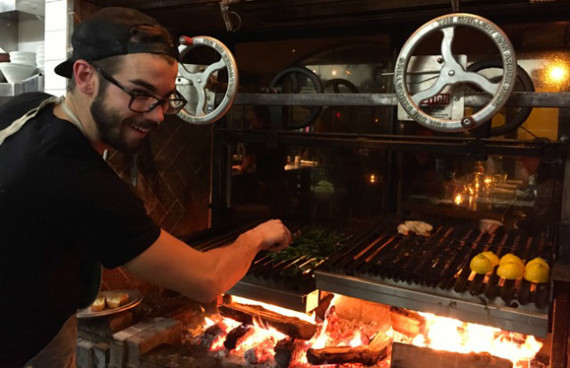 I write these words on a flight from Los Angeles to Miami. Which brings me to my first trend, for California often sets the agenda for grilling and American gastronomy in general.
Wood-burning grills invade high-end restaurants: It used to be that grill restaurants were destinations in their own right. Now highfalutin Spanish, Italian, and even French restaurants are installing wood-burning grills to cook dishes that once were sautéed or baked in the oven. The new Cadet in Santa Monica grills lemons to accompany ember-roasted cod and heritage pork chops. King + Duke in Atlanta and Miller's Guild in Seattle built their menus--and kitchens--around high-end wood-burning grills from Grillworks. Yes, that's the same wood-burning grill we use at Barbecue University™.
Beef ribs are the new spareribs: Maybe it was the monster beef ribs at the new Pecan Lodge in Dallas, Texas. Or the equally imposing smoked, grill-sizzled beef ribs at Butcher & The Boar in Minneapolis, Minnesota. Or the "brontosaurus" ribs at Mighty Quinn's in New York City. Or coal-black beef ribs at La Barbecue in Austin, Texas--so humongous, you need both hands to raise them to your lips. The beef plate rib (each weighs in excess of 1 pound) has become the it barbecue at smoke palaces across the U.S. Think the meatiness of brisket and gnaw-ability of spare ribs, and don't think of firing up your smoker at home without trying it. Everything you need to know about beef ribs here.
Side dishes move center stage: Remember when sides at barbecue joints were afterthoughts? Wonderbread straight from the plastic bag? Canned three bean salads? The same connoisseurship that has improved the wholesomeness of our barbecued meats demands worthy side dishes. Tom Micklethwait at the awesome Micklethwait Craft Meats in Austin, Texas, bakes his own bread for his sandwiches. Rob Magee at Q39 in Kansas City, Missouri, upscales traditional baked beans with his white bean cassoulet. Mighty Quinn's Barbeque in Manhattan serves a bean salad made with snap peas and edamame.
'Que goes green: Used to be that no one questioned the provenance of the brisket or pork butt. At the New Wave barbecue joints, where the meat comes from matters as much as how it was smoked. The new Barrel & Ashes in Los Angeles (Studio City, to be precise) serves Mary's free-range chicken. Hometown Bar-B-Que in Brooklyn smokes Cheshire pork from Heritage Farms. More and more of us--even diehard barbecue buffs--are embracing the Michael Pollan ethic: We want to eat meat from animals raised humanely--preferably by local farmers--and without growth hormones and antibiotics. At my house, we pretty much grill only grass-fed beef, organic chicken, and local shrimp with heads intact. And we don't smoke or grill salmon until we can get it wild from the West Coast.
Tailgating comes home: It was bound to happen. As Americans started to grill weeknights, not just on special occasions (Raichlen's prediction for 2013), as we came to own multiple grills and smokers (Raichlen's prediction for 2014), our backyards became outdoor kitchens and dining rooms (make that full-on entertainment centers). The experts call it "home-gating"--the same friendly competitive spirit, the same elaborate meals as tailgating--but with the convenience (and better tableware) of entertaining at home.
SIGN UP for Steven Raichlen's UP IN SMOKE newsletter to learn more about barbecue!
Steven Raichlen is the author of the Barbecue! Bible cookbook series and the host of Primal Grill on PBS. His web site is BarbecueBible.com.