Ever since our trip to Bora Bora we have been dreaming about visiting other water villas or water bungalows as they are called in the South Pacific. Waking up to the sounds of water lapping gently on the stilts, enjoying a morning coffee or mimosa watching the tropical fishes, spending lazy days on the sandy beaches and waiting for epic sunsets from the solitude of the private water bungalow balcony ... spending a few days on the water villas strung like pearl necklaces onto dreamy atolls, seemingly afloat on the turquoise ocean it truly is paradise whether you are on a honeymoon, babymoon or familymoon!
Most of the world's water villas or water bungalows are located in the Maldives. The huge group of tropical atolls and islands has more than 80 water villa resorts alone, and its location just southwest of India makes it easy to reach for anyone from Europe or Asia, but is a trek from the Americas but ohh totally worth the trip! There are other water villa resorts in Asia as well - in Malaysia, Cambodia, Indonesia, Philippines, Thailand and there are a few in Caribbean.
Here is a roundup of 5 that we would love to go visit some day and think you would love too.....
Gili Lankanfushi Maldives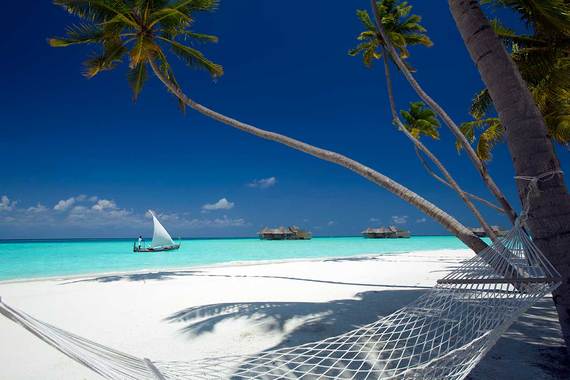 The Gili Lankanfushi Maldives is located on Lankanfushi Island - its own private island, which is 12 kilometers north of the Malé International Airport in the Maldives. If you are looking for the finest overwater resort in the world, you've arguably just found it. The Gili Lankanfushi Maldives - formerly known as Soneva Gili by Six Senses, features a total of 45 water villas exclusively, eight of which are only accessible by boat. Apart from the water villas, they have "Crusoe Residences" stand alone in the Indian Ocean, secluded for total privacy and "Private Reserve" villa, which is the largest overwater villa in the world, by far, located even further out into the lagoon
To reach the Gili Lankanfushi Maldives you'll need to fly to the main Malé International Airport in the Maldives. From there you'll be met by resort staff and put on a private boat for the 20-minute speedboat ride to the hotel's island.
Conrad Maldives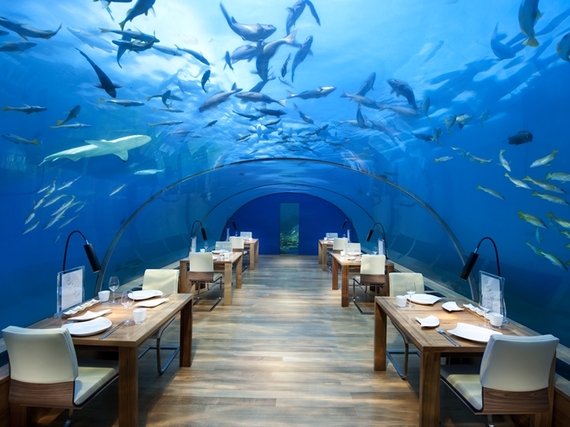 Conrad Maldives has about 70 villas and located in Rangali Island located in the Alif Atoll, approximately 96 kilometers west of the main island of Malé in the Maldives. Once you fly into Malé International Airport in the Maldives, you'll board a seaplane for the 30-minute flight to the small island where the resort lies. Part of a 5-star resort division of the Hilton Hotels group, the Conrad Maldives Rangali Island offers great value in the luxury class. All water villas here are large or huge, and all are well equipped with luxury amenities that you'd expect in a top-end Hilton hotel. You might want to go there just for a memorable meal at Ithaa, undersea restaurant.
There's a Kids' Club here, plus even a Kids' Spa, so everyone can stay active and even get pampered a bit. There is also a tennis court and a large infinity swimming pool in addition to the many water sports activities on offer. The Conrad Maldives Rangali gets great reviews from everyone, including from families.
El Nido resorts in Philippines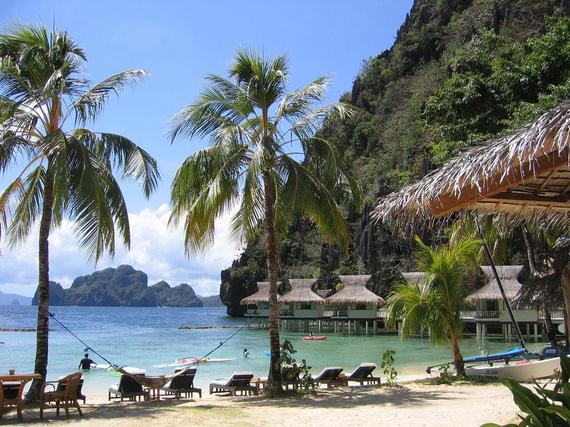 El Nido resorts has three properties -El Nido Lagen , El Nido Apulit , El Nido Miniloc. The El Nido Lagen Island resort is the most luxurious and most expensive of the three El Nido hotels in the are. Our favorite El Nido resorts, would be the El Nido Miniloc featuring just 5 water villas and no other rooms, is quite a breathtaking location on its own island. This eco-resort has a long list of water sports and activities available, so as long as the kids and families are looking for an escape in paradise, you can't go wrong. There's no TV or entertainment system, so this is ideal for families looking to escape the modern world. Since there are three El Nido resorts close to each other, you can choose to stay at more than one of them.
The El Nido Apulit Island Resort is located on a small private island just north of the island of Palawan in the Philippines. To reach the Apulit Island Resort you'll need to fly to Manila and then take a short flight to the town of Taytay. From there you'll get ground transportation to the jetty, and then a 75-minute ferry ride to the resort itself.
Rosewood Mayakoba near Playa del Carmen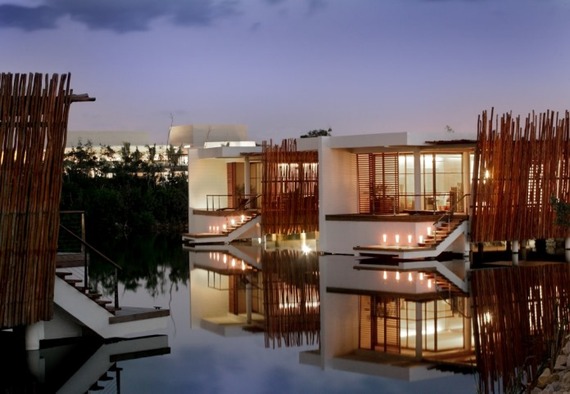 Located in a special compound near Playa del Carmen - 40 miles south of Cancun, the Rosewood Mayakoba Resort has 18 Deluxe Overwater Suites perched above its mangrove lagoon. Each of these suites is nearly 1,000 square feet, and comes with a heated plunge pool and a wide array of modern luxury amenities.
Definitely the closest thing to the overwater bungalows in the Caribbean, this resort also has oceanview rooms and other luxury suites, and it's one of the highest rated in all of Mexico. Better still, the location is less than an hour away from the Cancun Airport, so it's far more convenient to reach than any of the other resorts on the list.
Coral Lodge in San Blas Islands in Panama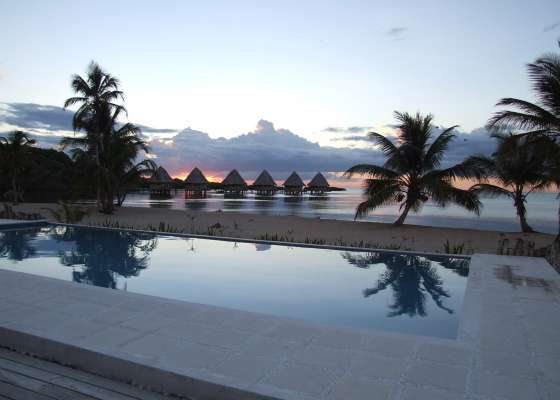 With just 6 overwater bungalows plus two restaurants and a spa, the Coral Lodge is a boutique resort in a secluded part of the San Blas Islands in Panama. The bare-bones and eco-friendly approach means there is no TVs or internet here, so a distraction-free vacation is nearly guaranteed. Coral Lodge is located west of El Porvenir along a secluded stretch of the Caribbean coast. Coral Lodge has something for everyone from mangrove and river kayaking, jungle hikes, sport fishing and moonlit strolls to horse riding along deserted beaches and scuba diving. Only 2 miles from the resort, is an extensive unexplored pristine reef known as "Baja Escribano." An under water wilderness of un-touched corals, sponges and a variety of marine life. With rainforest and coral reefs at your doorstep there is so much to explore and wildlife waiting to be discovered.
Navigating the Panama Canal alongside towering cargo vessels is an unforgettable experience. After which you can take light aircraft flight from Panama City to the San Blas Islands and Mamitupo airstrip. From here you can arrange for transfers to your Coral lodge.
Any one these water villas is a 'Postcard destination' for sure, which ones are you dreaming of? Are there any other water bungalow destinations that you would add to this list?