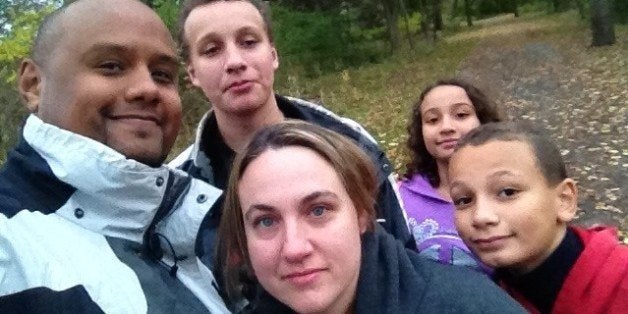 Being a parent is one of the hardest and most rewarding things you can experience in life. There are days when you want to pull your hair and just give up. Those days will be mixed in with days of absolute gratitude for the gift of having children.
Parenting is not a race. It's a life-long journey that has many unexpected side roads. There are no quick wins. What you do while your kids are younger will affect them later on in their life.
I was 19 years old when our first child was born. I read every parenting book out there and talked to friends who had children -- I thought I was prepared. It took all of an hour after my son was born to realize there's no way to fully prepare for the adventures of parenthood.
We had two more children and a chaotic life. We were married at 18 -- so we were just learning how to be a young newlywed couple, which was hard. I worked 60 hours a week at a job I hated. Those first few years of our children's lives could best be described as survival mode.
It took years, and a lot of struggle, but we finally moved to a good place in raising our children. They're now teenagers. We got there by being honest with ourselves about some parenting excuses we were making. Here are five parenting excuses we all need to be aware of and stop relying on.
1. "They won't remember -- I have more time."
In parenting, there are things we all regret. There are things we might do in the heat of the moment that we hope our children won't remember. These things don't even have to be discipline-related; they could include, perhaps, not being there for an activity (or playtime) one too many times.
We hope they will forget or that we have more time with them to make it up, but that's not always the case. If they are past the age of 2, they will remember more than we think, and those years will pass by too quickly.
Life is short. I can remember when my children were babies; they're teenagers now. That time we hope to have will be over before we know it. None of us is guaranteed a moment past right now. We have to be there for our kids and take parenting one day at a time. We have to remember that they will remember, and make our decisions accordingly.
2. "It's their school's job to teach them."
When we send them off to school, we cheer a little. School is a place for them to learn, but it's also a little relief and "us time." Today, kids learn in different ways than we did. Much of what they learn involves technology. We hope their school will teach them everything they need to know.
If we allow our kids' schools to teach them about life, we will be shocked and disappointed at the adults they grow up to be. School is a place for them to learn, but it's our jobs as parents to shape and mold them. School should complement the job we do at home. They should learn about life from us.
3. "They will listen to what I say, not what I do."
In our minds, we know that our actions speak louder than our words, but too often we don't live or parent that way. We tell our kids to "shoot for the stars" while we're content to live a good enough life. They see how we live and it sticks with them, and affects their ambition.
We have to lead by example. That's what will stay with our children -- that's what they will model. It took three years, but I lost 170 pounds, quit a job I hated, and moved our family to Maui, Hawaii. I don't tell my kids their dreams are possible; I've shown them with how I'm living my life. The words won't stick with them. Have them learn by the actions you take.
4. "They will always forgive me."
Every parent makes mistakes. We all have things we wish didn't happen, or we hope our children will forgive and forget. That's not life. While we hope they will always forgive us, there's a point or line that we shouldn't cross. That line will be different for each child, but they won't always forgive us. In that moment of pure emotion, we need to step back and breathe before reacting. Decisions made in emotional times often end up being wrong and hurtful to all involved.
5. "They understand what I have to deal with."
Life is hard. We have incredible struggles that we need to deal with every day. Each of us has some form of work, which occupies 40 to 60 hours (or more) of our week. The struggle is compounded when we're doing work we can't stand.
We hope our children get a glimpse of what we're dealing with and understand, but they don't. They might not be able to comprehend the complexities, or maybe they do understand but expect more from us. Either way, we can't rely on them to understand. We have to rise above our situation and put our children's needs before ours.
No one is perfect and every parent will mess up, but there are things each of us can do to be a better mom or dad. It starts with getting honest with our kids and ourselves. To fix a problem, we first have to admit we have one.
Reflect and examine the excuses you've made to yourself. Get honest, because only you know what's going on in your life. Lead by example and they will follow.
Have you made any parenting excuses?