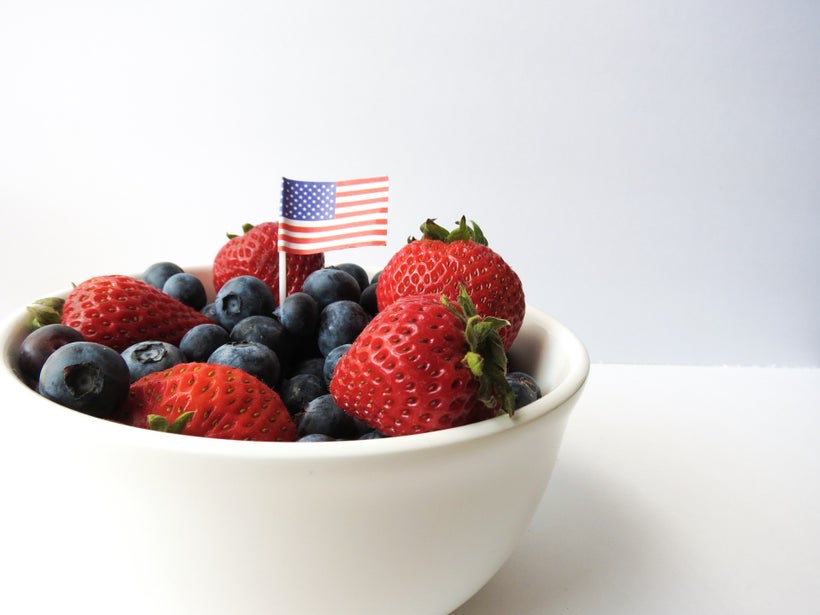 July 4th marks the official start of summer and a time for celebration—with family, friends, and of course, food. It does not, however, have to be a time for weight gain. First off, what you do every day (think portion control, more fruits and veggies, less junk food, exercise) is more important than what you do on just one day of the year (think July 4th, Thanksgiving, Halloween).
With that said, you can enjoy a summer barbecue with loved ones while also enjoying summer favorites, and still come out healthy and, perhaps, even down a pound or two! Let's face it, it's hard to have a holiday party without eating, but these simple hacks will help you eat less and stay on track.
This is the perfect trick to try this holiday. Researchers from the University of Parma, Italy, conducted a study that found that eating off of red plates reduced portion sizes. While the authors conclusion states, "Although the origin of the intriguing effect of the color red on consumption remains unclear, our results may prove useful to future potential explanations," it can't hurt to give it a try!
And, while you're at it, use a patriotic tablecloth as well.
Choose a patriotic—and healthy—breakfast.
In my nutrition counseling practice, I recommend that clients eat a healthy breakfast to prevent hunger later on. If you are not a breakfast eater, no problem; it's OK to keep it light and to eat something mid-morning instead.
Eating something healthy before heading out to a summer barbecue is one of the best ways to avoid overeating. Not only do I recommend this to my clients, but I practice it religiously.
Here's a healthy patriotic choice to enjoy this July 4th (and all summer long): a low-fat yogurt topped with blueberries, blackberries, strawberries and red raspberries; include at least one blue and one red fruit. And in celebration of the holiday, top it with a sprinkle or two (1-2 teaspoons) of unsweetened coconut flakes.
Infuse your water to stay hydrated.
While we know we should drink more water to stay hydrated, easier said than done. especially if you are bored with the taste of plain water. Here are some tricks to try this Independence Day. Choose sparkling water or water and add fruit. Think red, white and blue this holiday!
I love adding watermelon cubes into my water or making ice cubes from the juice of watermelon. Another option is to throw in fresh or frozen blueberries, blackberries, red grapes, red raspberries, strawberries, or cubes of apple and pear (not exactly white, but close enough!).
Enjoy a (small) glass of sangria or red wine.
While it's OK to enjoy a glass of wine or sangria, drink it out of a small glass. University of Cambridge researchers found that the larger the wine glass, the more people drink. This makes perfect size, as larger plates, bowls, and spoons, also lead to overeating.
To help keep your portion sizes in check, as I suggest in my book, The Portion Teller Plan, eat off of smaller plates, use smaller cutlery, and drink from a smaller glass this 4th of July holiday! Your waistline will thank you.
Choose watermelon for dessert.
While your festivities will likely end with some sweet stuff—ice cream and cookies—with a little luck, it may often end with healthy watermelon slices as well. Watermelon is a delicious fruit, which will not only quench your thirst; it will also give you a boost of antioxidants (think lycopene!) And, remember, no one got fat eating watermelon, or any other melon for that matter, so please don't skip this sweet tasting fruit. If you are not sure your guests will serve watermelon, offer to bring it along.
Here's to a terrific—and nutritious—summer!
We'd love to hear your healthy summer hacks.
Calling all HuffPost superfans!
Sign up for membership to become a founding member and help shape HuffPost's next chapter
This post was published on the now-closed HuffPost Contributor platform. Contributors control their own work and posted freely to our site. If you need to flag this entry as abusive,
send us an email
.