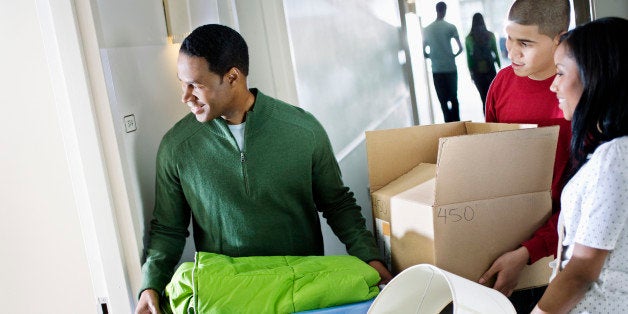 If you're familiar with on-campus housing at colleges, you may have heard of an RA. To some it is a resident advisor, others call it a resident assistant. RA's are students who are hired to supervise and help other students in there buildings. RA's plan events, they build communities in the halls, create bulletin boards, and yes, they do enforce policies.
I lived on campus my freshman year at Pace University in New York City, and my RA at the time had nominated me to apply. I never thought I'd ever be an RA! I was terrible at arts and crafts, I didn't want to get people in trouble, and I wanted to focus on my career, but I applied for the sake of it, and surprisingly got the position. I hesitantly accepted the position, and I've been an RA since then. I've been an RA for three years now, and it has been one of the best decisions I've made in college.
Different colleges have different compensation packages, but most colleges have free or reduced housing and a stipend, or a meal plan, or tuition remission. Also most RA's get their own room, so you never have to worry about living with someone else. As someone who finances their college education, this has helped me tremendously. I'm able to live in downtown, New York City for free, and it has reduced my student loans drastically.
Being an RA is a 24-hour job, if a resident needs you, it is your job to be available for them. Most residents are always surprised to hear that RA's are full time students, as well. Most resident advisors aren't just RA's and students, they usually have other commitments such as internships, part-time jobs, or are involved in campus organizations. I, for example, am an RA, a student, I have an internship, I babysit, and I volunteer a lot. Besides being around for our residents, we have weekly staff meetings, workshops, and conferences that we are mandated to attend. As an RA, you are juggling a lot on your plate, but the job helps you prioritize and manage your time. I've also gotten very well at multitasking!
As an RA you learn to think on your feet. You don't have time to sit and plan every move because you are responsible for someone else. During my first year as an RA, Hurricane Sandy hit New York City. The residence halls had to evacuate, we were out of power, and residents were scared. It was my job to keep them calm, no matter how I was feeling, and let them know that it'll be okay. There have been many times that I've had to deal with belligerent residents or I've had to accompany someone to the hospital. It is my job to handle any issue that arises as quickly as possible ensuring that the resident is safe, no matter what time it is. Not only has being an RA taught me to handle any crisis, but it has also showed me that I can work on little to no sleep.
The most rewarding thing about being an RA is knowing that you're helping someone else, in even the slightest way. I've worked with freshmen for the past two years, and now I have upperclassmen students. I have had residents who have never lived in America. Other residents have never left home before or have never shared a room. I've taught residents how to do laundry and do dishes, but I've also been there for them through their first day of college classes, their home sickness, any roommate conflicts, alcohol poisoning, and many other issues that college students may go through.
Through the mandatory staff bonding and spending so much time with your fellow RA's during weeks of trainings or weekly staff meetings, you end up being friends, and in some instances, even more than friends. I've met some of my best friends from being an RA. Having friends who either live few floors or few blocks away from you, makes it so convenient to see each other. And other RA's understand when you can't hang out because you're tired from dealing with lockouts at 4 a.m the previous night. These aren't just your friends, they are your teammates that you know you can lean on for support during this job. You also have unique relationships with your residents. Many of my former residents still call me "RA Opal" and continually ask me for advice. As an RA it is so wonderful to see your residents grow. Not only are relationships formed with your peers and residents, but also with your residence directors. The residence directors are your supervisors, and you spend a lot of time working with them. They are not only providing assistance for the RA job, but they also spend time getting to know you and help you personally through workshops, mentorship, and professional development. I know that even when I'm done being an RA, I will continue to foster these relationships.

Being a third year RA, I've definitely learned a lot, and for someone who wasn't even going to apply for the position, I'm so glad I did. For anyone who wants to make a difference on a college campus, definitely apply to be an RA. As my senior year is coming to an end, I'm excited to graduate and not have to juggle so many things. However, when I look back to my college career, I know I'll always cherish being an RA and I'll carry the skills I've learned with me through life.
Popular in the Community