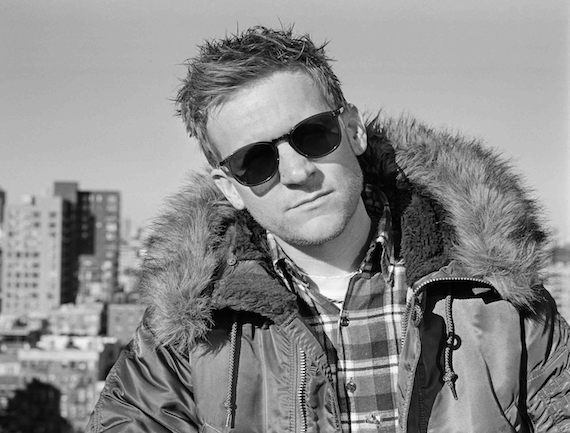 For Josh Madden, it might be understandable if he paid less attention to his social media followers than to a gone-in-a-minute Snapchat message.
For one thing, he's juggling a lot of jobs in his high-profile career: brand strategist at New York City marketing agency Team Epiphany, along with DJ, music producer, stylist and writer.
Well-known in his own right, Madden also runs in some impressive celebrity circles. One of his twin brothers, Benji Madden, is a famous musician who recently tied the knot with actress Cameron Diaz. The other twin brother, Joel Madden, is a famous musician who's married to TV personality Nicole Richie.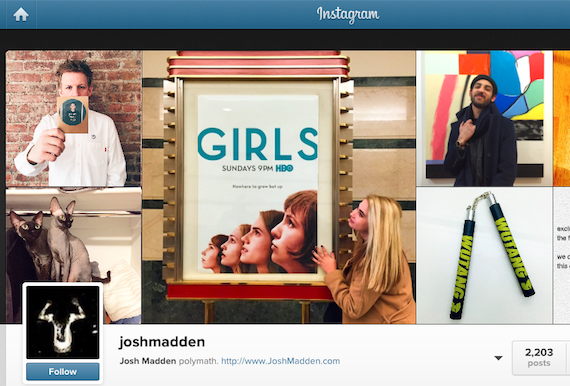 "With Instagram especially, I take the time to look at the new people who follow my account, and I check out their feeds," Madden said. "When I'm sitting in the dentist's office or commuting, I'll look at people's feeds and like or comment on photos that entertain me."
Madden's hands-on approach to Instagram ties into the first of his five tips for personal branding (particularly its ties to social media).
"Take an active interest in people who are interested in you," Madden said. "No matter the social platform or the number of people who take interest in what I do, I have always paid attention to those people as individuals."
2. Ponder before posting.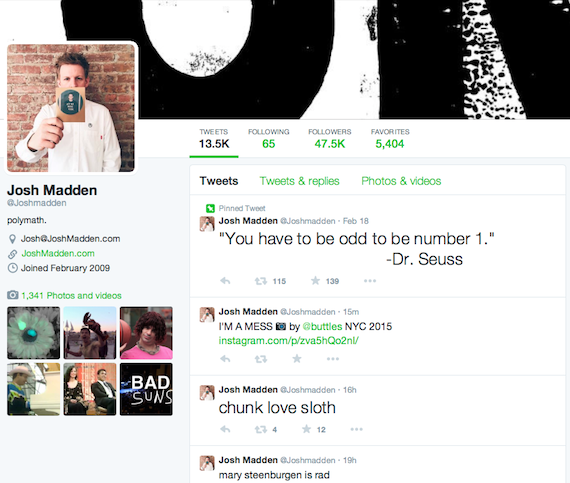 Madden often asks himself whether something he's thinking of posting on social media is really worth the effort. Case in point: those oh-so-popular memes.
"I know it's a trend to repost funny memes, but sooner or later people are going to get tired of that stuff, and memes aren't really a brand," he said.
As such, he leaves meme mania to websites like Le Memé, an aggregator of GIF animations. The two "really witty guys" behind that blog "have the meme game sewn up," Madden said. "I don't need to do that."
Rather, Madden does his own thing.
"I choose to keep it social, incite positive discourse and do my best to inform people, in real time, of what I'm discovering," he said.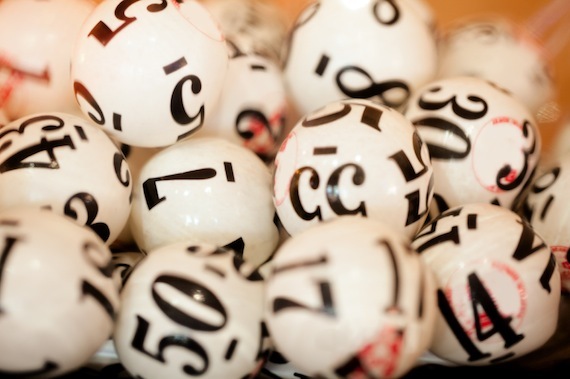 Madden shies away from obsessing over how many followers he's attracted on Twitter, Instagram and other social media outlets. In fact, he eschews the term "followers."
"The truth is, you have to live your brand and just have fun," he said.
Madden said "smoke and mirrors" can't elevate your social media profile.
"If you push anything on people, buy up ads to get in their face or use digital tricks, it may work for a minute," he said, "but steroids are obvious and nobody likes to play with a cheater."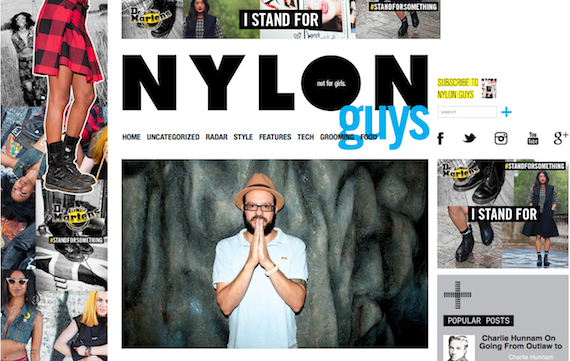 While it's not wise to wring your hands over how many social media followers you've got, you do want to feed and nourish them.
In 2013, Madden led the launch of NYLON Guys, a men's offshoot of NYLON, a women's fashion, beauty and music magazine. In less than a year, monthly site readership soared from 5,000 to 100,000, according to Madden. Meanwhile, the number of Twitter, Instagram and Facebook followers climbed; for instance, the Facebook following jumped from 10,000 to 81,000.
Madden said that growth astonished the folks at NYLON, especially since extra money wasn't sunk into those efforts. How was that growth achieved? People identified with and were excited by the content being distributed on social media, he said. They kept coming back for more.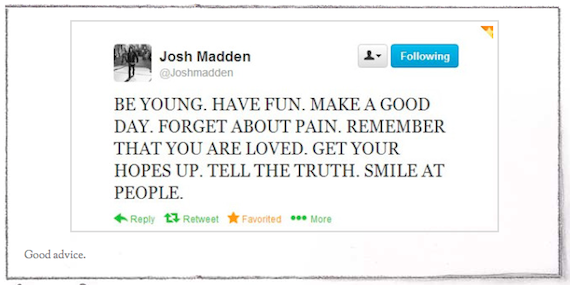 When it comes to personal branding, sharing content that social media followers find worthy of their time is key. People want "what they'll like," Madden said, "and they want it fast."
"We live in a world where we have created ultimate convenience, where every one of us can do in a day what would have taken us a week a couple of decades ago. Still, we're short on time," he said.
5. Know yourself and your brand.
In promoting your brand, be honest and genuine. Communicating your authenticity "is a real skill and value," Madden said.
"I stay true to what I love," he said. "I promote people, brands and entertainers that affect business positively, even if there is nothing in it for me."
Images via Brock Fetch, Instagram, iStock, NYLON Guys, Twitter, Tumblr
John Egan is editor in chief at SpareFoot, an Austin, Texas-based startup that makes it easy for people to find and book self-storage units online, offline and via mobile devices.
REAL LIFE. REAL NEWS. REAL VOICES.
Help us tell more of the stories that matter from voices that too often remain unheard.