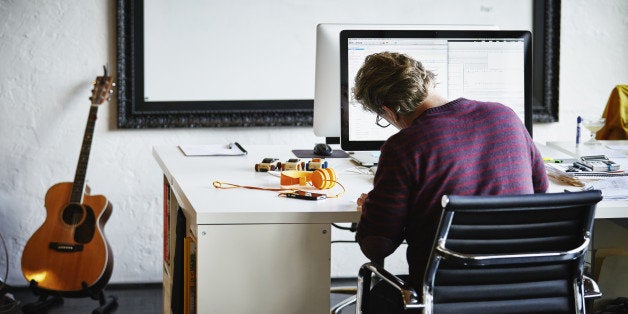 I'm taking a guess that all rising high school seniors not glued to the World Cup are either fretting about their college app essays, casting glances at the essay prompts, or trying to put the darn essays as far out of their summer vacationing minds as possible.
The bad news is that these essays aren't going away -- until you hit the SEND button on all of your applications in the fall or winter. But there are a few pieces of good news to share with you from my perspective as both an insider and outsider in the process. (Inside, because I coach students on these essays, having taught writing at many universities, and outside, because I'm not an applicant or the parent of one.)
1. The good news is that there's plenty of time, but -- as Albert Einstein taught us (see "Theory of Relativity"), there are many definitions of time, depending on where you are and where you want to end up. If you have a summer crammed with work or adventure, with sports camp, math camp, internships on Capitol Hill, and/or a job scooping ice cream at the beach, you may not be able to devote many days or weeks to getting a head start on the essays -- but you can and should put your downtime to good use.
If you're not going to tackle any of the essays, make a chart of the schools you plan to apply to and the essay prompts required at each, with the number of words and the due dates.
Will you have to write three essays beyond the Common App essay? Will you have closer to thirteen? Can you use the same material for some essays? Are all the schools you're applying on the Common App? To date, a few schools have revealed their supplementary essays; most should be available by August 1, when the Common Application goes live. The university synonymous with quirky essays, the University of Chicago, has posted its upcoming essays. You might enjoy the prompts even if you have no plans to apply. (Prompt #1: "What's so odd about odd numbers?")
Once you have your preliminary list, you might see that you have less time than you imagined you did.
2. The Common Application essay and the supplements do not need to be perfect. You are not being considered for a Pulitzer Prize. But the essays do need to be good, thoughtful, proofread well and, depending on your high school record, and your college and academic goals, revealing about who you are. Revealing, but not too revealing. Thoughtful, but not a history paper or a political debate.
Where on earth does one start with an assignment like that? Write in a conversational voice. Don't "try to sound smart." Find a topic that excites you -- that engages you emotionally and/or intellectually. Remember that you are applying to a college or university, and that beyond the state-of-the-art gyms and student unions, these are educational institutions, where critical thinking, deep reflection, and intellectual curiosity are valued and even treasured.
3. The good news is that college admissions officers are not looking for something specific in your essays. There is no formula, no right answer. Often students ask me, "What does the school want to know? What are they looking for here?" My answer can be baffling: "They want to know who you are, whether they should offer you a space at their school, whether you'll take advantage of it."
This is where brainstorming with the right person can be extremely valuable. And this is when I always think of novelist and critic Joyce Carol Oates' great writing observation: "When a writer finds his true subject rather than the usual false one, the writing should come easily." A good topic will invite your best thinking and writing.
4. More good news: You don't have to invent your own prompts. As vague as "tell us who are you" might feel as an assignment, few if any schools ask that question. To the contrary, essay prompts are often very specific -- and probing in interesting, insightful ways. By studying the questions the schools are asking beforehand, you might feel relieved at how specific they are. One of the keys to good writing is specificity, and that's also the key to asking questions that elicit valuable information.
The Common App essay prompts -- which were new last year -- are being used again this year, and I think very highly of them. Please take a look at my HuffPost piece "I HEART the College Admissions Essay Prompts" from last year, for a closer look at each prompt and how you might begin to answer them. Take note: Not all schools use the Common App essays. The nine University of California schools (Berkeley, UCLA, etc.) are not on the Common App, and they ask students to write personal statements in response to two terrific questions, the first of which is, "Describe the world you come from -- for example, your family, community or school -- and tell us how your world has shaped your dreams and aspirations."
5. More good news. There are many kinds of essay advice available online and elsewhere, including ebooks, videos, classes, essay boot camps, and consultants. In some schools, volunteers staff essay boot camps for students in the fall. (I will be posting and tweeting those I hear about.) Essay coaches, counselors and tutors worth their salt do not write students' essays, anymore than swimming coaches swim or music coaches perform in place of their students. The role of a good coach is to provide structure and guidance in a process that many agree has gotten out of hand.
The Common App and the single Common app essay were supposed to streamline the process. Instead, the electronic ability to apply to a virtually unlimited number of schools with a single application has increased the applicant pools so dramatically that schools need additional information -- all these essays -- to distinguish between many thousands of often highly qualified applicants.
The Common Application and even the colleges encourage students to show their essays to other people for feedback and proofreading: parents, friends, and school counselors. Especially if you are applying to the most selective schools, this is essential. Some schools specifically draw the line at "hired" counselors, and I certainly understand the line.
At the same time, it's important to acknowledge that there are many students whose parents and school situations bring them enormous advantages, notably parents who are writers, editors, professors and other professionals who work with words and presentation at very high levels, along with private school guidance counselors whose job is to review essays. By contrast, students in large public schools where each guidance counselor is responsible for many hundreds of students, or students whose parents are not native English speakers, can be shortchanged when it comes to having their essays reviewed.
This is a long process, and summer should be a mix of work and play, challenge and relaxation, exercise and loafing around. But you probably already know that.
Related
Popular in the Community