During a three-hour bear tour in Whistler, British Columbia, I saw five bears. Michael Allen, my guide, has been following bears for 28 years, the last twelve of them in Whistler. He knows each bear by name, age and characteristics and leads fifteen bear tours a week in Whistler from April through October. Unlike the Grand Tetons bears which I wrote about last weekhttp:// www.huffingtonpost.com/margie-goldsmith/unbelievable-but-true-sto_b_1222007.html), in Whistler, all the bears have real names.
Allen pointed to a large black bear eating berries from a bush less than 30 feet away. "Look there!" he said, "It's Rosie, and if Rosie's there, that means Jeannie and the Queen must be around. Go ahead, get out of the car, but don't slam the doors because that will scare her away." (note: Jeannie had too many encounters with humans and as a result, was sent to the Great Bear Heaven).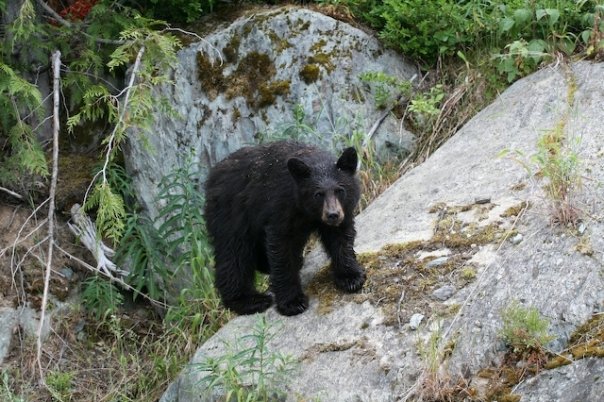 Whistler Bear Photos courtesy of Darren Boyd
The six of us stood shooting photos and watching the female bear pull berries off the bushes. The bear stood on her hind legs to pull the berry branches closer to her mouth. Allen whispered, "She'll swallow 30 or so berries whole. If they're not ripe, her digestive system poops them out."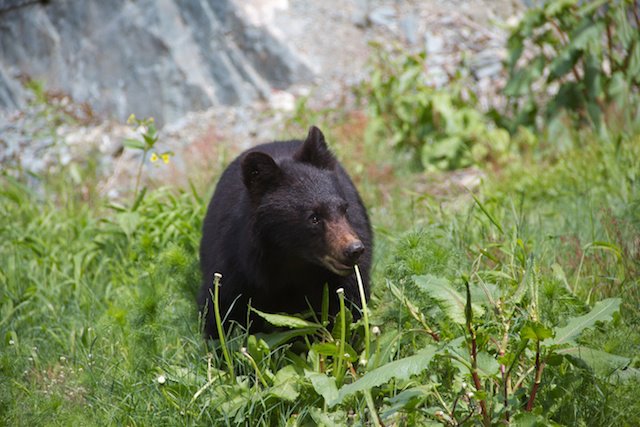 Another Whistler Bear
Unlike in Jackson Hole where there are grizzlies, Whistler has only black bears. The females weigh from 150 to 250 pounds and the mature males, around 500 pounds. Remember the movie Grizzly Man, in which Timothy Treadwell went to Alaska to live with the grizzlies and become one of them? I asked Allen if Treadwell was wacko and he said "We're not meant to have physical relations with bears; we're not meant to be buddy-buddy. The bears treated Timothy like a little bear, but when there wasn't enough salmon, they ate him. So yes, I guess you could say he was wacko."
We watched Rosie until she disappeared, then we piled back into the vehicle and continued up Blackcomb Mountain where we saw fresh bear tracks.
If you're looking to get up close and personal with the black bears and/or grizzles in the wilderness, this May through October, head to British Columbia and try either the three-hour Whistler tour in a 4x 4 up the mountain, a six-hour boat tour further north, and bear packages which include accommodations in the back country and river lodges for two to six day tours. Here are perfect five bear tours in B.C.:
Whistler Blackcomb Bear Viewing Tours
Ride in a comfortable 4x4 vehicle through a maze of ski area roads that traverse the area's diverse forests, meadows, and streams to view some of Whistler's Bear population on a 4-hour tour early morning, mid-day or late afternoon.
Grizzly Bear Adventure Tours at Knight Inlet Lodge - Best during peak fall season when the salmon are running up the Glendale River; hibernation ends in April when bears head to the cove and estuary to feed on the new spring growth. Viewing is done from boats until summer, when it moves to logging road. Grizzly viewing packages from 2-4 or 4-6 nights.

Great Bear Nature Tours - stay in a lodge on the river on the central coast of B.C., known as the Great Bear Rainforest, and view bears twice daily: from a viewing platform above the river, and, by boat when the bears move to the estuary.

Prince Rupert Adventure Tours - 6-hour bear viewing tours by boat to the pristine wilderness of the Khutzeymateen, home of the largest population of Grizzly Bears in the world. Peak viewing: mid-May, June and July.
Ecotours BC: - From a lodge in the Cariboo Mountains, "bear whisperer" guide Gary Zorn is at the helm during land and water exploration of Grizzles' natural habitat in and around Quesnel Lake, the deepest fjord lake on Earth. And when these kings of the rainforest settle in for seasonal slumber.