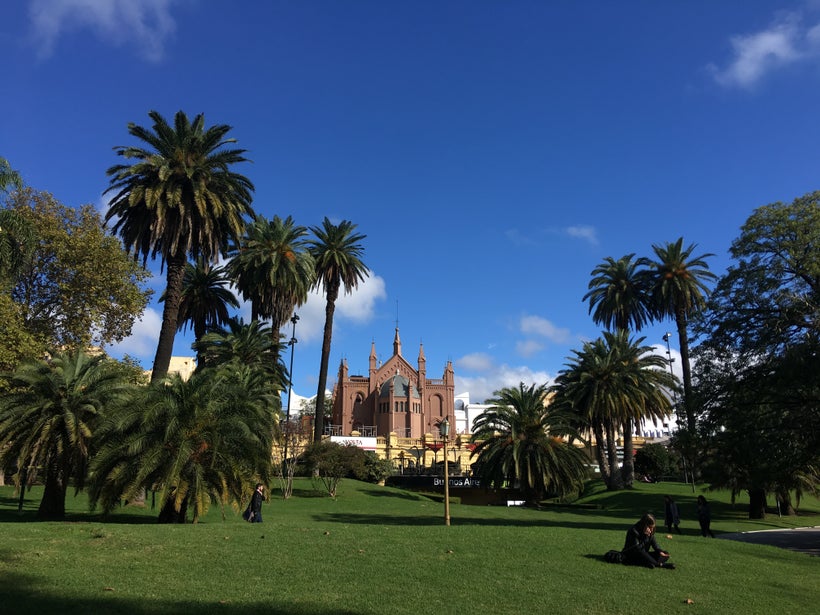 "Paris of the South," medley of Spain and Italy and France and South American flair, Buenos Aires is home to striking architecture and vivid graffiti walls and wide boulevards where tango dancers whirl around one another and street-criers shout, "Cambio, cambio - change, change" - offering the money variety, of course. After recently spending nearly four weeks in Buenos Aires, here are a few of my favorite hotspots for travelers to this southern capital.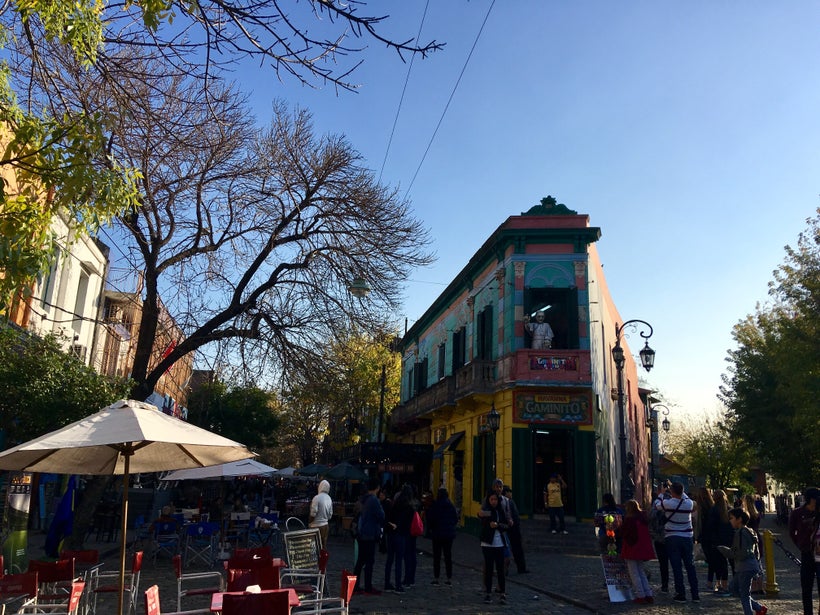 La Boca
La Boca is a peacock neighborhood, feathers of buildings flickering from tangerine to marigold to aquamarine to lavender to red, red rose. Home originally to Italian - in particular, Genovese - immigrants, the district has retained its colorful, so to say, history. While there, be sure to: check out the wares of artists - from bold and bright paintings of La Boca to subtle watercolors of tango dancers to postcards and magnets, take a pictures under the balconies featuring cartoonish famous Argentine figures (including, among others, Messi and Pope Francis), follow your nose to the sea to see the harbor, and watch your purse against notorious pickpockets.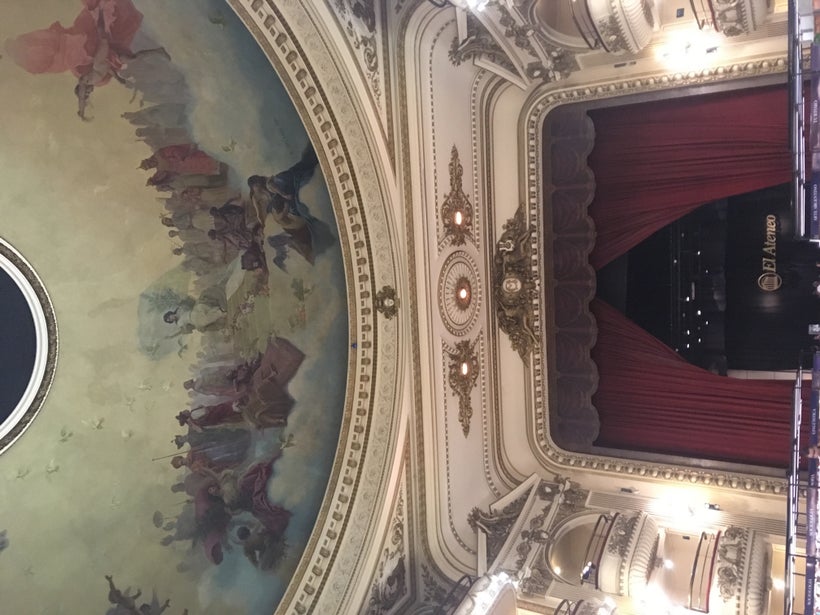 El Ateneo
Set in a former opera house, El Ateneo now houses books. Wander in through the unassuming glass doors, meander through the entrance of vinyl records and popular books, up a little set of stairs and gape at the creamy, gold-gilded boxes, red-curtained stage (a café), and ceiling featuring a cast of fluttering doves, tunic-draped Roman figures and heavenly clouds. For any book-lover, art-lover, or architecture-lover, El Ateneo is a must-see while in Buenos Aires.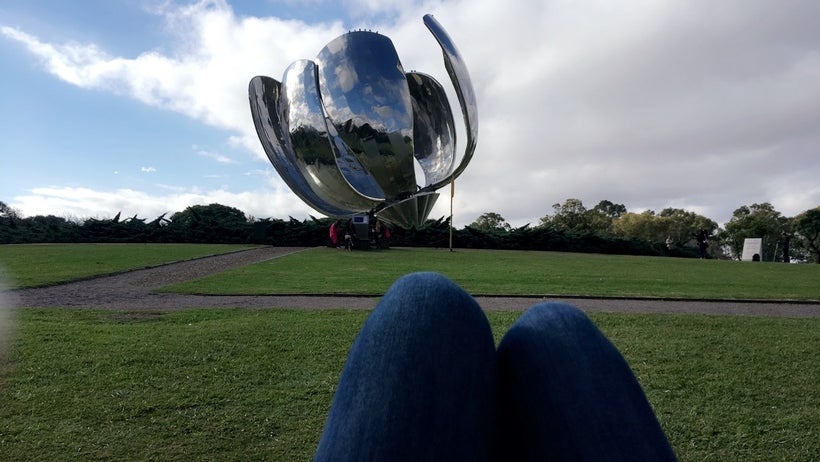 Recoleta: Museo de Bellas Artes, Floralis Genérica, Market, and Cementerio
The upscale, historic neighborhood or Buenos Aires, Recoleta proves a barrio of myriad delights. First, the Museo de Bellas Artes - featuring works of art from Medieval to Modern and artists from El Greco to Rodin. The Museum of Fine Arts is a peaceful respite from the hustle and bustle of Argentina's capital city. Behind the Museo and next to the University, find the United Nations Pavilion and Floralis Genérica, a giant steel and aluminum flower shadowing the sun's movement through its rotating, opening and closing petals. Sit and enjoy the sun and the sun's loyal follower on nearby wooden reclining chairs.
On weekends, near the Recoleta Cultural Center, the Recoleta Market sprouts from winding paths. With products from leather to metal flowers to handcrafted jewelry to hand-carved mate containers, there is something for every taste, every family member, and every friend. After your shopping is complete, venture into the nearby Volta, one of Buenos Aires' acclaimed heladerias for a cup of ice cream (Chocolate Suiza, chocolate with spiky pieces of chocolate and silky swirls of dulce de leech is always a favorite).
The richest of the rich are buried in the Recoleta Cementer, monuments to men, to women, and to death rising from the ground in all sorts of structures - a hullabaloo of what the crème de la crème of Buenos Aires have found most beautiful across the city's history. Evita Perón, infamous woman of the people and the musical, is buried in her sister's husband's family tomb, flowers and mourners standing silently before her.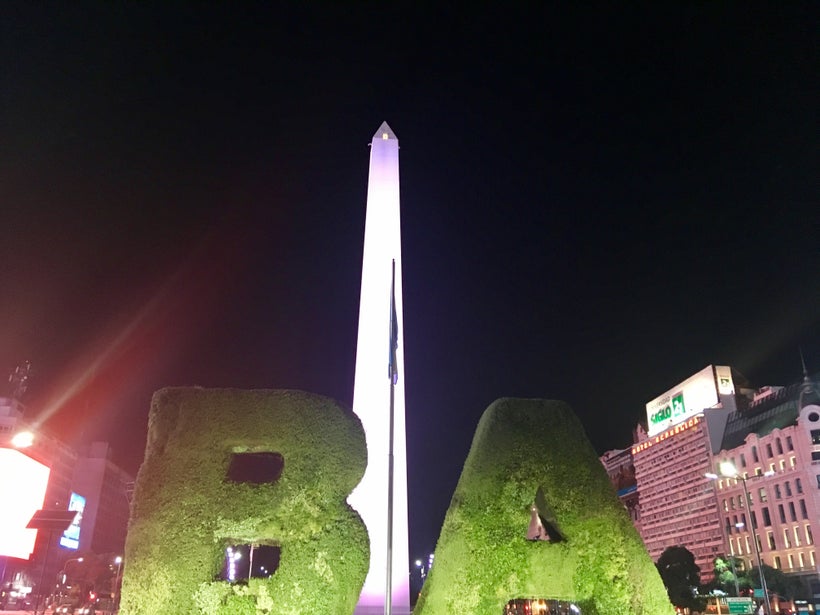 Casa Rosada and Buenos Aires Obelisk
The coral pink Casa Rosada, Argentina's version of the White House, is home to the nation's main governmental activities, but not - as in the United States - to the president. In front of the building, one can find a square filled with fluttering white banners and, often, protests. The ground of the square is printed with white head kerchiefs, the sign of the mothers and grandmothers who mourn the children killed and grandchildren stolen during the cruel dictatorship of the 1970s and 80s. Near the Casa Rosada, find the Obelisco in the middle of Avenida Nueve de Julio - one of the widest streets in the world. Be sure to take a picture in front of the 'BA" initials in green foliage with the towering Obelisk in the background.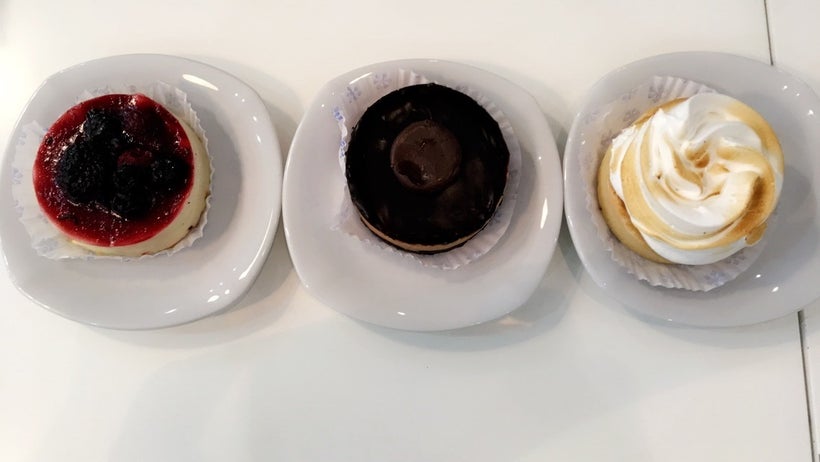 Munch on a Medialuna, Enjoy an Empanada, and Delight in Dulce de Leche
There are a few things any visitor to Buenos Aires must eat. While famous Argentine steak and Parilla might be the first flavors to pop into any traveller's head, there are a few specialties that cannot be ignored. First - the medialuna. Medialuna - or half moon - is the Argentine version of the croissant: less flaky, sweeter, and with a more dough-based consistency. Grab a medialuna - or two - for your breakfast from any nearby bakery (my favorites came from Lombok in the Retiro district). Empanadas have recently grown in popularity in the United States, but they are still made best in their homeland. Try Caprese (tomato and Mozzarella), Humita (creamy corn), or Pollo (chicken). Last, but certainly not least, dulce de leche - taken literally, "sweet of milk" - is the consistency of caramel with a richer color and more complex flavor. Dulce de leche is an ice cream flavor, a filling of chocolate, a delicacy to be eaten by the spoonful, or a treat to pile on top of flan.
Dulce de leche fanatic? La Boca dreamer? Evita lover? Let me know your thoughts on Buenos Aires and all that it has to offer in the comments!
Calling all HuffPost superfans!
Sign up for membership to become a founding member and help shape HuffPost's next chapter
This post was published on the now-closed HuffPost Contributor platform. Contributors control their own work and posted freely to our site. If you need to flag this entry as abusive,
send us an email
.