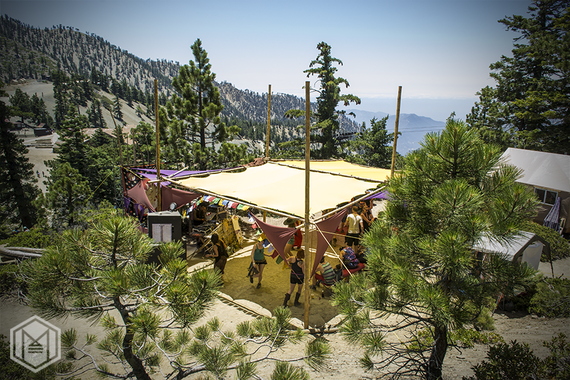 Though all music festivals share very similar roots, the nuances of what defines a music festival are diverse. Attending various festivals so closely after one another highlights these nuances. One of the most apparent differences is that between a festival and a gathering, which I have recently learned are not synonymous. 5 Points Gathering at Mount Baldy during fourth of July weekend taught me the true meaning of a gathering.
Perched upon a mountain that requires a chairlift to ascend, attendees load themselves and their camping gear onto the lifts and the adventure begins. As the beautiful scenery wafts by, it is an interesting sight to see verdant trees and mountain sides instead of blankets of snow while on a ski-lift. Upon reaching the top, a cozy lodge sits on the edge of a ledge providing a beautiful view of the landscape below.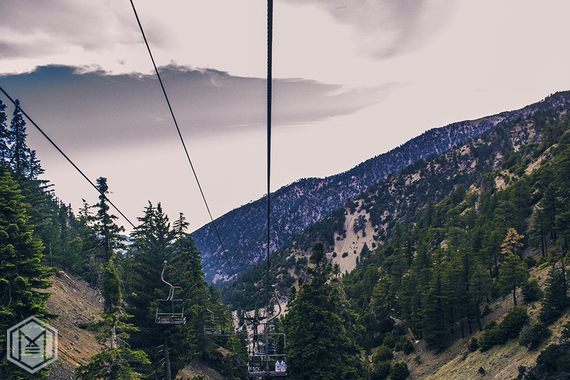 The silence and sparse population was peaceful yet surprising. A noticeable change from the sold-out events I was used to. Campsites lined the ledges and hammocks swung from the trees. Colorful tapestries billowed like mermaid tails and the smell of Palo Santo danced between my nostrils. There was one stage when there was supposed to be three, the set times were questionable, and the altitude rapidly accelerated intoxication. From the moment I arrived, I already knew 5 Points Gathering was a one-of-a-kind event.
The lodge was an interesting aspect of 5 Points because it offered hot meals, a bar, and bathrooms. Though its busiest time is during the winter, the lodge is open and fully staffed year round. This accommodation was unique to a musical gathering because it eliminated three main components: food vendors, beer vendors and porta potties. Porcelain and toilet-seat covers were a luxurious alternative to the usual hold-my-breath-and-squat method I had become so accustomed to whilst attending music festivals.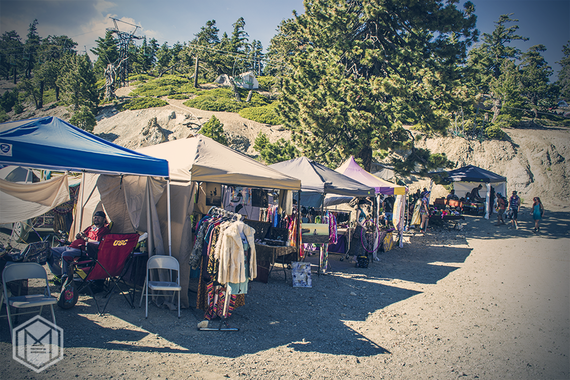 With only five vendors, browsing was a breeze and also supported the proprietors as it reduced the amount of competition. My usual tactic at larger festivals is to visit every vendor and remember the things I like on the way before going back to make a purchase. However, sometimes there are so many amazing vendors that by the time I reach the end of the marketplace, my mind is swirling with sparkling crystal wraps and psychedelic eye candy that I just keep moving without making any purchases at all. Each vendor offered a unique array of items at affordable prices, another unique aspect unlike most festivals.
Everything about 5 Points Gathering was organic. The disorganization was part of its charm, making it feel more like an intimate party thrown by a group of friends than a vastly promoted music festival. The lineup included Sugarpill, GoldRush, Kompozart, Orphic, Christian Martin, Henry Pope, Lou E. Bagels and more. One of the major obstacles was the loss of a stage which unfortunately caused many performers, including San Diego's Bass Tribe, to lose their sets. Regardless of this hiccup, shoulders were shrugged, smiles were made and good times were had.
Halfway through Saturday, another dance floor was quickly created on the lodge patio where Orphic and Lou E. Bagels, among others, performed. Their positive energy and upbeat sets breathed new life into the crowd as the party transitioned from day to night. Far in the distance amidst a sea of twinkling lights, tiny, colorful explosions sparkled along a rainbow sherbet horizon. The realization of our elevation became apparent when the fireworks that usually fill up the entire sky on the fourth of July were but miniscule tufts of light. A perspective changer, to say the least.
By the end of Saturday however, the first stage once again became the only stage, going all through the night until Kompozart's glistening sunrise set. After his set was a serene silence decorated only by the tweets and trills of awakening birds. With but one stage at which to gather, it always felt as if the entire festival was there, dancing and vibing together. On Sunday, I inadvertently spoke with 5 Points founder, Joey Catalano, as he picked up trash and handed out stickers. After I thanked him for throwing us this gathering, he told me that the music, the art, and the partying, are all secondary to the sacred healing power of the mountain.
Though discordant in its organization, everything about 5 Points Gathering was beautiful. From the breathtaking locale to the intimate connections made with its patrons. I learned humility, found inspiration in the singing birds at sunrise, and was reminded that the mountain not only has the power to heal but also to transform.
PHOTO GALLERY
5 Points Gathering July 2015
Calling all HuffPost superfans!
Sign up for membership to become a founding member and help shape HuffPost's next chapter