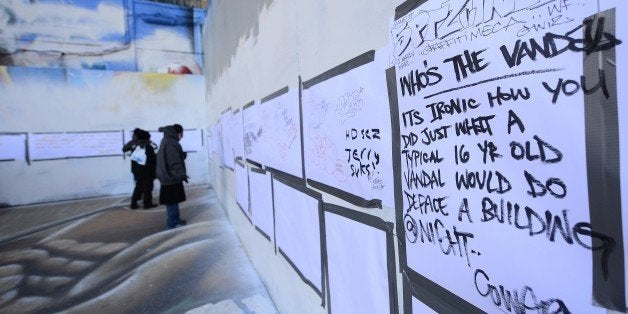 In a small bar in Queens where everyone seems to know everyone else's name, a Frenchwoman is crying.
She's Marie Cecile Flageul, one of the lead supporters of the sprawling, 200,000-square-foot complex around the corner known as 5 Pointz. Some call the abandoned buildings at this Western edge of the borough their temple. For decades, hundreds of artists from around the world have trekked to layer its surfaces in swirls of paint, practicing and perfecting the art of graffiti.
Flageul and her cohorts have been petitioning the Brooklyn Federal Court for weeks to try to stop the property's landlord, Jerry Wolkoff, from knocking down 5 Pointz and replacing it with a pair of high rises. But early Tuesday morning, a dozen or so men hired by Wolkoff whitewashed the property's facade, destroying all the artwork and any chance the building had of obtaining landmark status.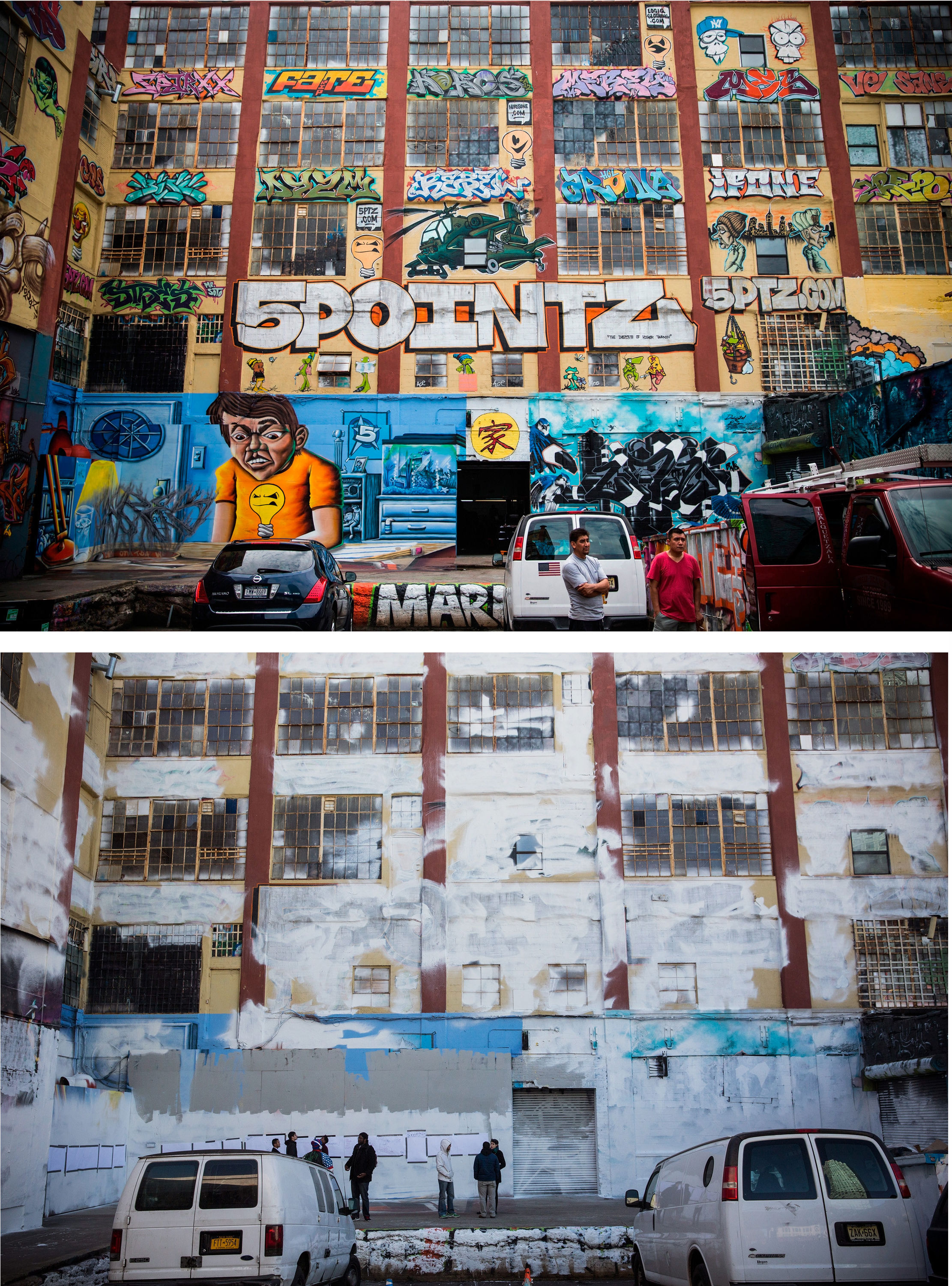 5 Pointz, before and after Tuesday morning.
A vigil was hastily organized on Facebook. Flageul, a non-artist who became an unofficial spokeswoman for the cause when news of the whitewashing spread, was on a pitstop at the bar later Tuesday when she fell into teary conversation with two men headed the same way.
She'd been up since 6:30 AM. A friend on the 7 train -- the line that famously offers a total view of the "Institute of Higher Burning," as 5 Pointz is also affectionately called -- saw the fresh coat of paint and texted her the news. Flageul says she ran outside in her pajamas. A few blocks from her apartment, she found the ghostly walls, barricaded by a line of cops.
"They asked me if I wanted to be arrested," she recounts at the bar. "I said, 'Do I look like I want to be arrested? I'm in no socks and no underwear.'" She grimaces. "Sorry -- TMI, I know."
The men sigh in commiseration. Flageul's eyes glass over again. "I've been crying all day," she says.
For a property deemed not worth bringing up to the city's safety codes, 5 Pointz is in strange demand. Wolkoff bought the horseshoe-shaped complex forty years ago. In the beginning, he leased the space to fleeting tenants -- a company that made 8-tracks, and then one that made CD covers. When an artist approached him in the 1990s asking to use his walls as a canvas, the concept of 5 Pointz was born. Back then, it was called Phun Factory.
In the years since, Wolkoff, who runs the G&M Realty group out of Long Island, let artists have their run of the place. The rundown interior functioned as cheap studios until they were shuttered in 2009 when a staircase collapsed, nearly killing an artist on her way out.
"It would have cost millions to repair," Wolkoff told HuffPost. "It wouldn't have made any sense to do it."
This September, the New York City Council gave Wolkoff the green light to put up two apartment buildings, 41 and 45 stories high, which he expects will rise in 2014. He maintains that he whitewashed the graffiti to avoid a protracted destruction, which he says would only have made the loss more painful to the artists who've painted there.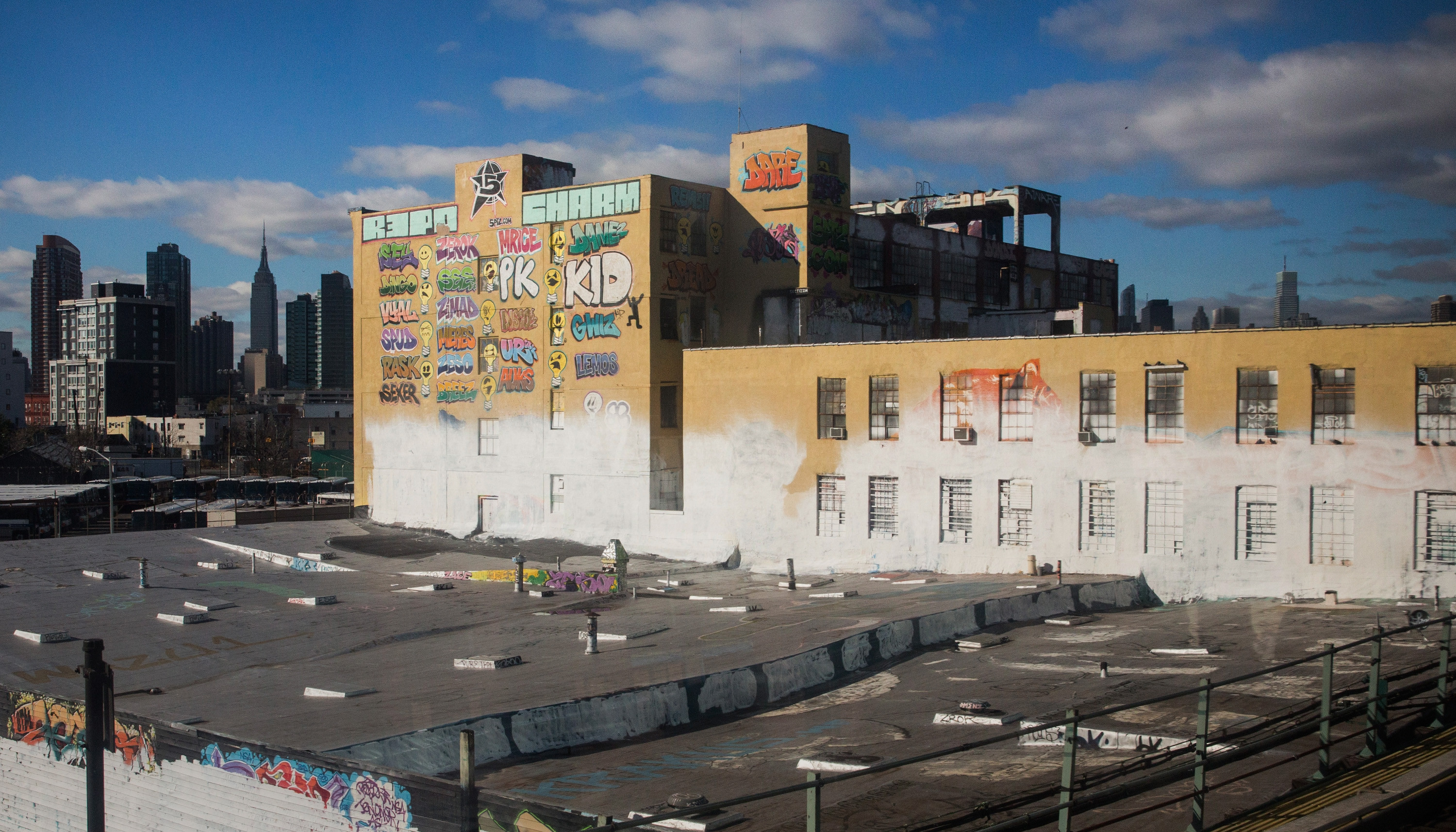 A side view of 5 Pointz, post-whitewash.
Flageul finds his timing suspicious. She believes Wolkoff was spooked by a rally this past Saturday, when a crowd of hundreds piled into the 5 Pointz courtyard. The end result, she says, was a harvest of landmark status applications to add to a growing stack, at the apartment of the collective's unofficial leader, Jonathan Cohen.
The city's Landmarks Preservation Commission denied the site landmark status this summer, on the grounds of its age. Artwork less than 30 years old is a non-starter, according to LPC rules.
But Flageul and her peers think the sheer number of applications they've amassed -- which they count at nearly 20,000 -- could have turned the tide in favor of stopping a sale, as public opinion swayed the city to protect Grand Central Terminal from developers in the 1960s.
They now plan to sue Wolkoff for damages to property under an esoteric law. Among other things, the Visual Artists Rights Act of 1990 protects "work that is incorporated into a building," according to the U.S. Copyright Office. Jeannine Chanes, the group's lawyer, has argued that fines billed to Wolkoff under VARA could total in the millions, for some of the more valuable pieces ruined by the paint job.
Dreams of payouts seem little consolation on Tuesday night, though, as the white walls set off the darkness of the 5 Pointz courtyard like the hull of a sunken ship.
A crowd of a few dozen gathers at the longest wall, at the far end from the street. It's partially boarded in whitewashed plywood, a false front that Cohen affixed years ago, when the concrete underneath became too crumbly to paint. A small man with a thin mustache and a pageboy hat stands on a taller man's shoulders. He's holding a sign covered in a warm spectrum of paint: orange, cream, yellow, a dollop of purple. A white scrawl at its top reads "RIP," and in fat, curling letters below, "5PTZ."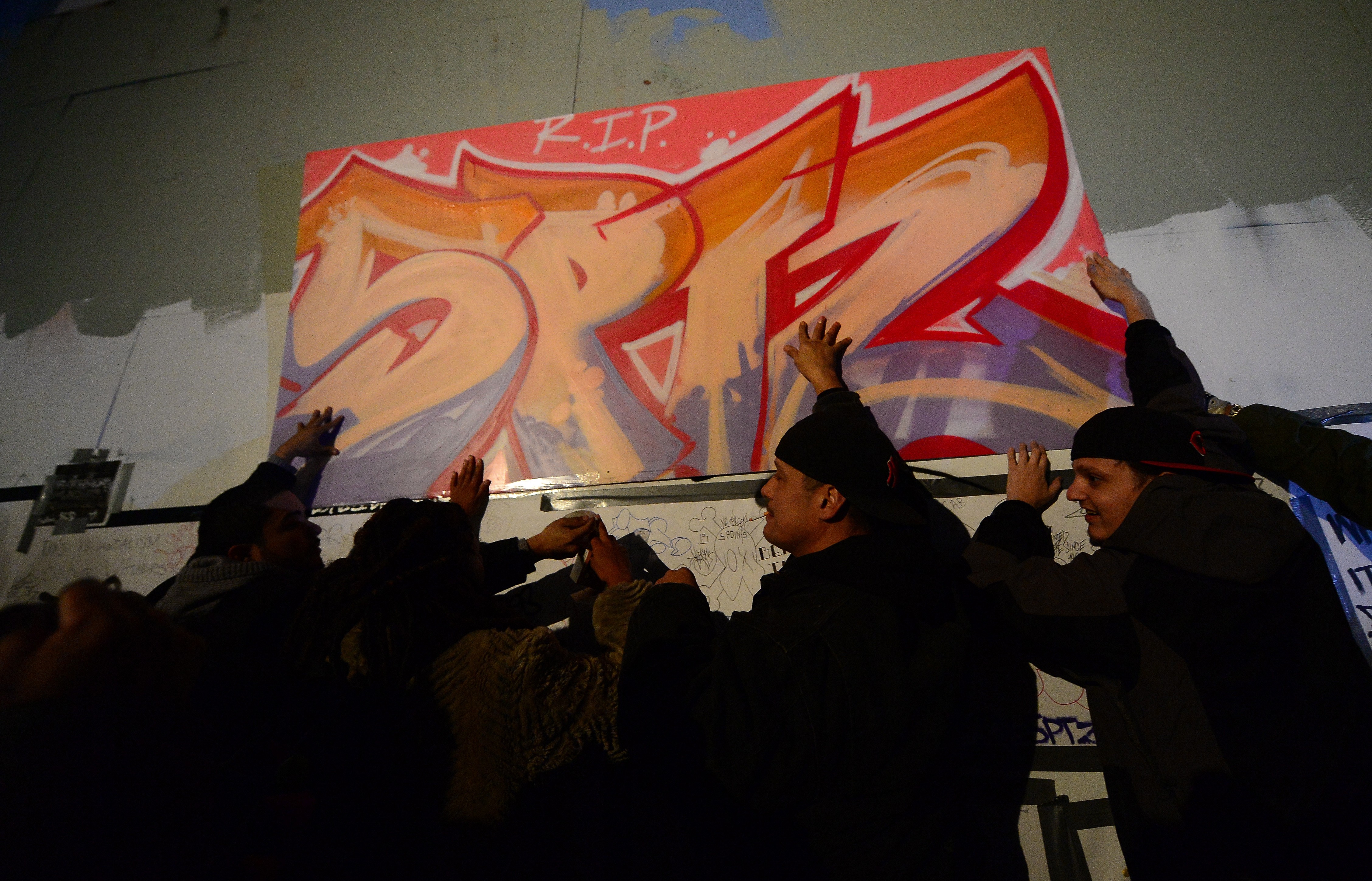 5 Pointz supporters hold a piece of makeshift graffiti against the now-whitewashed walls.
Unlit candles line the wall. Reaching them means threading through a diverse crowd: teenagers bumming cigarettes; women in athletic clothes; coffee-swiggers clutching their cups for warmth; guys and girls with cornrows. A toddler wearing polka dot leggings sits on her dad's shoulder. "Are you cold?" he asks her. The girl shakes her head.
A bald man with a Nikon camera around his neck snaps pictures. This is Hans Von Rittern, another 5 Pointz diehard. By day, he's a tour guide, guiding mostly Europeans on tours of mostly Manhattan. But 5 Pointz was the exception. It was always his last stop, the "big surprise highlight," he says.
"They loved it," he adds. "They thought it was quintessential New York. With the film noir-ish train running low overhead, and the muddy puddles. And finally, this, in the city that birthed punk and graffiti." He gestures toward the wall. The old colors are still visible under the squares of white.
Von Rittern discovered the transformation in person. "I'd picked up a group from Germany, and as we were driving here, my driver started saying, 'Oh my god, oh my god, oh my god,'" he says.
There's commotion by the wall. The perched fellow has duct tape and is attaching the sign to the plywood. His hand veers dangerously close to the "Z" in "PTZ."
"Watch out with the tape!" yells a man with a sunken face, wearing nothing over his hoodie. The small man snaps to attention. "You'll ruin the artwork!"
This is Cohen, the alpha dog, credited on 5 Pointz's official website as the property's head "curator." His street name, Meres, comes from the letters he once graffitied best: M, R, E. Cohen has a thing for simple names -- he coined 5 Pointz too, when he took over Phun Factory, to conjure a symbolic meeting point of the city's five boroughs.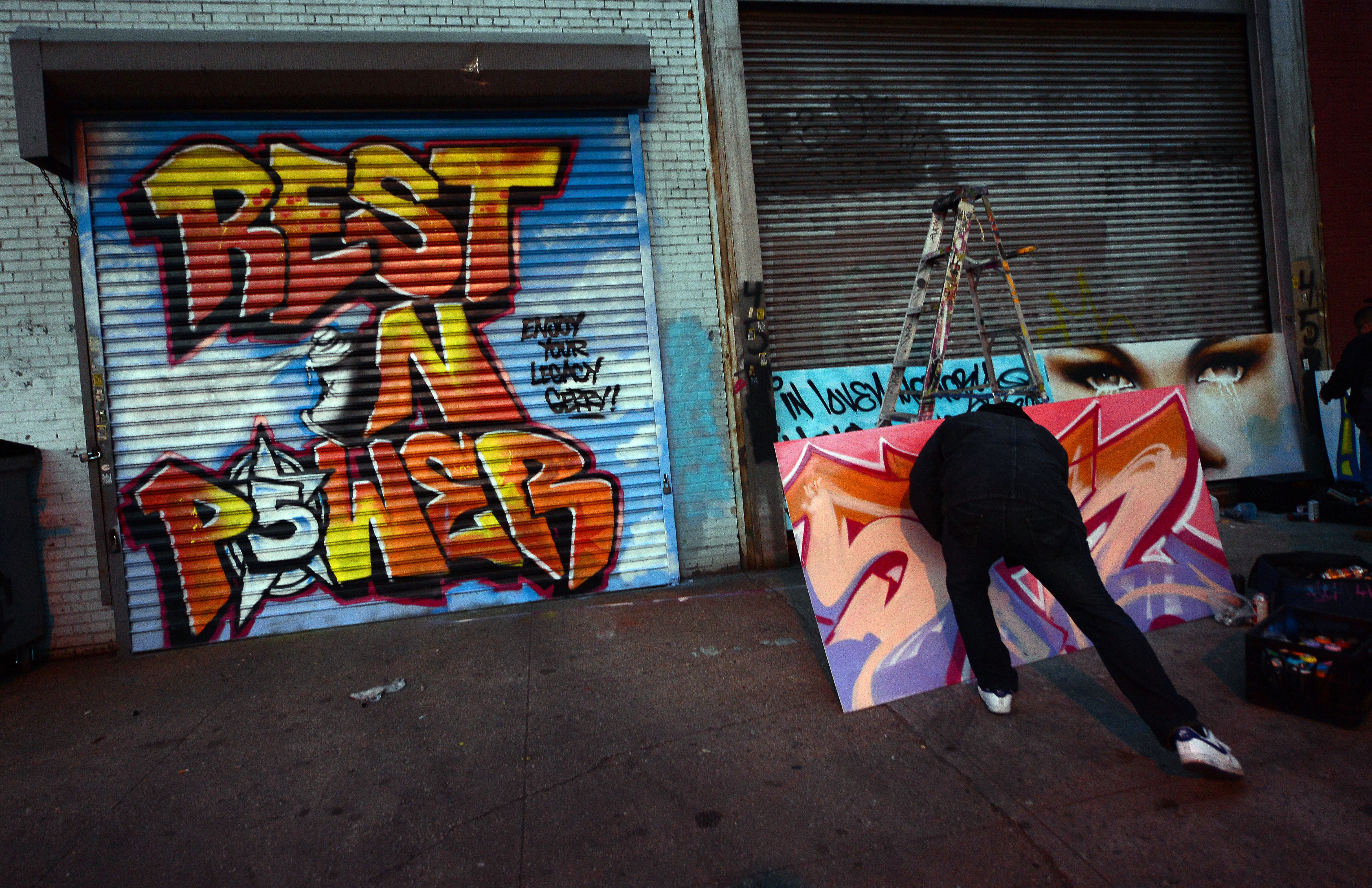 In preparation for Tuesday night's vigil, graffiti artists tagged through the day.
Tonight, the plan is to paper as much of Cohen's makeshift wall as possible. "We starting making signs at two," says a man with long dreadlocks -- Dready Krueger. He says he and Cohen spoke with their lawyer, who consulted with the police. It was determined that the plywood was theirs to decorate as they wished.
Soon, Cohen is fielding reporters, speaking into mics as camera bulbs spotlight him in the dark. A skater smoking a cigarette looks admiringly past him to the plywood, which is vanishing behind signs. "I like how they're bending the rules with the paper," he whispers to a companion. "Can't write on the walls? But we sure can tape it."
Cohen's grievances include the high rises in the near distance. "I see them at night," he says matter-of-factly, to the crowd huddled around him. "There's not a single light on. Why do they keep building these apartments? Mayor Bloomberg, what are you doing to this city?"

Gentrification is at the heart of the fight. Wolkoff says his apartment project is valued at $400 million. While he's promised to block off a 60 foot tagging wall and studio spaces for 5 Pointz artists, there's little chance rent prices at his glass-and-steel concoction will dip as low as they once did at the derelict graffiti mecca (at $300 a month for some rooms, 5 Pointz studios were legendarily the cheapest to be gotten for miles).
The new wall is also a poor substitute for the vast canvas that has now been painted over. But Wolkoff claims he's already received phone calls from two graffiti artists asking to "curate" his new space. He calls himself a lover of the art form, both for its provocative beauty, and -- developer that he is -- for the allure it brings to the neighborhood.
Tonight though, he's enemy number one. "The Madoff of graffiti art!" Cohen roars repeatedly.
Someone asks Cohen he's seen the calls to "Kill Jerry" online. He seems unfazed. "I hope he lives for a long time," he retorts. "I hope he lives to 100, so he can see what his reputation becomes. No artist is ever going to paint his walls. He's destroyed a temple."
Related
Before You Go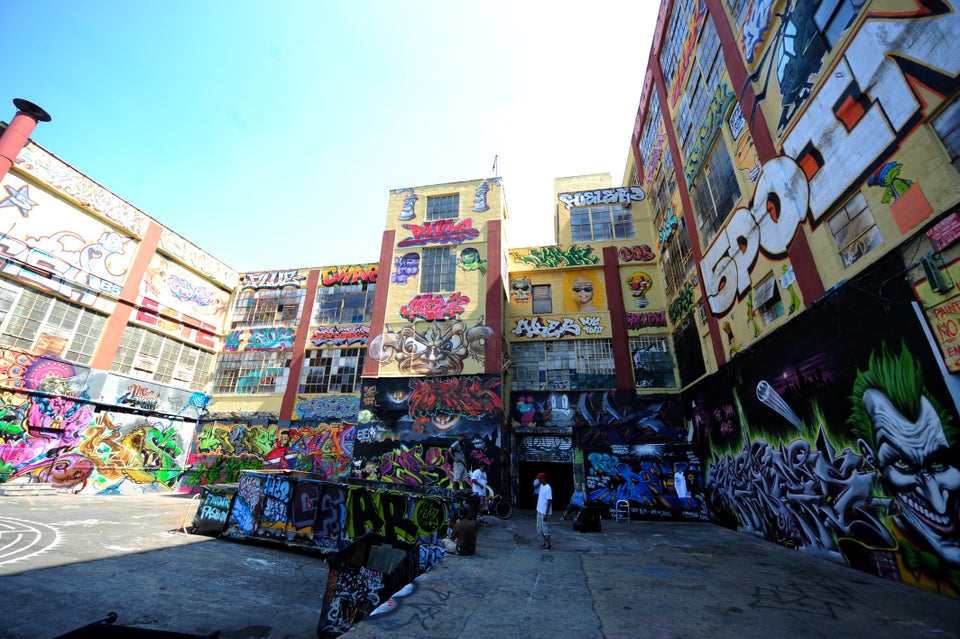 5Pointz
Popular in the Community