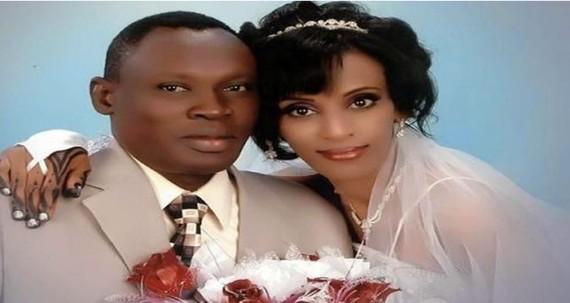 It's a mother's nightmare.
Forcibly separated from her husband and currently caring for her two tiny children in a Sudanese prison, Meriam Ibrahim awaits 100 lashes and death by hanging.
Condemned to Death for Her Beliefs
Sentenced to death in Sudan for her Christian faith, Meriam recently gave birth to a daughter while chained in prison. Her daughter, Maya, was born on Tuesday, May 27, and joins her 20-month-old brother, Martin, both confined in prison along with their mother.
Meriam was eight months pregnant when she was forced to appear before a court on charges of "apostasy" and "adultery." When she refused to renounce her faith she was sentenced to death by hanging -- and to 100 lashes for her marriage to a Christian man.
Imprisoned with Her Children
The date of Meriam's execution has not yet been announced. Sudan's Criminal Code maintains that she must be kept alive to nurse her child for two years prior to her execution.
Reports have circulated of her imminent release, but the Sudanese government has retracted the claim, stating that her release is contingent upon the court accepting an appeal request made by her defense team.
What Will It Take to Free Meriam Ibrahim?
The fact that Sudanese authorities originally announced Meriam's release as a result of international pressure prompts an unsettling question: What will it take to free Meriam Ibrahim? One thing is certain: It is vital to pressure the Sudanese government at this crucial juncture.
Here are five actions that anyone can take right now to help work for the release of Meriam Ibrahim.
1. Keep Meriam's Case in the International Spotlight
Now more than ever, it is crucial to keep Meriam's case in the international spotlight. You can do this by reading about Meriam's case and sharing new developments with your friends via email and social media.
Meriam's case has remained in the international spotlight because people are willing to speak out on her behalf. Tweet your support for Meriam using the following hashtags:
•#SaveMeriam
•#FreeMeriam
•#FreeMeriamIbrahim
•#ForMeriam
2. Sign a Petition to the Sudanese Government to Free Meriam
Amnesty International is among many organizations circulating a petition to Sudanese authorities asking for Meriam's release. Take action by signing the petition on Meriam's behalf -- then take a moment to share it with your friends.
3. Send a Petition to the White House to Speak Out for Meriam
U.S. action in the case of Meriam Ibrahim is crucial. This petition notes that Meriam's husband is a U.S. citizen, and consequently her two children are as well. Both children are currently confined in a prison that a 2008 U.N. document described as having an infant mortality rate of one per day in the summer. The petition asks that Meriam be granted expedited safe haven in the US. Sign this petition to urge action from the White House today.
4. Join a Protest on Meriam's Behalf
Two protests are coming up this week, each designed to raise awareness and support for Meriam.
This Thursday, June 12, 2014, at 10 a.m. EST, citizens will gather in front of the White House to call on the administration to take decisive action to ensure Meriam's immediate and unconditional release, and to extend asylum to Meriam and her children so that they can start a new life, free from persecution.
On Friday, June 13, 2014, at 10 a.m. EST, another protest will take place in front of the Sudanese Embassy, demanding that the government of Sudan immediately and unconditionally release Meriam, acquitting her of all charges. Find out more and join the upcoming protests for Meriam.
Meriam's case is at a crucial juncture, as it has now reached the appeals court. Daniel Wani, Meriam's husband, is asking US officials to expedite her asylum process in case her sentence is overturned and she is freed. Even if she is released, the lives of Meriam and her family remain at risk if they stay in Sudan. Check the news each day for updates on Meriam's case, and be sure to share updates as the case develops.
Through increased awareness and advocacy on her behalf, Meriam's case may gain the traction it needs for her release. Your voice can make a powerful difference in the life of this imprisoned mother.