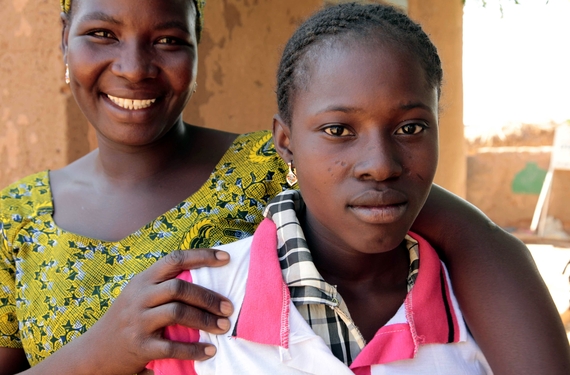 For this reason, many people do not know this practice exists, or that more than 125 million women and girls around the world live with its consequences today. For those who do know about FGM/C, far too many think the practice is here to stay.
That's not the story I've come to believe. Whether you care about global health, good governance, international development, or human rights, the many stories of FGM/C are ones we need to hear and share.
FGM/C is a story about global health. In many parts of the world, it is carried out by untrained practitioners, with no anesthesia, using blades or razors that aren't cleaned between uses. Afterward, girls are at risk of hemorrhaging, recurrent infections, complications in child birth, and even death. They may be at greater risk for HIV and AIDS. In countries where Ebola has devastated communities, the practice can increase the risk of contracting the disease. That's why, in places like Sierra Leone, our Embassy has worked with local health care providers to prevent the spread of Ebola and increase awareness of FGM/C as a potential point of transmission.
FGM/C is a story about justice. The practice has been outlawed in most countries where it occurs, and some countries, including Ghana and Kenya, have seen a dramatic reduction in prevalence rates. But it wasn't until this year that Egypt used its law to convict a doctor who performed FGM/C on 13-year-old Sohair al-Bata'a, who died from the procedure. The conviction came after human rights lawyers and NGOs fought hard for the government to pursue the case.
FGM/C is a story about social norms and cultural traditions. In so many communities where FGM/C is prevalent, it is part of a ceremony, a celebration of a girl's transition to womanhood. Cutters -- midwives, traditional healers, aunts and grandmothers -- perform the act out of love, as a way to prepare a girl for potential marriage or to protect her from becoming a social outcast. That's how we know that FGM/C won't end until communities collectively and publicly declare an end to the practice, a model that organizations like Tostan are pioneering.
FGM/C is a story about the U.S. government's commitment to women, girls, and international development. Thanks in part to a1.5 million grant from my office, the U.S. Embassy in Guinea is working at all levels to end FGM/C. We're asking imams to speak out against the practice in their Friday sermons. We're collaborating with 26 non-governmental organizations at the village level to reach teachers, parents, girls, and even cutters. We've set up a hotline so girls can get advice or find a compassionate ear. And we're raising the voices of Guinean women who want to end FGM/C by making radio ads, TV spots, and billboards to end the silence and start telling all of these stories.
Some incredible survivors are doing just that. When she was a young girl, the rapper and musician Sister Fa underwent FGM/C in her home country of Senegal. Today she uses her music to spark a larger dialogue about the practice in places where it is still taboo to talk about it. Her hometown has been one of many in Senegal to abandon the practice of FGM/C. And Sister Fa herself will ensure the tradition of FGM/C ends with her: Her daughter will never undergo the practice.
This is the power of the stories of FGM/C. We need to make sure we're listening.