Every entrepreneur will tell you that it takes hard work and persistence to be successful. In addition to loving what you do, continually learning from others and building a great team around you, one of the most important things you can do is build your reputation through public relations strategies.
Your reputation is what people say about you when you're not around. It is what gives you a competitive advantage, and can help drive business and sales.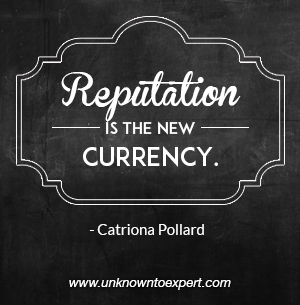 Public relations is all about reputation; reputation is everything to a brand. In addition to shaping how your target audience perceives you and your company, PR enables you to share your vision with consumers while building your profile and influence.
Here are our top five PR tools which will help you to build your reputation on your path to being a successful entrepreneur.
1. Good bio
As an entrepreneur you need to be competent at selling yourself. A bio is just one tool you can use to showcase your experience and expertise. A good bio is not simply a resume - it should describe and showcase your career, highlight the fields you're an expert in, and sell you in a genuine way.
To write a winning bio, start by using the inverted pyramid, where the most important information is at the start. Make sure you include your area of expertise, your background and experience, your qualifications and examples of your successes.
It is also a great idea to create multiple versions of your bio for certain situations. For example, a short bio (100 words) is great for media opportunities, a longer bio is suitable for websites and conferences (1 page) and a micro bio (1 or 2 sentences) is perfect for social media or adding on the bottom of articles.
2. Networking
Connecting with people is the best way of building your reputation and getting your name out there. When people know you, and know what you can offer, they are more likely to do business with you or recommend you to other people.
Remember, networking isn't about selling; in fact it's not about talking. Networking is about listening. The best networkers are the ones who are able to build relationships and invest time finding out about others.
3. PR (& social media) strategy
Creating a plan about how you are going to build your reputation is vital for your success. Take the time to understand how you can successfully pitch your professional knowledge to a journalist.
To help you develop compelling story angles worthy of the media's interest, you should:
• Read the newspaper daily
• Read publications you want to appear in
• Listen to questions your clients and customers ask you
• Read industry publications and spot industry trends
A personal website can also provide you with an online platform where you can promote yourself, be easily found and can act as a hub for all your information.
4. Know how to write a media release
A media release is a great way of communicating with the media and building your reputation. However, you need to be strategic in how you structure and draft the announcement, or you will find your media release in the trash within seconds.
When you sit down to right a media release you need to keep in mind the publication you will be sending it to. Your overall goal for sending out a media release is to communicate your messages to your target audience.
5. Media list
A media list documents the key media contacts in your industry who you want to build your reputation with. They will be the ones who write stories on key issues in your industry, and can include journalists, producers, bloggers, freelancers and editors.
A good media list is created by:
• Finding your audience -- what are the publications your target audience use or view?
• Identifying contacts -- the appropriate person who will read your pitch or media release
• Creating a database -- sort contact details into a spreadsheet with different names for the publication, contact person, job title, email and phone number
• Categorise your list -- sort contacts by topics or areas of interest
• Most importantly, make sure you update your list regularly
Passion, determination and a positive attitude breed successful entrepreneurs. Knowing how to use PR to build a reputation cultivates great entrepreneurs.
About the author
Catriona Pollard is the author of From Unknown To Expert, a step by step framework designed to help entrepreneurs develop effective PR and social media strategies to become recognised as influencers in their field. www.unknowntoexpert.com
Catriona is also the director of CP Communications, which merges traditional PR tactics with cutting-edge social media strategies that engage consumers as well as business. www.cpcommunications.com.au
Popular in the Community