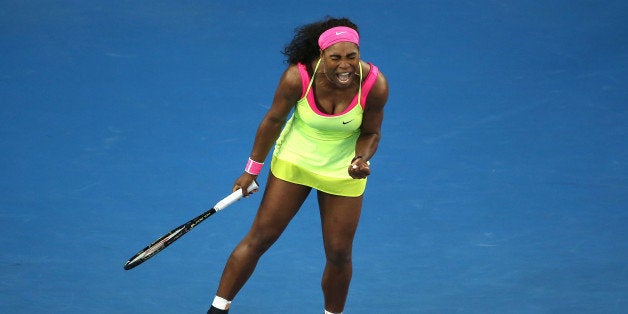 The 2015 Australian Open began a few days ago. For tennis fans in the western hemisphere, particularly those in the Americas, that basically means two weeks full of tennis, sleepless nights, and a lot of coffee in the mornings to make up for failing Morpheus.
When one predicts something to happen, it is always a risk. That is mainly because predictions usually end up being just that and are often off the mark. In this post, I share five personal predictions that I believe will happen over the next few weeks, but with a slight twist: I want to be wrong.
5. Serena Williams will win her sixth Australian Open
I have nothing against Serena Williams. I do not doubt for a second that she is currently the best female player in the game, as her current ranking would attest, nor that she is one of the greatest of all time. In fact, her 18 major titles put her just four short of Steffi Graf for most in the open era and her chase for Graf's record will make for one of the best storylines in the game over the next few years.
I believe that she will win this Australian Open, yet I hope she does not. If I had to pick, I would prefer either World No. 2 Maria Sharapova to win her sixth major title or Caroline Wozniacki to win her first. Williams is a woman on a mission. There is no way she has forgotten her recent performances in Melbourne and to say she is not happy about them would be an understatement. If Williams is at the top of her game and stays focused, there is no one who will be able to stop her as she goes for her 19th grand slam title.
4. There will be no Australian man or woman in the quarterfinals
This prediction right here is the one I am most likely to be wrong about. This supposition covers both the men's and women's draws, and that is why it's so risky. I could easily see Sam Stosur go on a run to the quarterfinals and quite possibly to the semifinals. In the women's draw, she would be the most likely candidate out of the Aussie players to make it that far, given her experience and talent.
In the men's side, the Australians' chances are a tad more difficult. Lleyton Hewitt is always a candidate to make a deep run at home, but he's likely to face Milos Raonic in the third round, which will be a tall task for the veteran. Up-and-comer Nick Kyrgios has already played in a major quarterfinal, but he fell in Roger Federer's section and will have to overcome big-serving Ivo Karlovic before even dreaming of facing Federer.
There is, however, a section with three Aussies still in the running. That would be Tomas Berdych's with Bernard Tomic leading the pack. Berdych tends to be erratic at times, so there could be an opening there. Still, I stand by my prediction.
3. Roger Federer will fall in the semifinals for the fifth consecutive year
This prediction right here is the one I would love more than anything to be wrong about. I started following tennis because of Federer and when I write of sleepless weeks and mornings full of coffee, it is because the organizers down under tend to place Federer in the evening session more often than not.
Since Federer won his fourth Australian Open in 2010, he has been consistent in making the final four. He has also been consistent in terms of dropping the semifinal match. The main difference between this Australian Open and at least the last three, is that he's entering this edition better than ever. Still, just like Achilles had his heel and Superman had kryptonite, Roger Federer has Rafael Nadal.
It just so happens that Nadal and Federer fell on the same half of the draw for the third time in the last four years. Facing Nadal period is a tall task for him, even more so in a major. The last time Federer overcame Nadal in a grand slam was in the 2007 Wimbledon Final, when the Swiss was in the midst of his period of dominance. If they meet, Nadal is likely to prevail.
2. Rafael Nadal will make his fourth final
A lot has been said about the World No. 3 and the state of his health throughout the last few months. Truth is, the Spaniard has had a tough go at it since he won the 2013 U.S. Open. In 2014, he missed the summer hard court season due to a wrist injury and then towards the end of the year he was sidelined with appendicitis.
No one, not even Nadal himself, considers the Spaniard a favorite for the title. The tennis world, however, has seen this story before, more than once actually. The most recent example is the 2013 season. Nadal missed the second half of 2012 and did not return to the circuit until after the 2013 Australian Open. Many pundits were calling for the end of his dominance and he supported their views while in press conferences. Every tennis fan knows what followed, he proceeded to win his eighth French Open and his second U.S. Open.
Nadal's greatest threat early on might come in the third round against Lukas Rosol if he makes it that far. In the quarters he would face Berdych, whose game suits him very well, and then Federer in the final four.
1. Novak Djokovic will win his fifth crown
Novak Djokovic has a date with history at this year's Australian Open. Not only is he looking for his eighth major, which would put him in a tie for fifth all time in the open era, but for his fifth title in Australia, which would make him the winningest champion down under in the era.
The stars seem to have aligned for the Serb to achieve just that this year. Out of the trio composed by Djokovic, Federer, and Nadal, he has the easiest path to the final. Nadal fell in Federer's half, and the Swiss' most likely quarterfinals opponent is the always dangerous multi-slam winner Andy Murray.
Djokovic's greatest threat prior to the final is defending champion Stan Wawrinka from Switzerland, who eliminated him in the quarterfinals last year. Despite that, the Serb is unlikely to have much trouble making the final four, where he should dispatch Wawrinka and avenge last year's defeat. Anything can happen in a grand slam final, but Djokovic is 4-0 in Australian Open finals and no matter how much I would like to see that change this year, it is just not very likely.
REAL LIFE. REAL NEWS. REAL VOICES.
Help us tell more of the stories that matter from voices that too often remain unheard.