Difficulty arises for Illinois colleges that might rely on state funding
For college students and their parents, the increases in tuition costs are becoming a growing concern. It's important for parents to know which colleges are hiking up costs the most, and by how much the college tuitions are increasing.
The Illinois Student Assistance Commission, a state-run organization that provides financial assistance to students, has compiled a list of tuition changes at four-year public and private not-for-profit universities for the upcoming 2015-16 academic year.
In order to provide an apples-to-apples comparison, the commission used base rates for freshman students since tuition could vary depending on the type of program and school.
For example, the University of Illinois Urbana-Champaign's freshman base rate increased 0.2 percentage points from $15,602 last year to $15,626 for 2015-16, according to ISAC. But if you look at the school's website, it shows tuition ranges from $15,636 to $20,640 for an Illinois resident. When you include all the other expenses, one year as a Fighting Illini could cost anywhere from $30,346 to $35,350.
Public Illinois colleges are in a precarious spot financially due to the ongoing state budget standoff. Gov. Bruce Rauner introduced a budget in February that called for reduction in state higher education spending of 30 percent. The General Assembly passed a budget with a 6 percent cut but Rauner vetoed it. Fiscal Year 2016 began July 1 with no budget in place.
The infographic below lists the top five private not-for-profit Illinois colleges with the largest base rate tuition increases from 2014-15. Following the graphic is a spreadsheet containing the commission's tuition figures for all 12 public universities and 50 private schools in Illinois.
Keep in mind ISAC's figures do not reflect average tuition and fee rates, nor do they include the cost of room and board, textbooks and supplies, or other expenses.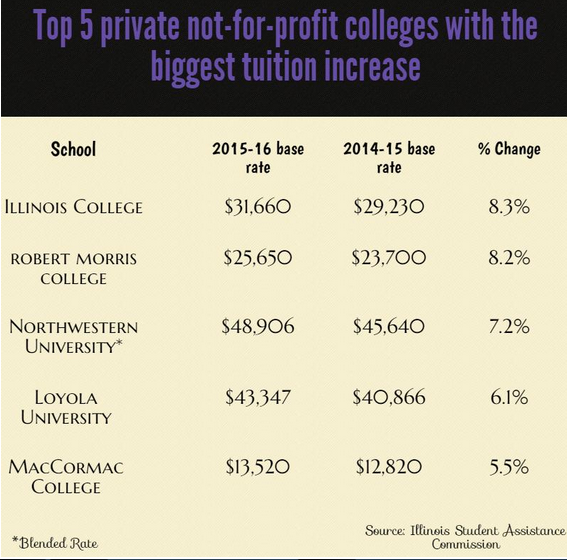 To see 5 public colleges that had the greatest increase in tuition, including Northern Illinois University and Illinois State University, check out Reboot Illinois.
REAL LIFE. REAL NEWS. REAL VOICES.
Help us tell more of the stories that matter from voices that too often remain unheard.