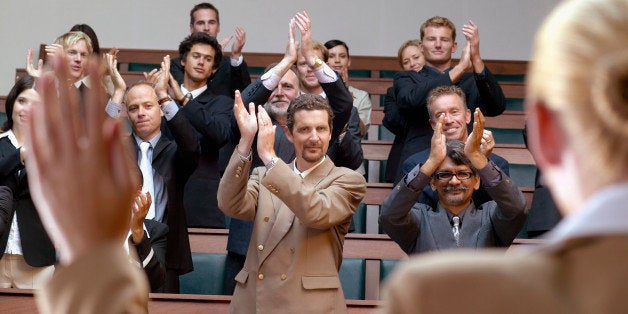 There are trainers, presenters and keynote speakers available to talk about any topic for every business. I know. I represent speakers at WeSpeak Worldwide as the CEO. There are presenters whose charisma will charm you while they speak, phenomenal speakers who will leave you in awe and then there are speakers who can put you to sleep within their first paragraph. Most speakers fall somewhere in between. How do good speakers become great presenters, and how do great presenters become effective speakers?
Get Them At The Beginning
Hatcher suggests not starting your presentation with a typical lack-luster introduction of yourself, but instead to energize yourself and your audience with one of the five Attention Getters below. "This activates the right side of the brain and gets your audience involved," said Hatcher. Speakers can involve their audience before their introduction by using one of these five impactful methods:
5 Attention Getters
Ask a question or series of questions. i.e., "How many of you . . .?"
State something startling. i.e., "Do you realize . . . ?"
Use a powerful quote.
Tell a story.
Use an analogy or an example.
Breaking Into The Industry
By reading Hatcher's book, even experienced speakers can improve their presentation skills by identifying with their "actortype". But for new speakers she gives these tips to get started in the industry.
Start speaking for free to small groups like the Chamber of Commerce.
Always get a copy of your recorded presentation.
Find businesses that offer "Lunch & Learns (where employees learn a new skill over lunch) and present to their staff.
But What About Nerves
Hatcher recommends using a super hero stance to take up as much space as possible so that you feel powerful. "Research has shown that holding this stance for 2 minutes can lower your anxiety and stress levels," said Hatcher. Another technique is to re-identify 'nerves' as 'excitement.' And finally, to internalize your real purpose for public speaking which is that you actually have something valuable to offer the attendees who are there to hear you speak.
To learn more about inspiring standing ovation presentations, or to have Hatcher speak to your group or to present to your trainers, contact WeSpeakWorldwide.com.
Calling all HuffPost superfans!
Sign up for membership to become a founding member and help shape HuffPost's next chapter