With more and more consumers expecting businesses to be present and available on social media 24/7, companies that are meeting these expectations are standing apart from the pack. Customer service via social media, or 'social customer service' as it's sometimes called, can no longer be thought of as a luxury, but should be a key component of any business's customer service strategy.

The good news is that figuring how out how to provide great social customer service isn't all that difficult. By consistently following a few simple principles, you can make sure you're offering the best service possible, while also building authentic relationships with your social media fans and followers.
Here are 5 qualities that companies with outstanding customer service tend to possess.
1.They respond quickly.

Keep in mind that for every minute, hour or day you don't respond to a complaint or issue on social media, the impact and effects of this negative interaction may be increasing.
For instance, if Sally posts a complaint on your Facebook page, not only are your other fans seeing it sitting there unanswered, but Sally has more opportunities to tell others about her negative experience.
Conversely, if you respond in a prompt and respectful manner, you're likely to get the issue resolved and get the goodwill flowing again.
2.They have a sense of humor.

Creating a company culture that encourages humor can go a long way when it comes to handling customer concerns, complaints or comments on social media.
Not only does good humor tend to 'lighten the mood', it can put a more personal face to your business.
True, when done poorly, it can backfire, undermining serious concerns or issues. But when done correctly? Awesome. Check out part of this recent interaction involving Netflix customer service.
3.They turn complaints into opportunities to shine.

Receiving a complaint - especially via social media - never feels good. But instead of dreading complaints, try to think of them as opportunities to showcase your customer service values to your social media followers.
By acknowledging and apologizing for mistakes made, you can turn an uncomfortable, potentially damaging situation into an opportunity to show your followers and fans that you truly care.
4.They listen.

Using social media for business should be more about listening than talking, but this is especially true when it comes to providing outstanding customer service.
Businesses that want to be successful at using social media for customer service need to make a point of stepping back and letting the customer have the floor.
•Asking them how you could improve your service or product
•Using feedback or criticisms on social media to improve your business
•Asking customers what their pain points are, rather than assuming you know
•Responding to complaints in a way that people know you've really heard them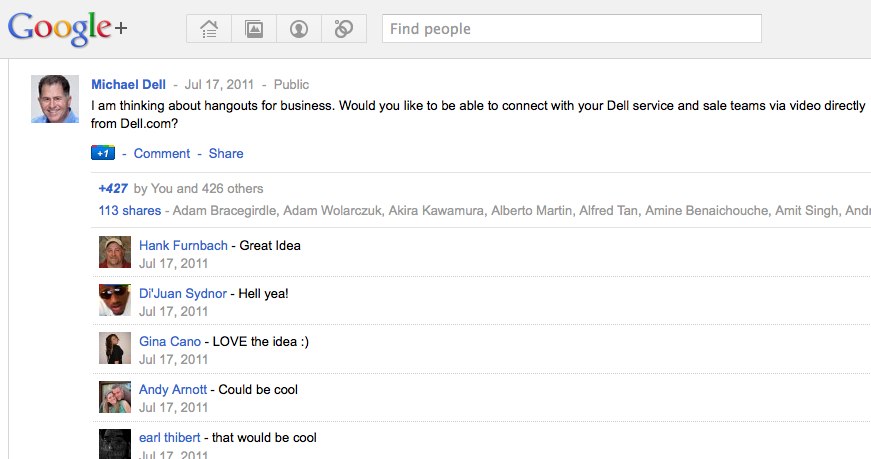 5. They're specific.

Show you care by responding to complaints quickly, respectfully, and specifically. Glossing over them with generic statements such as 'we're sorry to hear about your experience' will likely only hurt the situation further, so be sure to fully address each concern.
Offer specific feedback and further assistance via phone, email or private message. When possible, offer to look further into the problem and promise to resolve the situation promptly.
And there you have it: 5 qualities of companies with outstanding social customer service. It may be time-consuming and require additional resources, but providing stellar customer service via social media meets a need that consumers are demanding.
Do you use social media for customer service? What struggles (if any) do you face with meeting your customer's needs in a timely and efficient manner? Share with us in the comments below!
Popular in the Community