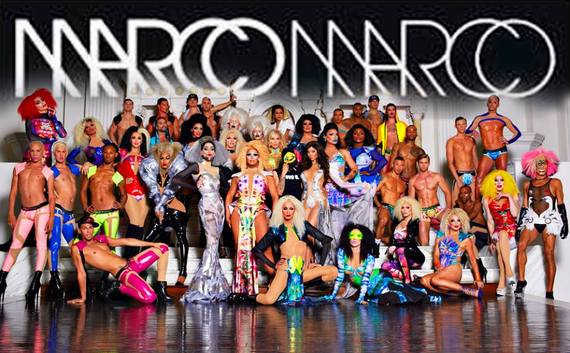 photo credit: Magnus Hastings
Marco Marco's "Collection Three" show proved to be an even more perfectly outrageous spectacle than his last showing. That alone was no small feat, but with 37 looks adorned on the bodies of the most celebrated queens, no mission proved impossible.
The show titled, "Collection 3, Slut Goes to the Moon," took place at the stunning Cathedral of St. Vibiana. The event was sponsored by The Abbey Food and Bar, Skynny Kitchen, and produced by the fabulous Chanel Perrillo. Seated in the front row of the immaculate long white runway were Adam Lambert, Carmen Electra, Lilly Ghalichi, Samuel Larson and of course the "Who's Who" of West Hollywood. Everyone was there to celebrate Marco Morante, the mysterious man behind Marco Marco. The highly anticipated runway video of the full show will (as rumored) be released this Tuesday. In the meantime, I was lucky enough to track Marco down for this rare question and answer session.
1. How did this season's line and show differ from last years?
This show was an attempt to up the ante from last year. I wasn't necessarily ready to change the formula, but I wanted the opportunity to grow the concept and flesh it out. Last year was a mash up of sacred geometry and an old school walk off.
This year blended patterns of crystal formations and refracted light with some of my favorite iconic gay movements: vogueing, pageants, club queens, and of course giving it all a sci-fi twist. I'm a comic book nerd at the end of the day.
2. How did you come about featuring queens in your fashion shows?
There is a queen named Vicky Vox, who performs a number called the laughing track. I die every time I see it because it is just so good. All I wanted was for her to open the first show, and when she said yes, that was the first seed.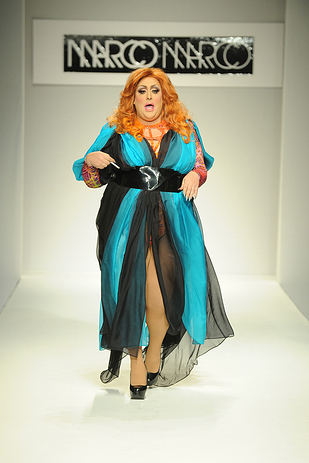 photo credit: diytheme.com
Having the show include all the different types of boys, that I'm surrounded with, just made sense. It felt real and visceral because it was! Those are my friends and watching them shut the house down one by one was the most exciting 15 minutes of my year. It's also nice to give credence to a social group that doesn't get the appropriate type of attention they deserve. I wanted a legitimate opportunity for my friends to show the world what being a 'bad ass bitch' is really about.
3. There are so many fierce queens and hot gay boys. How do you choose whom to feature in your show?
I don't choose to feature anyone. I feel like it all kind of falls into place as the pieces develop and as I meet with them and begin to decide which girl fits each design. This is a process I go through with my team. Everyone has input on who the models will be, and we come up with an order from there.
4. Were you always a fan of Britney and what is it like to design for her?
I was out of high school and into art school before Britney came on to the scene, so I definitely missed the boat there. However, my assistant (Michael) made it VERY clear to me that she is a legend. He calls her "Godney." When we booked the Vegas show, I learned her songbook very quickly and feel like an expert now! She is an inspiring person who has overcome adversity time and time again and that is a hard thing to do over and over. (Especially on such a global scale).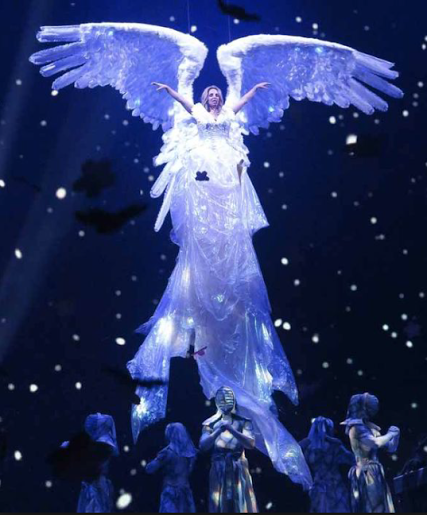 photo credit: Marco Morante

5. Why do you cover your cute face in pictures and videos?
That's MY face! You wanna see it, come talk to me :) 15 yrs selfie free!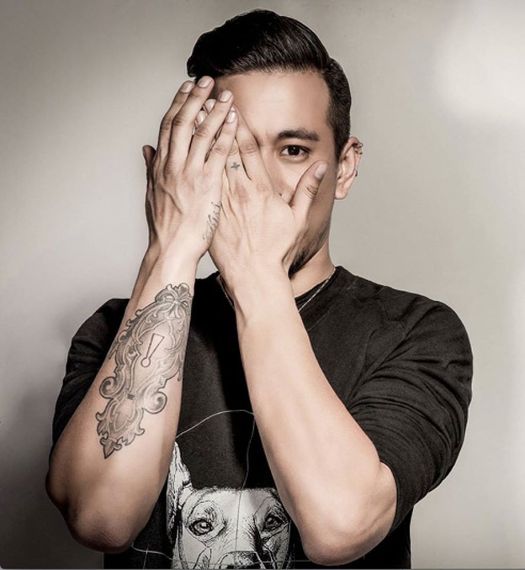 photo credit: Marco Morante
6. I sat next to your family at your show. They seem very proud and supportive. Have they always been that way?
Yes, my folks have always been very supportive. They always expected the most from me, but also never let me beat myself up when I failed. They were consummate parents and I owe them the world.
7. What is your favorite color and why?
I don't have one, but I do love neon. I read somewhere that certain animals can't see neon and that's why hunters wear them. The idea of wearing a color that is at least semi specific to our species is pretty awesome.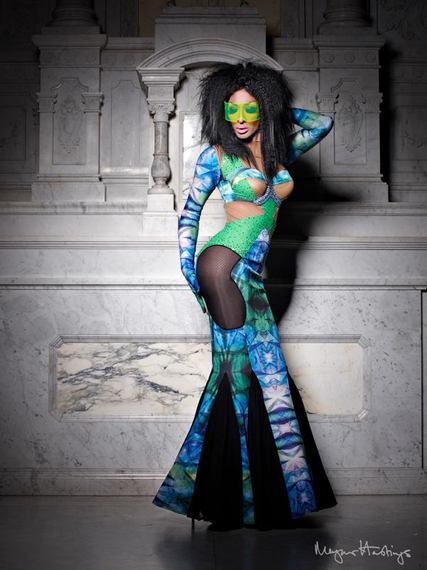 photo credit: Magnus Hastings
8. Where are you from? What does your hometown think of your success?
I grew up half in Anaheim and half in Laguna. I don't go back to either often, so I can't say I know much about what they think, but I hope it's good though!!
9. Do you wear your own brand of underwear? What pair is your favorite?
Yes, I'm almost always in Marco Marco undies and socks. My favorites are the black boxer briefs and the black and white socks! I LOVE them, so much that I get sad when I'm out of laundry and have to revert to my old ones. If I have to, I'll sneak into the back (when Chris isn't looking) and snag an extra pair.
10. Who are your favorite designers of all time and your favorite up and coming designers?
My favorite designers of all time: William Travilla, Edith Head, Eiko, Paco Rabanne, Issey Miyake, Iris Van Herpen.
My favorite up and coming designers: August Getty, Nika Danielska, Takashi Nishiyama.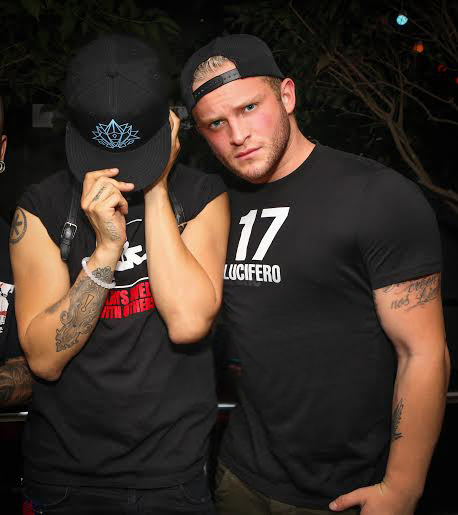 Designers Marco Morante and August Getty. photo credit: Jason King Photography
11. What can we expect from your online web series?
I have no idea! LOL I haven't seen it either, so I'm watching it at the same time everyone else is, but I imagine you're going get to see a little of what it is we go through to create one effortless evening for our guests and for the models. Our goal is to make this an experience and we want it to be all encompassing.
12. You wrote an open letter to Anna Wintour. Has she replied?
Hahaha! No she hasn't. That's okay though. I imagine she is a busy lady!
13. What are some of your favorite costumes you designed?
Iggy-EMAs
Fergie-Victoria's Secret Fashion Show
Britney Spears-Angel costume for Vegas show (see above)
Katy Perry- Cupcake Bra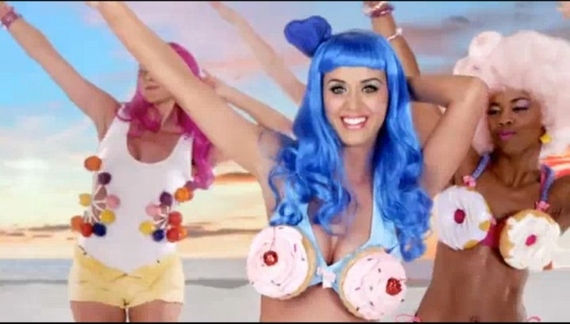 photo credit: Marco Marco
14. What advice do you have for people who look up to you and want to be a fashion designer?
Run! LOL It is not an easy gig! The machine could swallow you. However, if you're patient (and willing to go broke over and over again) and can't live with out it... then go for it! It has to be all in or nothing because there are a million kids who are the shit and make amazing things. So give it everything!
15. Do you have any hidden talents?
I'm a good whistler and I can fry an egg like a mother fucker.
Calling all HuffPost superfans!
Sign up for membership to become a founding member and help shape HuffPost's next chapter