A historic climate pact has been heralded as a success by world leaders. Meanwhile, protestors on the streets of Paris decry the deal as a disaster. To bring some clarity to these clashing perspectives, I interviewed Keya Chatterjee, executive director of the U.S. Climate Action Network -- a diverse set of faith, civil rights, development, environmental, and human rights groups, with varied views, and a common interest in addressing Climate Change.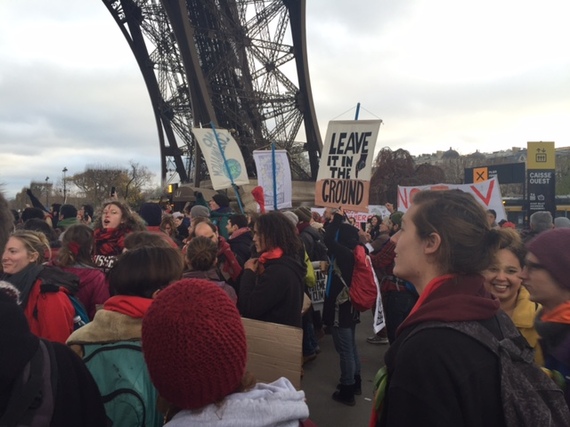 "Leave it in the Ground" Climate protest against oil & coal at the Eiffel Tower at COP 21 in Paris. Photo credit: Tim Ward
Question 1: What does the US Climate Network think of the Paris Climate Deal?
Answer: In my view, this deal reflects all of the work that all our amazing members have done as a community to start a massive energy transformation in the US towards renewable energy. It shows us that governments are responding to the broad and diverse movement pushing towards justice, marching, closing power plants, and protecting the health of our children. Years from now, we will all be judged by our kids and their kids by whether we did enough in this moment. There's no question that something important happened here in Paris, and that it is a part of our journey towards doing enough. Critically, we have said we will come back in 2018 to review our progress, and that every 5 years we will keep coming back until the job is done.
Question 2: How does the new agreement change things?
Answer: We are finally discussing the loss and damage vulnerable communities face. We have admitted in the deal itself that the current commitments are not sufficient. We have increased our ambition to the goal of limiting global warming levels to 1.5 degrees Celsius. We've also explicitly said for the first time that the transition must be a just transition that protects workers and promotes decent work and quality jobs.
And yet, we know the current targets for this transition fall short of what is needed. The agreement we can get today is a reflection of where we are in building a movement for climate action. It is this movement of mothers, fathers, people of faith, workers, businesses, mayors, youth and front line communities that will make sure we do more to protect the most vulnerable among us from the impacts of climate change.
Question 3: Protesters have massed at the Eiffel Tower and Arc du Triomphe, saying the deal is inadequate and won't avert disastrous Climate Change. What would you say to them?
Answer: I say, "Thank you!" My work kept me in the negotiating halls today, but my heart was in the streets. Remember, it's the people in the streets, here and around the world, who have gotten us as far as we have come. The people of our movement are also the ones who will keep us going on this massive just transition to renewable energy.
The run up to Paris saw the biggest, most diverse set of climate mobilizations in history. In the last year, activists have gotten the KXL pipeline rejected, prevented drilling by Shell in the Arctic, and demanded climate justice and equity at every turn. In the coming year, we will continue to stop fossil fuel projects, so that we can reduce greenhouse gas emissions at the scale required to meet our moral obligation to our children, and to the most vulnerable.
Question 4: Back in the U.S., the Republican Congress is unlikely to approve any deal, so what can the US administration do to begin to follow through on their climate commitments?
Answer: Luckily, this agreement is one that can be signed and implemented without further consultations, since the U.S. Senate unanimously approved the underlying treaty, known as the UN Framework Convention on Climate Change. Looking at the agreement now, there is nothing there that would require additional approval from Congress. The language is all anchored in the climate treaty that the US signed and ratified under George H W Bush. There have already been plenty of hearings and discussions with Congress, and the text was specifically negotiated to fall within what has already been agreed by Congress.
This means the U.S. Administration can now act on their own, with the support of civil society, faith leaders, businesses, cities, and states. That will mean looking at every decision that is made by the executive branch in the context of whether it is consistent with the goal of limiting warming to 1.5 degrees above pre-industrial temperatures. That means maximizing reduction under the Clean Air Act, and the reductions from government pollution levels. Being consistent with this agreement also means prioritizing justice and equity for the most vulnerable and ensuring their voices are lifted up in our work.
Question 5: What can U.S. citizens do in their own lives to make a difference in reducing Climate Change?
Answer: Electricity, transportation and food are the three key areas. On electricity, you can install solar panels and LED lights; on transportation you can get an electric car and ride a bike shorter distances; on food you can eat a more plant-based diet and waste less food. All of that you can now do with the knowledge that the whole world is acting together with you.
Keya Chatterjee is executive director of the US Climate Action Network and author of the book The Zero Footprint Baby: How to Save the Planet While Raising a Healthy Baby.
Calling all HuffPost superfans!
Sign up for membership to become a founding member and help shape HuffPost's next chapter