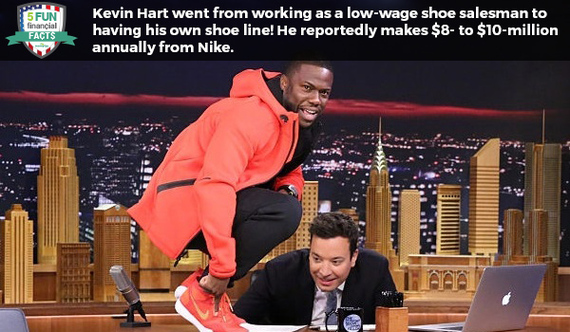 1. Kevin Hart went from working as a low-wage shoe salesman to having his own shoe line! He reportedly makes $8- to $10-million annually from Nike.

2. His 2011 stand-up tour grossed $15 million. His 2015 tour, which brought in $35 million in pre-sales alone, covered 112 cities in 13 nations on 5 continents, and even sold out a football stadium.

3. Since 2011, Hart has made more than $100 million in endorsement deals from corporate titans such as eBay, Samsung and Hyundai.

4. Hart has a big heart. The Philly native donated $250,000 to the Philadelphia school systems to buy students new computers.

5. Due to his dedicated Twitter following of nearly 30 million, a movie studio reportedly paid him $2 million just to tweet about 2 movies.
Photo youtube.com/user/latenight
Popular in the Community