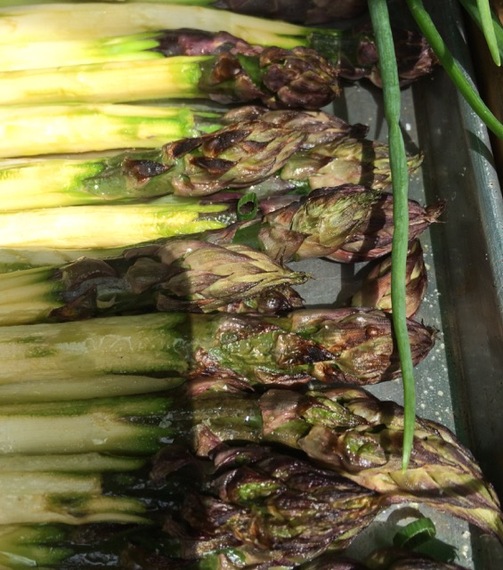 Once Memorial Day has passed, it seems that farmers market season in Chicago has truly begun. Ann Flood, the Editor of Edible Chicago magazine was the first person I heard use the term "farmie." She considered a farmie to be someone who shopped at and supported farmers markets. Maybe you already are a farmie but if you have not ventured to a farmers market yet this season, here are 5 quick steps to becoming a farmie.
1) Find A Market: As much as to me, it seems obvious where the Green City Market is located, which is in Lincoln Park across from the Hotel Lincoln at the intersection of Clark and Lincoln. I still run into people who live in the nearby neighborhood and don't know that it exists. Farmie's have their "go to" market. To figure out which market is closest to where you live, here are some useful sources. For markets in the city, the Chicago DCASE (Department of Cultural Affairs and Special Events) has a market schedule. For markets outside of Chicago, Local Harvest has a comprehensive searchable list of markets. Rob Gardner, publisher of the Local Beet, highlights many of the city and regional markets every week with helpful hints for shopping on his piece, "What's In Season." Community wellness organizations like the PCC Wellness Center in the Austin neighborhood now has their own farm where they are selling organic produce to their patients and to the neighborhood. Their urban farm is located at 330 N. Lotus Avenue. There are some apps that continue to get better each year that can help you locate a market as well, Foodlander, is one of them.
2) Have A Shopping Plan: Just as generally when you go to a grocery store, most people have a shopping list, the same applies for a farmers market. There are some "go to" cookbooks out there that focus specifically on recipes by seasonal produce like The Green City Market Cookbook, The Chicago Homegrown Cookbook by Heather Lalley and The Seasons On Henry's Farm by Terra Brockman, which is a story with seasonal recipes. Other recent cookbooks like Hugh Acheson's The Broad Fork, which focuses on produce, vegetables and fruit, as well are helpful. You can check the websites of favorite farms you come across. Terra Brockman produces a very comprehensive newsletter for Henry's Farm of the Evanston Farmers market. Some of the larger farmers markets like the 61st Street in Hyde Park/Woodlawn a weekly market letter that is a guide for what you will find at the market.
3) Bring Extra Reusable Bags, Small Bills and Umbrella: Bring reusable bags with you to the markets. Country Financial hands out their reusable market bags at their booth at all the city markets. As much as you may have a shopping plan, it is nice to keep fragile items like berries, or lettuces separate from the sturdier vegetables. The farmers have plastic bags and most have compostable plastic bags, but market veterans tend to bring 2 or 3 extra canvas, cotton bags with them to cut down on any kind of plastic. The farmers get cashed up before they open their stands but it will be helpful for you and helpful to them if you bring small change with you, $1, $5 and $10's. Inevitably, during the busy periods everyone seems to have twenties. It will make shopping at the markets quicker for you. Chicago has many different microclimates. It can be sunny in Pilsen and raining in Andersonville, since it is the season of the outdoor market always come prepared for all weather.
4) Use Your Senses - Get some free aromatherapy by smelling the herbs and flowers. At farmers markets you can taste the product but ask the farmer first. Ask as many questions as you like. Farmers markets are about engagement and most of the people who work at them are knowledgeable about the vegetables and fruit and product. Most of the time they are the farmer, or baker or canner. So if you wonder what this odd looking prehistoric root is used for, ask. Wonder how you tell if something is ripe, ask. Wonder if there is a discount off the price of tomatoes if you buy in volume? Ask.
5) Cook and Eat or Just Eat - When you get home, use your produce and cook. You can use the recipes suggested above but you may also, find that you don't need to do a whole lot. Olive oil, salt, pepper and a grill works for those spring green onions. Growing Power Chicago handpicks their lettuces and arranges them in baskets so you can eat the lettuce leaves right there. Nichols Farms' romanesco broccoli becomes its own visual entertainment for dinner guests with its fractal appearance. More of the farmers markets are offering ready to eat foods right then and there made from farm products.
So there you go, congratulations you are now a farmie! Happy summer and happy eating!
Calling all HuffPost superfans!
Sign up for membership to become a founding member and help shape HuffPost's next chapter