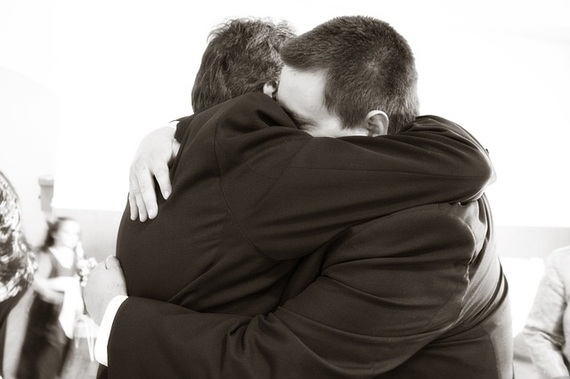 After our oldest son moved out and his brother went to college my wife and I started getting used to empty nest syndrome. Unlike a lot of couples we loved being alone in the house. We get along very well and never fight.
A couple of years later both boys, young men now, moved back in. One while preparing for a wedding, the other due to external circumstances. Although we encountered a few minor hiccups it was nice to have the boys home. We knew that eventually it would be more healthy for them to be on their own but we discovered some nice benefits to having them back.
Here are 5 Reasons to be Happy Your Adult Children Moved Home (Temporarily).
1. You Know Where They Sleep
At the end of every visit with my mom (love you mom!) she always asks us to let her know when we get home safely. I'm 46 years old and my mom still worries about me. It's very sweet. When your kids live at home again you always know where they sleep and that they made it back safe.
2. You Can (Again) be a Positive Influence
My wife and I tried hard to be good parents, raising our boys to be respectful of others, work hard and make an impact on the world. After they left home all we could do was hope and pray that those values stuck. But when they came back we got another shot. Not by being pushy or judgmental, but through modeling the behaviors in front of them. I realize that young children are very impressionable, but I think some lessons are best learned when you are old enough to understand them. If your adult kids come home that opportunity happens almost every day.
3. You Learn to Know and Love Them as a Person
In the hustle and bustle of child rearing there is a lot of "do this" and "don't do that." We spend much of our time and energy with our kids trying to teach them how to behave and relate to the world. But when they become young adults something changes. They earnestly develop into their own person. There is a big difference between raising your child and getting to know and love them as an adult. When they come home you can really enjoy befriending your offspring.

4. You Hear More of their Struggles and Successes
Both of our boys work at jobs that are highly people-centric. They encounter dozens of new individuals every day and interact with different types of coworkers. When they came back we got to be a part of their daily struggles and offer support in the way of empathy. We also celebrated their successes and congratulated them on jobs well done. It's great to be able to be so involved in their daily lives.
5. You Can Heal Old Wounds Together
Remember when your kids were teens? If you were like us you saw many challenges as they began to spread their wings and assert their individual ideas and opinions. Occasionally words and actions became ugly - and sometimes we parents were at fault. When your children are grown they have matured and mellowed (hopefully) and the parents no longer feel the pressure of making decisions on their behalf. This allows for times of wonderful sharing and forgiveness. Old wounds no longer have to sting and regrets can be released.
At some point you hope and expect that your children will find their own place and begin raising their family. But having them back for a while really can be a blessing. Enjoy that time while you learn to love them as adults. You just may find yourself pleasantly surprised at the great job you did as parents.