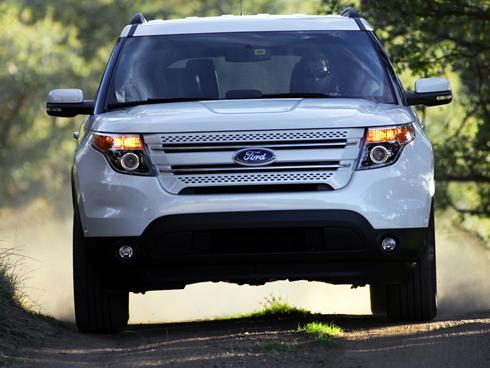 Image Source
With summer gas prices around the $2.25 mark, it's a lot easier to swallow a trip to the pump than it was back when fuel prices were hovering in the $4.00 to $5.00 range. But still, you may feel a twinge of guilt when you roll up to the intersection in your full-size SUV and the guy in the Prius next to you looks up at you and mouths, "earth-killer!"
But the beauty and power of the consumer market lie in the fact that, if you like filet mignon and you can afford filetmignon, you can buy filet mignon. Auto manufacturers keep offering a wide range of Sports Utility Vehicles including massive, full-size models because American buyers still want them and are buying them. Simply keeping a few key facts in mind can assuage that little twinge of guilt. And no, your SUV will never be as fuel efficient as that tiny hybrid, but there are other considerations that can give your conscience a rest. Taken together, these benefits should be added to the conversation about the choice to purchase one of these vehicles.
5 Reasons to let go of Your SUV Guilt

1. Safety, Safety, Safety.
Simply, it's a safety issue. Remember, heavier moving objects transfer their kinetic energy to smaller objects upon impact. Let's face it, you have your precious cargo in your car--your family, yourself--in an unfortunate accident, you want to be the one in the biggest, heaviest car. Weight is great but safety research has produced a generation of SUVs that feature additional, significant safety upgrades.
Recent developments includes; knee and side-curtain airbags; standard, front passenger dual stage airbags; stability control; uni-body construction; trailer sway control for drivers who tow heavy loads; anti-lock brakes; and, tire pressure monitoring electronics, make sport utility models safer than ever. Your family's safety in your number one concern so the benefits of the safety features of recent models must not be taken for granted when making the decision to buy a new car.
2. Innovations.
Car companies are competing fiercely for your business and one way they can convince you to choose their car is to add innovation with every new model release year. Fun new bells and whistles appear regularly; some are convenient like the foot assisted activated tailgate, a backup camera, and in-cabin internet connectivity. The Pro Trailer Backup Assist™ feature on the 2016 Ford F-150 was named a "best innovation" for its technological uniqueness but also for its practical usefulness to drivers. Without a doubt, these features can make your driving experience safer and more enjoyable. Ever since the introduction of the power window, buyers have been demanding more and more conveniences and the manufacturers have delivered.
In addition to the sexier upgrades, each new model release seems to also include, less visible but just as important, improvements such as the use of lighter materials, engine efficiency, and durability improvements, and frame/body integrations that improve handling and safety. The as-yet veiled Ford Expedition 2018 is rumored to include a gas sipping 3.5-liter EcoBoost engine and aluminum body, which together will deliver about 20 mpg. That is real innovation, which is not only a huge improvement over the full-size (8 passengers!) SUVs of the past, but can go a long way in convincing you to not feel guilty about owning this vehicle. About this time, I hope you are starting to feel proud of your bright decision!
3. Time with Family and Friends.
Americans love their cars and they love driving because, in the United States, our autos represent more to us than just a way to get around. At sixteen a driver's license is not only a rite-of-passage, it's also a ticket to a measure of personal freedom. Our cars say something about us; they can be our sanctuary, an extension of our personality.
One thing we do love and will continue to enjoy as long as this beautiful country stretches from the Atlantic to the Pacific is the great American car trip. Psychologists are telling parents that with more and more screen time engulfing kids, they are losing touch with the beauty of nature. It's one thing to watch a nature documentary on cable, it's quite another to get in the car, drive out to where nature is real and touch it.
The American road trip can be a family gathering space to spend time experiencing the world together. If you don't have a brood to rip away from the smartphone, you may have a bunch of friends who will have an absolute ball on a road-trip. And if you are ready for a real expedition, a full-size Sport Utility Vehicle space, and the rugged capability to take you to the most remote places in the wilds of this beautiful country.
Frankly, if you are going to spend a few days in a car, the very best seat in the house is any seat in a full-size SUV. Comfy, tall, with excellent climate control and plenty of room for passengers and stowage, you can't feel guilty about having this much fun.
4. Space.
Two words- eight passengers
Or, two passengers, two large dogs and 4 huge suitcases. Or maybe, half the soccer team going to the tournament out of town. Can you say field trip? Carpool?
Second and third seat rows with all kinds of configuration possibilities offer the kind of capacity you won't find in any economy car. If you think about it, it takes TWO sedans to transport the number of passengers you can easily fit in your SUV. Who's saving gas now?
5. What you don't know, but is coming.
Like the Boy Scouts say, be prepared. Road conditions vary widely enough to make you wish that you were always driving a vehicle that could take whatever is thrown at it. Full-size beefy sport utility models with traction control, larger tires, rugged suspension and sometimes 4-wheel drive can handle any road condition including dirt, mud, hills, holes, gravel and rocky terrain. Sedans that get good gas mileage might make you a bit nervous when you face that unfamiliar turn off but in an SUV, no worries, take that road less traveled.
Finally, as the weather seems to get weirder and weirder every year, wouldn't it give you some peace of mind to know that you are in a vehicle that can handle whatever Mother Nature throws at you? Snow, rain, heat, fog, and wind... you want to feel protected and there is no guilt in that!
So never mind the naysayers, if a luxurious full-size SUV is the right vehicle for you, drive it with your head held high! No more guilt! Tell that to the guy in the Prius!
Calling all HuffPost superfans!
Sign up for membership to become a founding member and help shape HuffPost's next chapter