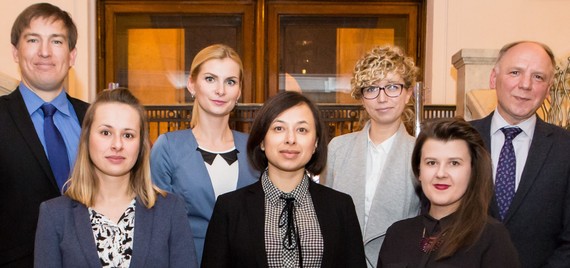 Members of Warsaw's most recent sustainability reporting team, clockwise from top left: Adam Sulkowski, Joanna Wakulinska, Magdalena Obłoza, Leszek Drogosz, Joanna Gajda, Liliana Anam, Magdalena Kraszewska. Photo credit: Michał Ozdoba
Graduate students Joanna Gajda, Alicja Marcinek, Magdalena Obłoza, Magda Skrocka-Kołodziejska, and Joanna Wakulińska completed a majority of the work while studying corporate social responsibility at Collegium Civitas with Liliana Anam, founder and manager of CSRInfo. They worked with a team at Warsaw City Hall led by Director of Infrastructure Leszek Drogosz to research, condense, format, and verify data about material concerns of residents. Magdalena Kraszewska of Collegium Civitas and the Warsaw University of Life Sciences helped coordinate the project.
The advantage of working with a team from academia is that they function semi-independently, lending a greater degree of objectivity and therefore credibility. The students also helped, based on survey data and open public forums, to determine what matters to residents and other stakeholders.
Some of the biggest areas of sustainability progress related to climate change include greater levels of recycling, increasing Veturilo bike share usage, and the completion and operation of a second Metro line. 25% of Warsaw continues to be green space, its electricity generation and water treatment facilities both operate more efficiently than many counterparts in other countries, and over 80% of Varsovians are satisfied with their lives in the city.
Calling all HuffPost superfans!
Sign up for membership to become a founding member and help shape HuffPost's next chapter