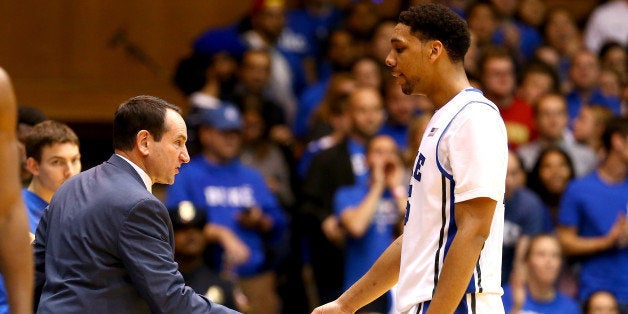 We are nearing March, which means that while it's still too early for brackets, we can officially start dreaming about Cinderellas and Final Fours. This year's Duke team gives Coach Mike Krzyzewski a remarkably balanced blend of talent and perhaps the best player he's ever had in his 35-year tenure in Durham. In the mix once again, the Blue Devils are hoping to move beyond last season's shocking and embarrassing round-of-64 exit at the hands of Mercer.
Let's examine five reasons Duke, currently sitting at 21-3, could cut down the nets come that first Monday night in April.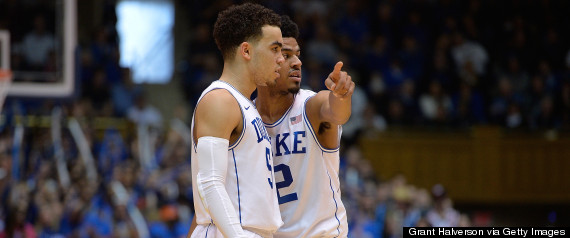 Deep runs in March are fueled by great guard play -- just look at last year's champ, Connecticut, who underperformed most of the season only to win six straight en route to a title behind the brilliant duo of Shabazz Napier and Ryan Boatright. Duke has a similar pair of playmakers in senior Quinn Cook (right) and freshman Tyus Jones (left). The beauty of these two is that akin to Napier and Boatright, they can both play on and off the ball, and they can both really create opportunities in late shot clock situations. Jones tends to act as the lead guard, and his dynamic creativity in pick-and-roll is downright prodigious. His 5.3 assists per game ranks him second in the ACC and, despite his youth, he has already become an extension of Krzyzewski on the floor. Best of all? Cook -- whom Krzyzewski continually calls his team's leader -- and Jones are both superb 3-point and free-throw shooters, connecting on 40 percent of their attempts from distance. Cook and Jones convert 91 and 87 percent, respectively, from the stripe.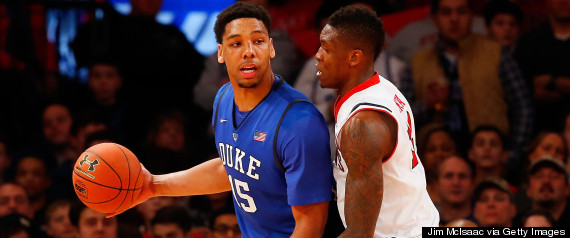 Enjoy him now, because the Chicago product is going to be the top overall pick in June's NBA Draft. Okafor -- whom HuffPost caught up with last April -- is a classic big man blessed with tremendous footwork, a deft touch around the basket and disruptive shot-blocking skills. Nearly 6-foot-11, he possesses excellent hands as well and unlike most young bigs, doesn't mind passing out of double teams. But Okafor's best attribute may be the fact that he is not limited to the block. Duke uses him all over the floor. Even when he catches the ball 16 feet from the hoop, he is smart enough to make the correct decision: attack the basket, kick out or find a cutter. The only real concern with Okafor is that he sometimes gets in foul trouble, as he did in Duke's 90-60 win over No. 10 Notre Dame on Sunday. Afterward, Krzyzewski said he would have left his young superstar in the game if not for the 42-7 run his team went on. In a one-and-done format, you worry about foul trouble, but perhaps not as much with a player as intelligent as Okafor.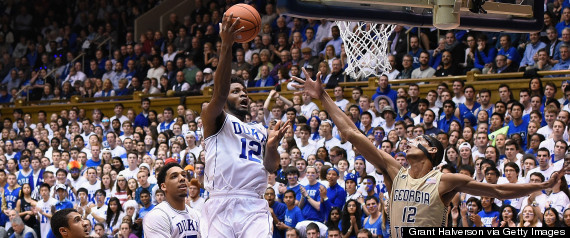 We've addressed both Jones and Okafor, but Duke's most valuable player is often Justise Winslow, a rangy two-way wing oozing with NBA potential. Few players in the country can impact a game defensively like Winslow, whose dad enjoyed a brief NBA stint but never had the raw ability of his son. Winslow Jr., at 6-foot-6 with a 6-foot-10 wingspan, can guard every position on the floor. While he is not a consistent jump shooter just yet, he has a real knack as a slasher and phenomenal finisher. The left-handed Winslow averages 11 points and gets to the free-throw line an impressive four times per game. If Okafor or Jones suffer an off-game, his attacking style will give the Blue Devils another valuable option.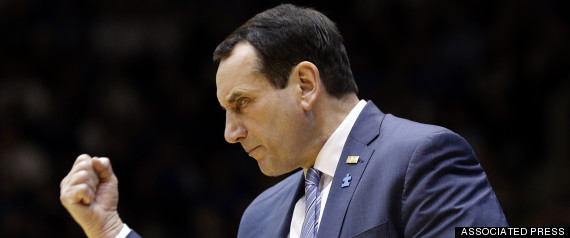 Four national championships and the first Division 1 men's head coach ever to reach the 1,000-win mark, Krzyzewski has all of the big-game experience you'd ever want. In attending Duke's 90-60 drubbing of Notre Dame, what struck me about Krzyzewski was how he coached each possession as if the score was 0-0. It was almost as if the game itself didn't matter so much as the preparation for what does matter: March. This is not a classically deep Duke team -- they have just eight scholarship players -- but it is an extremely talented and diverse one. The recent dismissal of junior guard Rasheed Sulaimon opens the door for sophomore Matt Jones and freshman Grayson Allen, two blue-chip recruits who are just starting to turn it on. Krzyzewski, 67, believes strongly in man-to-man defense, but his willingness to adapt to his personnel and shift to zone is also worth noting. He will employ the zone to protect Okafor from foul trouble, but just as importantly, his team rebounds exceptionally well out of the zone. Krzyzewski's ability to exploit every advantage possible will be most important against foes like Kentucky, Virginia and Wisconsin. He has a very well-balanced offensive attack that averages a healthy 80 points per game while ranking sixth in the country in total field goal percentage, making almost 50 percent of its attempts.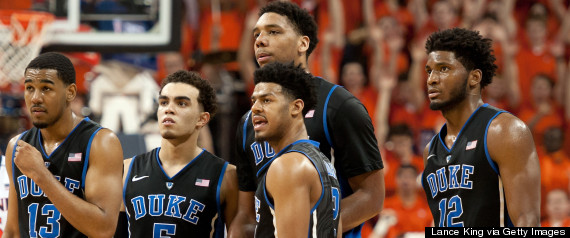 What the ACC lost in charter school member Maryland's departure to the Big Ten, it gained in perennial powers Louisville, Notre Dame, Syracuse and Pittsburgh. Fourth-ranked Duke, who always endures a brutal non-conference schedule, has the most impressive resume in America. And that comes with all due respect to undefeated Kentucky. The Blue Devils boast wins over Michigan State, Temple, Stanford, Wisconsin, Connecticut, Louisville, Pittsburgh, St. John's, Notre Dame and Virginia. While regular season success hardly guarantees tournament success, Coach K's young squad has a barrage of quality wins over legit contenders. March Madness is all about survive and advance, and that's what this team has done all year long.
Email me at jordan.schultz@huffingtonpost.com or ask me questions about anything sports-related at @Schultz_Report and follow me on Instagram @Schultz_Report. Also, be sure to catch my NBC Sports Radio show, "Kup and Schultz," which airs Sunday mornings from 9 a.m. to noon ET, right here.
Related
Popular in the Community