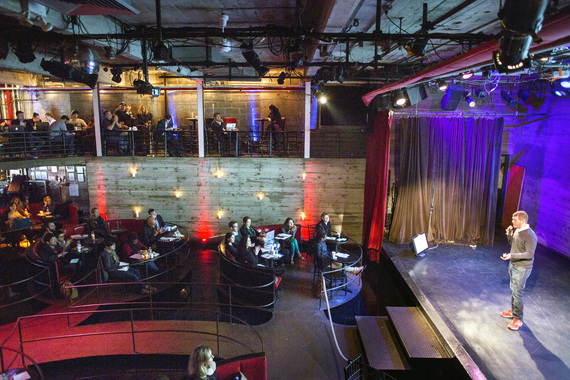 When I heard about the FunnyBizz Conference taking place in Brooklyn, I knew that I had to attend. As a content strategist who helps businesses plan and produce quality content, and then implement it strategically into marketing campaigns, I immediately was drawn to the idea of creating content that makes people laugh. I mean, seriously, who doesn't need to laugh more these days?
This was one of the most enjoyable conferences I have attended this year. Forget florescent lighting, weak, watery coffee, theatre-style seating, or worse yet, long rows of tables with chairs, or boring speakers--you won't find any of that at FunnyBizz. In fact, prepare yourself to be entertained, engaged, and enlightened as one humorous speaker after another takes the stage.
5 Reasons Every Content Marketer Should Attend the FunnyBizz Conference
FunnyBizz is not your average conference. From the moment I walked into The Galapagos Art Space, the Brooklyn venue for FunnyBizz, I knew I was in for something special. Islands of chairs and small round tables, connected by a center aisle leading to the stage, and waterways in between, set the tone for the entire experience. The lighting was dim and reflected off the water creating a cozy and intimate setting. And when it was time for Q&A? A plush microphone was tossed back and forth between the moderator and the audience--ensuring that anyone who had a question could always be heard.
Wondering if humor works in business? The entire morning session laid the foundation for WHY humor works in all types of environments. Peter McGraw, author of The Humor Code, took the stage first and had the audience chuckling and completely engaged--at 9:30AM to say the least! Peter has completed extensive worldwide research in what makes content funny to various audiences, and he shared specific examples, guiding the FunnyBizz crowd to rethink the content they are currently publishing. Through years of research, Peter found that humor, when used correctly, helps people problem-solve, deal with adversity and stress, and build relationships with coworkers and peers.
Feel like you can't write funny content? Well, that laugh is on you then--because the entire afternoon session taught conference participants how to infuse humor into their writing. Bill Grundfest, a creative consultant to several leading start-ups, took the attendees through his "magic template" for continuously creating great content. He taught the same formula that led him to a Golden Globe Win and 3 Emmy Nominations. A great piece of content (and a therefore a great story) boils down to "who wants what and what's stopping them from getting it". The message was clear, "Whatever business you're in, you're in show business" and you need to think infotainment--and not just information.
The speakers will sit and talk with you--and make you laugh! Have you ever been to a conference and you just wanted to ask one question of a speaker after he or she finished, or you wanted to introduce yourself? One of the aspects I appreciated most about FunnyBizz was that the speakers were in the crowd--before and after the sessions. In fact, I sat and talked with Chris Lindland, Founder and CEO of BetaBrand, for about 30 minutes prior to the start of the conference. I was able to learn about his back story, his company (which uses memes to sell clothing!), and a new video game that seems to be getting lots of belly laughs and attention online, called Santa Sleighs Halloween.
This is not your average networking event. I don't know about you, but as an entrepreneur, I attend a lot of networking events--and they either fall into one of two categories: somewhat enjoyable or just plain lousy. FunnyBizz Conference co-founders David Nihill and Rachman Blake must have known that networking breaks built in throughout the day, a catered lunch where attendees could gather and socialize in the same vicinity, and an evening happy hour following the conference all made for the the perfect ingredients to build successful and meaningful relationships. And believe me, when you put a lot of people in a room who have spent the past few hours laughing and enjoying a conference, networking is elevated to a whole new level!
The Big FunnyBizz Conference Takeaways: People need to laugh more. Laughing is good for us. Funny stuff sells. And...humor is a content marketer's best friend.
Related
Popular in the Community