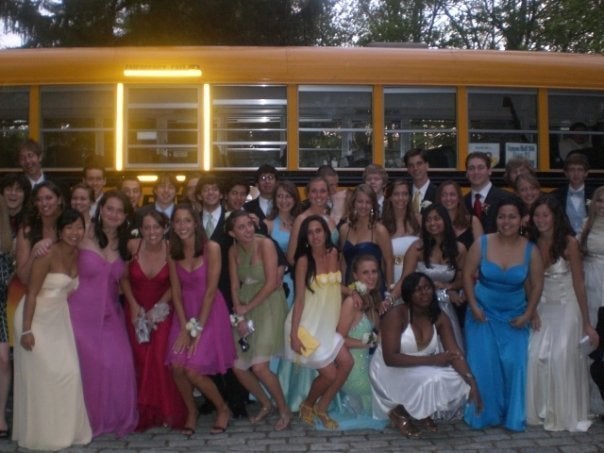 It's easy to get caught up in the moment when you're making preparations for prom -- worrying about every minor detail can be consuming for months leading up to the big night, and causes lots of unnecessary stress and anxiety.
All things considered, these are good problems to have. Having the privilege to afford the experience of prom isn't universal to everyone, but it's still an issue that plagues high school students during prom season year in and year out.
There is a secret when it comes to this high school milestone that no one really talks about: All of the stress and drama of prom prep just isn't worth it.
One way to shift your priorities from the materialistic aspects of prom to what's really important is by eliminating the pressure of taking an expensive limo. Take a school bus instead.
Riding in a school bus to my senior prom is one of my favorite high school memories. I wasn't the one in charge of making this decision -- my wise friend Julie came to the conclusion that opting for a yellow school bus would best benefit our large group of friends that had a huge variety of wants and needs. In the grand scheme of things, the few minutes you actually spend in your chosen form of transportation isn't very relevant.
When you look back on your prom experience, the first thing that comes to mind won't be what color corsage you bought your date, how much you spent on make-up and accessories, or the mode of transportation you took. You'll remember the people you spent the night with and the memories you made with them.
If you're not already convinced, here's a list of five reasons why I'm glad I took a school bus to my senior prom, and why you should consider doing the same.
Prom photos look cooler. The [sometimes unfortunate] reality of prom photos is that they will always exist. Whether they're hanging up in your dorm room in the fall, inside photo albums on your parents' coffee tables, or floating around on Facebook, they're nearly impossible to get rid of. Yellow school buses in the background of photos give pictures a quirky, vintage feel to them and can really liven up a photograph!
Drastically cut costs. To say that taking a school bus to the prom is a cheap transportation option is putting it mildly. Limos end up costing in the hundreds, and if you're paying for your date that can be a serious burden. There are tons of things to pay for when it comes to prom prep - from your outfit to tickets to dinner. It's always helpful to save a few dollars where you can.
Accommodate more people. The capacity on a school bus can range anywhere from 40 to 70 people, so unless you're best friends with everybody in your class -- if this is the case, pat yourself on the back, because I don't know anyone that social -- you'll be able to include everyone your heart desires. We were also able to include friends with all different budgets because the school bus was so affordable.
Provides more flexibility. My two friends and our dates weren't ready to leave prom when the rest of our bus was, and because we only paid 20-something dollars each, we didn't mind dancing until the DJ went home and calling my mom for a ride to the after-party. Yes, that really happened. Taking a school bus can end up providing more flexibility on how you spend your night and doesn't limit you to a group-only mentality.
It's unique. My friends and I were actually one of three school buses that showed up to my high school's prom, but the rest of our class of 700 students rolled up in generic, standard limos. It's fun to knock tradition on its head and be different once in a while, especially when you have the support and backing of your friends.
PHOTO GALLERY
Taking A School Bus To Prom
Calling all HuffPost superfans!
Sign up for membership to become a founding member and help shape HuffPost's next chapter