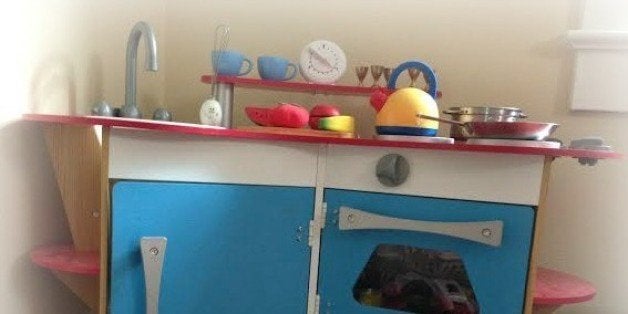 For a neat freak like me, cooking with my young kids is an idea that fills me with a bit of terror. I know that they'll definitely spill the flour, accidentally put egg shells in the mixing bowl and stir the spoon with such vigor that whatever it is we are making will end up all over the walls. Yet I do my best to cook real food with them as often as I can.
Today is Jamie Oliver's Food Revolution Day and the theme this year is "Getting Kids Excited About Food." To mark the occasion, here are the top five reasons why you should invite your kids into the kitchen and just embrace the chaos.
1. Strawberry tomato pretend eggs, anyone? My 3-year-old loves to help me cook. When he's playing, he'll often whip up a little something of his own in his "pretend kitchen." He marches over with his kid-sized pot and tiny spoon, offers me some of his lettuce soup and I smile, because our experiences cooking real food in the actual kitchen are influencing what he cooks in his pretend kitchen, even at an early age. In a few years he'll be able to cook in the real kitchen by himself, and he'll already be ahead of the game.
2. Kids who help cook (and shop and pick recipes and grow their own food) are way more likely to eat what they help prepare than kids who don't. Plant some lettuce in your backyard and let your children help water it. Watch what happens when it's time to pick it. Invite your children to help you tear spinach leaves (even if they don't need tearing -- it's a great activity!), or squeeze lemon juice or cut cucumbers. You can give your children a couple of tasks, they don't have to help from start to finish. But get them involved and enjoy the results.
3. Some of my fondest memories as a child are the weekends I'd spend with my grandmother cooking. We'd measure and stir, bake, chat and enjoy being together. It was through the cooking that we connected, and managed to have undivided time together. The yummy food we made was an added bonus! Those are memories I hold dear and hope that, when my children look back, they will cherish our time in the kitchen together, working as a team and talking, not looking at the iPad or watching Frozen for the millionth time.
4. For someone who likes to multi-task as much as I do, cooking with your kids can be a great way to get food on the table and hang out with your kids. I know, I know, the mess! The chaos! But if you find the right recipes, and give your kids age-appropriate activities to do, they can actually help. (Check out this new e-cookbook for ideas and inspiration!) If you have young kids, consider buying small utensils, like a mini whisk and small tongs, that your kids can use without doing too much damage. My kids love every opportunity to help spiralize apples for apple chips, zucchini for noodles or sweet potatoes for sweet potato nests. It just takes a few minutes to do and clean-up is a breeze.
5. Many of us enjoy cooking cupcakes and muffins with our kids, activities we often save for rainy/snowy/sick days when we have a lot of time. And that's great. But teaching your kids to cook real food is an invaluable skill that will prepare them for life. Our kids should be able to cook basic food for themselves and know how to follow a recipe so they can feed themselves, not be dependent on others, or fast food and frozen food, when they are hungry. Understanding the sequence of events, cause and effect and juggling many tasks, as you do when you cook, are life skills that transfer to everything from doing your homework to running a business and feeding your own family. Learning to cook is about so much more than cooking.