I can never get enough of the fall, especially during the extravagant spectacle that plays out as the leaves burst brightly into flame. This year an invitation to check out the latest trend in luxury wellness resorts at a new property outside Santa Fe, New Mexico coincided with the Aspen trees' annual dazzling display; when I arrived they were positively glowing. But any time of year really, Santa Fe is an enchanted place. Here are five reasons to make Northern New Mexico a destination in your very near future.
IN HOT WATER
Sunrise Springs is the new offering (more below) from the owners of legendary Ojo Caliente, a mineral springs resort located an hour north of Santa Fe. Once a funky spot where day-trippers came to loll in natural hot pools laden with minerals said to cure everything from arthritis to depression, Ojo Caliente now also caters to an upscale clientele. New Southwestern-inspired suites, some with private outdoor soaking pools, are a far cry from the original historic hotel, which now boasts tastefully updated rooms with private baths. Ojo still maintains its hippie vibe, but you also have the option of booking a super-comfortable suite and heading to the pools first thing in the morning, when you might be lucky enough to have the whole place to yourself before the day guests arrive. Later, perhaps after lunch at The Artesian Restaurant, you can book an Ancient Echoes massage, then retreat to the pools that are reserved for suite guests only.
NOT QUITE READY FOR REHAB?
Whereas Ojo Caliente still clings to its funky-chic origins, Sunrise Springs shoots for luxury and its guests want more from their wellness retreat than a soak in a mineral pool and a massage. Want to lose a character defect or two along with those five pounds? Sunrise Springs might be for you. Having trouble sleeping, addicted to your devices, drinking more and enjoying it less? Sunrise Springs could have a solution.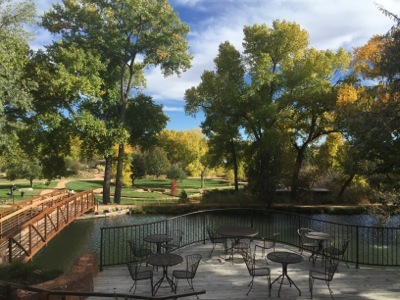 The Medicine Wheel at Sunrise Springs Integrative Wellness Resort
photo credit: Andrea R. Vaucher
Think of Sunrise Springs as a wellness resort that tones the emotional, spiritual and mental, along with the physical. If you choose the nine-day Immerse & Thrive program, your points person is a licensed counselor with whom you meet daily as you go about your individually tailored program that blends Eastern and Western therapeutic practices (acupuncture, meditation, body alignment), Native American teachings (medicine wheel, nature bathing), experiential therapies (animal interactions, gardening) as well as all the offerings you'd expect to find at a high-end spa such as great massages, top notch yoga classes and farm-to-table scrumptious cuisine. The goal of a Sunrise Springs stay is to bring guests back into balance and teach them how to stay that way with a comprehensive at-home follow-up plan.
GEORGIA ON MY MIND
Northern New Mexico is Georgia O'Keeffe country. Since my visit last year to the Georgia O'Keeffe Research Center in downtown Santa Fe, I'm an even bigger fan, especially of her later work: those bold, colorful, modernist paintings influenced by the New Mexican landscape. Whenever I visit the studio or home of an artist I admire -- think Freda Kahlo's Casa Azul in Coyoacan, Mexico; Delacroix's Parisian studio in the Place Furstenberg or Monet's home in Giverny - I inevitably walk away with a deeper connection to the work. On this trip, I visited O'Keeffe's Abiquiu home and studio where, amazingly, I recognized some of the views out the custom plate-glass windows from her paintings.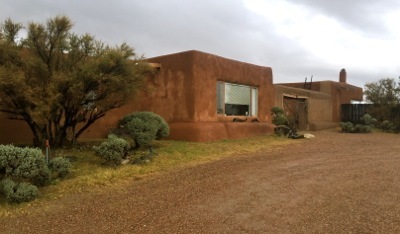 Georgia O'Keeffe's home in Abiquiu, New Mexico
photo credit: Andrea R. Vaucher
The 5,000-square foot sprawling adobe ranch home, originally built in the mid 1700s, was in ruin when O'Keeffe bought it in 1945; she moved in four years later after having the place completely restored. The house exudes a still, Zen vibe from the majestic tamarisk tree in the garden, perfectly framed in the large living room window, to the bare hanging light bulbs to her narrow bed covered with a simple, white bedspread. O'Keeffe lived here alone with her two Chow dogs, painting in the studio with its dramatic view of the Chama River valley, reading and listening to classical music in her sparsely though elegantly decorated living room with its Eames and Saarinen furniture. It's breathtaking to walk through the central courtyard, with its black door, a space so often painted by the artist, or to see the road to Espanola, which she has written about and painted, from her vantage point in the studio. From the garden with its ingenious, Native American irrigation system, to the kitchen where jars on the shelves are labeled in her hand, the house breathes O'Keeffe. With only a dozen guests on each tour, one has the opportunity to truly feel the space and the artist.
SEDLAR DOES O'KEEFFE
Quintessential Southwestern chef John Sedlar has a direct connection to Georgia O'Keeffe. His great-aunt Jeronima Newsom was O'Keeffe's cook in Abiquiu, where Sedlar grew up and learned cooking from his abuela, Jerry's sister, Eloisa, which is the name of his restaurant in Santa Fe. The space, in the Drury Plaza Hotel, is spacious and elegant, with excellent conversation-encouraging acoustics and an open kitchen. There's nothing Southwestern about the décor; it's much more L.A., which is where Sedlar lived for many years and opened a trio of restaurants.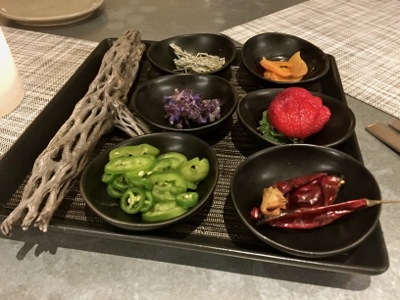 O'Keeffe's Table scent "tasting" at Eloisa
photo credit: Andrea R. Vaucher
Sedlar has put together a tasting menu, O'Keeffe's Table, to honor the artist. The gastronomic spectacle begins with a bit of patter about the Abiquiu terroir, while a book of photos documenting O'Keeffe's life in New Mexico is paired with a scent "tasting" of fragrant, local flora like pinon spine, chiles, apricots (which O'Keeffe grew in her garden) and various flowers. Only then does the food begin to arrive, some served on cow-skull platters, others with evocative appellations like "Blue Poppies" (blue potato crisps and trout caviar), "Black Mesa" (seared venison loin with high-desert ratatouille), and "Ghost Ranch" (fresh pueblo peaches and bush raspberries served with honey and cream), named after O'Keeffe's summer place near her beloved Pedregal Mountain where her ashes are scattered.
As fabulous as the O'Keeffe menu is, save room for a final taste: Sedlar's amazing pastrami tacos. It's a little bite garnished with ballpark mustard - no doubt something O'Keeffe, who craved a hot dog now and then, would have loved. It will leave you begging to return to Eloisa before you've even paid the bill.
THE FIVE GRACES
In parts of Asia, the senses are referred to as the graces, and it is believed that throughout a lifetime one must experience all five of them to the max. It's hard not to at The Inn of the Five Graces, a collection of traditional and ancient adobe houses that has been transformed into a sumptuous 24-suite Relais & Chateaux hotel. The property springs from the fertile imagination of Ira and Sylvia Seret whose voyages and collecting began in the 1960s when they were young hippies and the world was such that travel to places like Afghanistan, Nepal and Tibet was undertaken with a sense of adventure rather than fear. Over the years and on additional journeys through Central and Southeast Asia, the Serets amassed a mind-blowing symphony of exotic antiques, rugs, textiles and architectural elements, and the hotel has become the showcase for their collection. Each unique suite overflows with textures, color and patterns.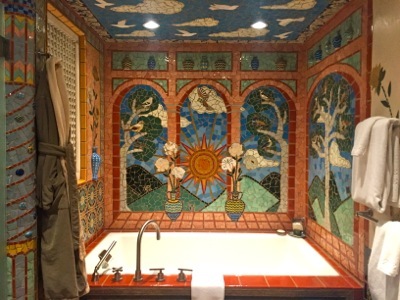 Mosaic bathroom at The Inn of the Five Graces
photo credit: Andrea R. Vaucher
The mosaic bathrooms fashioned out of smashed pottery and vibrant tiles that anyone except an artist like Sylvia Seret would never dare to put together are breathtaking. Even the big screen TVs have covers made from gorgeous fabric so as not to distract from the aesthetic when not in use. The fridges are filled with gratis goodies: brie, snickers, San Pellegrino; on a cold winter night, with the kiva fireplace glowing in the corner, you might want to cancel your dinner reservation and just hang out in your fabulous, albeit temporary, Santa Fe home.
Support HuffPost
A No-B.S. Guide To Life
Related
Popular in the Community