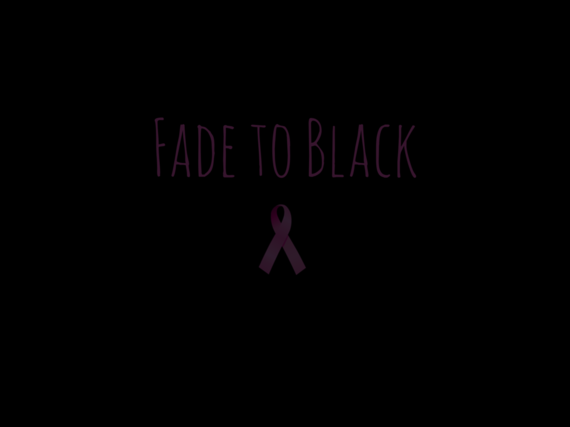 Breast Cancer Awareness Month (aka "Pinktober") has had a great run. It's done a lot of good and has heightened awareness of breast cancer to "Santa Claus" status. Who hasn't heard of Santa and Breast Cancer Awareness Month! Truly, no one.
But like all the things we clung to when we were kids, we have to grow up and see Pinktober with mature eyes. That bright pink ribbon we used to admire is now pale, worn and barely recognizable to the women it claims to help.
Here's are five reasons why Pinktober needs to fade to black.
Thanks to Breast Cancer Awareness Month, which launched in 1985, women all over the country are aware of breast cancer and the importance of having regular mammograms. We've invested billions of dollars and we have plenty of awareness. It's done.
What we don't have is enough action, especially on the research front. In the case of the Komen Foundation, only 20 percent of donations go toward research. And there will never be more so long as we have pink martinis, pink KFC buckets, ribbons and a month that's focused on awareness instead of a cure for breast cancer.
And how about giving someone else a shot so they can build awareness.
Did you know that October is also Domestic Violence Awareness Month? You should. The devastating effects of domestic violence impact a lot more people than breast cancer. October is also National Bully Prevention Month, Antidepressant Death Awareness Month and Adopt a Shelter Dog Month.
These other causes don't just take a back seat to breast cancer. They're traveling by foot twenty miles behind the pink parade.
2. We Have Double D Problems
Breast cancer is a terrible disease, but it's not our biggest problem. But you wouldn't know that from watching television or visiting the mall. Pink is everywhere like it's the only health issue.
My friend Joanne Fritz over at About.com thinks we should start raising more money to fight Ebola. Two years after Hurricane Sandy people are still struggling. I saw a headline last week that 50 percent of the world's animal population has been annihilated since 1970.
The oceans aren't much better. When they were searching for Malaysia Airlines Flight 370 earlier this year, I was struck by how much junk they kept mistaking for the doomed plane. I thought, "How much trash are we dumping in the ocean?" It turns out a lot. It might partly explain why we'll probably be the last generation to fish in the ocean. Think about that.
We need a new world! But we can't find one because we're buying pink nail polish for breast cancer when we should be supporting National Space Exploration Month (which doesn't even exist).
Move over Breast Cancer Awareness Month. We have D-cup problems to focus on.
3. Pink Has Lost Its Mojo
Pinktober has lost its appeal. When MediPost's Sarah Mahoney commented to Cone's Alison DaSilva that that there doesn't seem to be any new ideas, Alison agreed. "No, there isn't. Mostly, brands are sort of massaging programs they've been doing for many years... [there are exceptions] But mostly, there's not a lot new."
Pinktober used to inspire creativity and innovation. Cause-related events and marketing thrived in the early years. These were new and exciting developments.
The top story this October is a pink drill bit from a fracking company.
"The fact that Komen is partnering with a company that shoves chemicals into the earth that contain known carcinogens is ludicrous and preposterous," said Breast Cancer Action to NBC News. "It's hypocritical, and it needs to be called out."
At least the drill bits are putting pink underground where it belongs.
4. Many Companies Are "Pink Hat" Supporters
"Pink Hat" fans are uneducated sports fans who jump on the bandwagon of whoever is winning or whatever is popular. It refers to both men and women -- and companies too.
"Pink Hat" isn't how people would describe my support for cause marketing. I'm a loyal fan of nonprofit and for-profit partnerships. But even I think the level of corporate support for Pinktober is excessive, inauthentic and even predatory.
"We've seen corporations that have typically supported domestic violence shift more and more funds to breast cancer," said Katie Ray-Jones of the National Domestic Violence Hotline in an interview with New York Magazine.
The reason for the shift is simple: companies like the marketing and public relation benefits of wrapping themselves in pink, even if they're not wholly committed to the cause.
Take the example of the National Football League.
Despite a slew of assaults by players on their wives, girlfriends and kids, the NFL insisted on moving forward with its support of Breast Cancer Awareness Month. But why? The NFL gives very little money to breast cancer causes. Just $4.5 million since 2009 (This from a league that made $9 billion last year). The awareness the NFL offers with pink shoes, helmets and goal posts is redundant during a month that's already awash in pink.
No, the NFL is hoping that soaking themselves in the restorative waters of pink will help them heal faster than breast cancer patients ever do.
Skipping pink isn't even an option for most companies. The mainstream pink lobby is too strong.
To support breast cancer awareness, Major League Baseball encouraged players to use pink bats. But players couldn't use just any pink bat. The bat manufacturer had to be a supporter of Komen. Bats that benefited other organizations or causes were disallowed.
Last year in the NFL, when a player dared to wear green shoes in support of Mental Health Awareness Week during October he was fined $10,500 (which the player paid and happily matched to a mental health charity). U. S. News & World Report wrote, "The NFL is so pink-centric that one player wearing a pair of shoes for a different cause was seen as something worthy of punishment."
5. Komen Has Blackened Pink
As a bellwether for the breast cancer industry, The Komen Foundation was an early pioneer and leader in Breast Cancer Awareness Month. But they've lost their stride and the industry has suffered.
Komen has spent over a million dollars a year beating up other sister cancer organizations that use their tag "for the cure."
Komen's partnership with KFC - Buckets for a Cure - was a public relations disaster. Despite its misstep, the iconic founder of Komen, Nancy Brinker, never apologized.
Komen threatened to cut funding to Planned Parenthood until they were forced to renege and apologize.
Komen's revenues dropped by 22 percent in 2013. Not surprising considering Komen had to drop half of its three-day charity walks due to poor turnout.
Despite Brinker's disastrous handling of these situations and more, Komen gave her a 64 percent raise.
Komen doesn't deserve another chance - and Breast Cancer Awareness Month has had plenty of chances. There are too many other good organizations and causes that need and deserve our support. The future of our world depends on it.
Pinktober is like a long-running TV show. It began with a bang and was loved by millions. But it jumped the shark years ago and its ratings have slipped. There are better options. It's time to pull the plug on pink.
Over the next week, The Chronicle of Philanthropy will publish a series of ideas focused on what can be done to transform our approach to Breast Cancer Awareness Month, cause marketing, and engagement. The goal is to present specific, actionable ideas that go beyond raising awareness. Please join the conversation!
Related
Popular in the Community