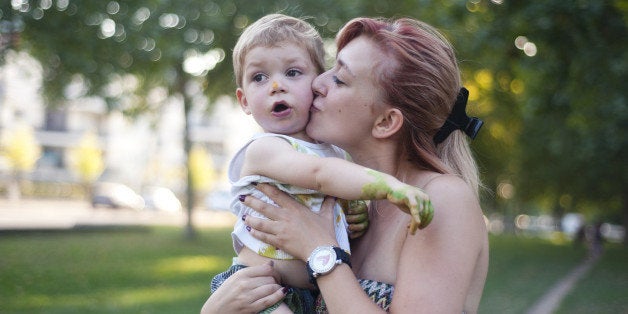 It seemed like we were barely done walking down the aisle at our wedding before people were asking us if, when and how many kids we were going to have. Uhm... first of all, can I be married for five minutes before answering such enormous questions, please? And secondly, pregnancy is never a guarantee with anyone, so why bring up a topic that should really just be between the two people it affects?
Now, two step-kids and three rug rats later, I hear this question being asked of those who are a few paces behind me.
Once a person has a child, the question then becomes "Are you having more?" or "When are you going to have your next one?" I cannot speak from a man's perspective, but I can absolutely appreciate why a woman is reluctant to journey down the pregnancy path while holding a toddler on her hip. Her hair up in a greasy ponytail, with snot wiped on her shirt, she is wearing yoga pants because those are the only things that fit, even though she is a few years postpartum. Yes, I can certainly appreciate her hesitation indeed. Let me list a few reasons that pop into my mind when I consider why a woman might not want to have more kids immediately:
1. Sleep deprivation is probably still fresh on the brain. The military says a soldier can be combat-ready with four hours of sleep (according to my dad, who was a Marine in Vietnam). If the military wanted soldiers of steel, then part of boot camp should be newborn night duty for the duration of their training. I can't tell you how many of my friends told me that their significant other rarely did a night feeding, even if the child was bottle-fed. Again, sleep deprivation sucks, and signing up for round two or three is not always at the top of one's to-do list. Especially if mom's flying solo on that gig.
2. If a woman is breastfeeding, she almost constantly has a little human being attached to her... literally. While breastfeeding can be an awesome bonding experience with other benefits, let me say again that a woman constantly has another human being attached to her. When we have no time alone for ourselves, it makes it really freaking hard to even want to give a little one-on-one time to our significant other -- let alone adding another bambino to the mix. You go from having one hanging from your boob to one each hanging from your boob and your leg.
3. Choosing to become pregnant is choosing to put your life on hold, in certain ways, for at least a year, and maybe two or more depending upon if/how long one breastfeeds. I can tell you that I don't drink a lot of alcohol, but by the end of my pregnancy gig I was jonesing for a glass of wine. I was looking forward to going to family functions or activities without constantly watching where my little one was and what she was doing. It's not that I was irritated by the new responsibilities of parenting a newborn or growing baby; I just missed being able to sit and converse with people.
4. You also have to watch your body morph into something you might not be prepared for. Seems weird, doesn't it? I knew what happened when one became pregnant -- but I had absolutely no idea how I would feel when I saw my body change while realizing that it was probably never going to be exactly the way it was before. That one was tough. So think about how hard it might be to consider another pregnancy if you're not happy with the current state of affairs in your postpartum body.
5. Moms experience a shit ton of guilt, whether self-imposed or otherwise. They are constantly having to make choices between work and family, time with husbands and time with the kids, time with friends and time alone. And frankly, there simply isn't enough time. Mix that good old guilt with the not-enough-time factor and a woman may be thinking that it simply wouldn't be fair to herself, her husband or her children to bring another kiddo into the mix.
So there you have it. Five of my reasons why someone might not want to pop out another kid. When I hear a couple talking about having more, and the husband is on Team "I Definitely Want More Kids" while the wife is on Team "If You Touch Me I Will Kill You"... I think I might get one or two of her points. Some might say those are selfish reasons, and others may find them totally relatable. Take my word for it, though... the "having more kids" conversation is not something to be treated lightly.