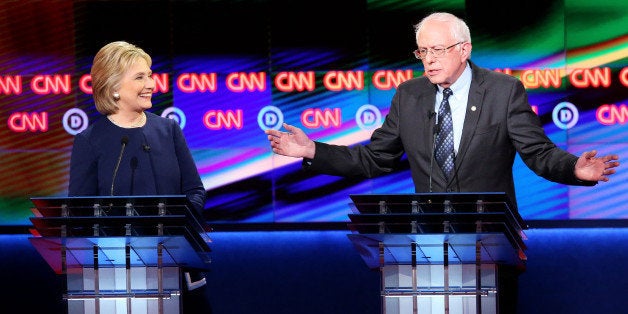 To watch cable news, one would think that Bernie Sanders is still in the Democratic primary race simply to send a message to Washington, be a thorn in Hillary Clinton's side, play trainer to her Rocky, or some combination of all of these. Bogus super-delegate totals have been presented to the public as though these were votes either of the two candidates can count upon -- the mass exodus of super-delegates away from Hillary Clinton in the early summer of 2008 notwithstanding.
The reality, of course, is far more complicated. It suggests a close and tightening race between Clinton and Sanders that has every bit as much drama about who will finally win it as does the Republican nominating process. With that in mind, here are five reasons the Clinton-Sanders race remains must-watch television:
1. Hillary Clinton will not be permitted to win the Democratic nomination using super-delegates.
To test this assertion, imagine for a moment that the Democratic National Convention arrives and Bernie Sanders has a narrow lead in pledged delegates -- the delegates sent to the convention in Cleveland by Democratic voters rather than by the whim of party elders. What would happen in this scenario?
First, the national media would feature wall-to-wall coverage of Clinton "losing" the national vote for the nomination to Sanders; splash headlines on television and in print would announce Sanders as the clear winner of a majority of Democratic voters.
Second, some portion of Clinton's delegates would abandon her on principle, that principle being that super-delegates should cast their convention ballot for whoever won the pledged delegate battle during primary season -- and yes, some super-delegates do believe this. Third, Democratic elders would be forced to acknowledge, as many already do, that if the loser of the pledged delegate battle is named the winner of the Democratic nomination, the Democrats will without question lose the general election in November.
In this scenario the Democrats would lose in November because disaffected Sanders voters would either stay home on Election Day, vote for a third-party candidate, or cast a general-election ballot but leave the presidential-election portion of the ballot blank. This would be devastating to Clinton because Sanders voters are precisely the purple-state and independent voters any candidate for President will desperately need on Election Day.
Let's understand, too, what would have had to happen for Clinton to lose the pledged delegate battle to Sanders. It would mean that Sanders had earned about 60% of the vote in the final twenty-eight primaries, giving him such enormous momentum going into the convention that the idea of giving Clinton the victory via unelected, cigar-chomping politicos would seem positively deranged. Moreover, because Sanders would have beaten or tied Clinton in nearly every blue and purple state in America, super-delegates in close elections in these states would be particularly disinclined to anger the very electorate they'll rely on for re-election. This is where Clinton running strongest in light-red and deep-red states will really hurt her.
As if the above weren't enough, let's also understand that the most powerful Democrats in the Democratic Party, Debbie Wasserman Schultz and Nancy Pelosi, have all but said that super-delegates are not intended to be used to make a losing candidate into a winning candidate. This is precisely why the Democratic National Committee ordered the news media to stop tallying super-delegates prior to the Democratic National Convention, the first time these delegates are actually called upon to cast a ballot -- a demand that was inexplicably ignored.
Finally, let's remember that as things stand today, Sanders runs far better against Trump than Clinton in nine of the ten light-red, blue, and purple states in which head-to-head general-election polling is available. Now imagine that Sanders has pulled 60% of the vote in the final twenty-eight primaries; will any super-delegate in America feel any confidence whatsoever that Clinton could beat Trump under such circumstances?
In other words, while Clinton may or may not win the Democratic nomination for President, she undoubtedly will not do so using super-delegates. So you can safely ignore the super-delegate count and any pundit who references it portentously.
Bluntly, Clinton has only won Southern states with demographics that are absent from nearly all future primaries and caucuses. Sounds far-fetched? Let's analyze it.
If you look at the Democratic primary map as it stands today, Clinton has won only three states that did not secede from the Union during the Civil War. Those three "wins" are Iowa, Massachusetts, and Nevada. While Clinton and Sanders more or less split the delegates in all three states -- the exact total is 89 delegates for Clinton, 81 for Sanders, an 8-point differential which, in the context of both candidates needing 2,026 pledged delegates to win the pledged delegate battle, is statistically insignificant -- all three states were effectively "won" by Sanders.
How so? Well, Sanders was down by 46 points in Nevada two full months after he declared his candidacy for President; by 23 points eight weeks before the Nevada caucuses; and he ultimately lost by just 5.5%, leading most commentators to say that if he'd had one more week to speak with Nevadan Democrats, he would have won a majority of their votes. Nothing about Clinton's victory in Nevada bespeaks her strength as a candidate; rather, it emphasizes only that name recognition and slightly superior financial, surrogate, and infrastructural assets is worth at least 5.5 points in a contested caucus.
The margins between Clinton and Sanders in Massachusetts (1.4%) and Iowa (0.2%) were so small as to render both elections a statistical toss-up; by comparison, Sanders' victory in Michigan, which was termed "exceedingly narrow" by every political pundit with access to a microphone, was by about 2%. But more importantly, in these cases, as in Nevada, Sanders so outperformed the polling that preceded the vote that it was clear that additional exposure to the Senator would have given him each of these two states, just as additional exposure to Secretary Clinton would have cost her both of them.
Which leaves the South. There are eleven Southern states; nine -- not coincidentally, the nine the Democrats have no chance of winning this November or in any general election in the next twenty years -- have already voted for Clinton, often by huge margins. Two Southern states still have to vote, and (again not coincidentally) these are Sanders' two strongest states in the region, which means that even if Clinton wins her delegate advantage will be nothing like it was in places like Mississippi and Alabama. The most recent polling in North Carolina has Sanders down by only 10, though this was before his wins in Kansas, Nebraska, Maine, and Michigan. The most recent polling in Florida is less kind, though according to CNN, Sanders' internal polling -- which has proven to be uncannily accurate -- suggests that the race there is in the "high single-digits." In other words, Sanders could win at least one of these two states, and will probably do all right in the delegate math no matter what happens.
In virtually every other state left to vote -- twenty-eight states, to be exact -- the demographics are substantially more favorable for Sanders than they were in even the "friendliest" state for him in the South (Virginia). Perhaps this is why he's leading in the most recent polls in Wisconsin, Utah, and Idaho, and after securing the endorsement of the most popular politician in Hawaii, Tulsi Gabbard, is favored to win there too. This may be why even the Clinton boosters on CNN are now saying that they're worried Clinton will lose Ohio, Illinois, and Missouri to Sanders next week.
In other words, Hillary performed impressively only in the South, and in less than a week there will be no more South for her to mine for votes.
3. Hillary can no longer rely on the "electability" argument, as Sanders runs much better than she does against Trump pretty much everywhere.
In the ten light-red, blue, or purple states where head-to-head general-election polling is available, Sanders outperforms Clinton against Trump in nine: Georgia, Michigan, Iowa, Minnesota, New Hampshire, North Carolina, Ohio, Virginia, and Wisconsin. Clinton outperforms Sanders in only Florida, where her 1% advantage on the Senator is dwarfed by that poll's 3.1% margin of error.
In short, it's entirely possible that Clinton is a better candidate against the all-but-certain Republican nominee precisely nowhere. Which means her "electability" argument, always the implicit centerpiece of her campaign, is gone. This will hurt her, as time goes on, with not just voters and pundits but super-delegates as well.
4. Hillary could still get burned by the email "scandal."
The fact that the man who Hillary let into her house to set up her email server just got immunity from prosecution in order to compel him to testify against someone higher up the food chain may not mean that Clinton will shortly be indicted for a federal felony. But what it does do is prolong this story well into the general-election season, which can't help but hurt Hillary in the Democratic primaries and caucuses to come. We can argue all day about whether this is fair or not, but it remains a reality either way -- and indeed a situation Clinton herself is only exacerbating by doing dodgy things on the campaign trail, like lying about Sanders' auto bailout vote, refusing to release her speeches to Wall Street tycoons, and calling into question the authenticity of photographic and video evidence of Sanders fighting for civil rights in the 1960s.
If someone close to Clinton does get indicted -- say, an aide -- it will be much more of a distraction than anyone in or outside the Clinton camp is presently assuming. To be blunt, there will be wall-to-wall news coverage of any indictment even tangentially related to Clinton, so if one comes down in April, May, or June it will hurt Hillary in any primaries or caucuses held during those months. While we can't know for certain the likelihood of an indictment being issued, I can say as an attorney that federal prosecutors do not give low-level targets immunity unless someone is being indicted.
5. It's much earlier in the nominating process than news media coverage of the Democratic primaries would lead you to believe.
Right now Hillary has only 28.4% of the pledged delegates she needs (677 of 2,378) to win the Democratic presidential nomination. Twenty-eight states still have to vote, and nearly all of these rank among the worst twenty-eight states for Clinton from a demographic standpoint. Sanders, with 478 pledged delegates, is only 14% off his delegate target -- that is, where he'd need to be at the present moment if he were "on track" to win the Democratic nomination -- and can breathe a sigh of relief that all ten of the worst states for him demographically are behind him.
To put things in perspective, we're still three months -- yes, a quarter of a year -- from the most important primary in the Democratic nominating season (California). In fact, June 7th is as Super a Tuesday as any other we've experienced so far, with six states going to the polls. Those six states account for more than 800 delegates in total; so more than a third of all the delegates one needs to win the Democratic nomination will be awarded three months from now.
A lot can happen in three months, a fact that seems impossible to dispute when you consider that, thus far, Americans have only been voting in primaries for five weeks. In five weeks, Sanders went from a curiosity sharing a stage with the likes of Lincoln Chafee and Jim Webb to a legitimate contender for the Democratic nomination who's already won nine states. So yes, this thing is close -- very close.
Seth Abramson is the Series Editor for Best American Experimental Writing (Wesleyan University) and the author, most recently, of DATA (BlazeVOX, 2016).
Popular in the Community