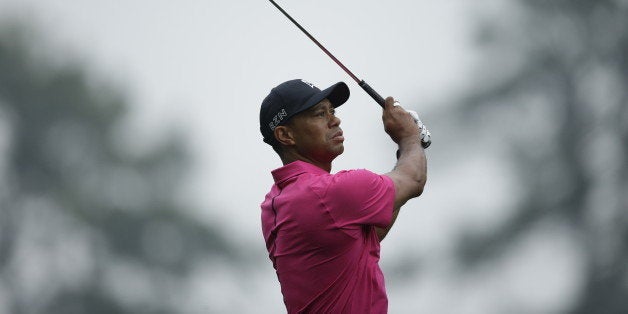 Who can forget the 1997 Masters Tournament? In record-breaking fashion, 20 year-old Tiger Woods won his first major by 12 strokes. And he won again at Augusta in 2001, 2002 and 2005.
This week, the world's top golfers come to the mecca of golf hoping to walk away with the coveted green jacket and enter the history books. And Woods, who took a recent departure from the game because he didn't feel he was "tournament ready" after a brief but shabby showing following back surgery last year, is back with his eyes on the green jacket for a fifth time.
The big question: is he ready? Woods thinks so. He expects to be wearing the green jacket come Sunday afternoon.
"I worked my ass off," he said.
"That's the easiest way to kind of describe it. I worked hard. People would never understand how much work I put into it to come back and do this again. It was sun up to sun down. Whenever I had time, free time, the kids were asleep I'd still be doing it. ... It was a lot of work."
Is a Tiger Woods' victory at this year's Masters really a possibility? You bet it is! I predicted a Tiger comeback on The Golf Channel a few years ago and I was correct. And I'm calling it again: Tiger Woods is far from finished.
Here are five reasons why I believe Tiger Woods can win the 2015 Masters:
Mental toughness: Tiger Woods is the most mentally tough athlete in all of golf, if not professional sports. If anyone is going to be able to outthink this nostalgic setting, and overcome obstacles like Rae's Creek, Amen Corner and the pressure of capturing the green jacket, it's Tiger Woods.
Tiger Woods thrives on pressure. To the average performer, pressure is something to be avoided. It brings fear and discomfort. The great ones like Tiger Woods thrive on pressure. Not only is The Masters the most pressure-packed tournament in golf, the pressure couldn't be any greater as Woods makes his return after a leave of absence.
Rate of Vibration (ROV): A performer's ROV is made up of energy, enthusiasm, confidence, belief and clarity. The higher the ROV, the more capable the performer can work through the pressure or task in front of him. Think back over the years to how many seemingly impossible situations Tiger Woods has managed to conquer. It's because he knows how to raise his ROV at will. If you were to measure Tiger's ROV this week on a scale of 1 to 1,000, I guarantee you it would be close to tipping the scales.
Tiger Woods is a comeback artist: A bet against a champion is always a bad bet. When amateurs quickly become demoralized by setback and defeat, the pros know that large scale success is based on a series of comebacks. Setbacks are setups for comebacks. Tiger Woods has comeback from one setback after another. He knows how to win, and he knows how to win at Augusta.
Tiger Woods is prepared to win: Most people seem to have a strategy of "Ready, fire, aim!" They fail to do the necessary preparation and planning it takes to succeed. As we heard him say in his press conference, he has worked his butt off and he's been thinking about winning. Champions like Tiger Woods are always charting and changing their course to be certain everything is on track. Tiger didn't just come to Augusta because it was the popular thing to do. He wouldn't have showed up if he wasn't ready to win. He came to win and he's prepared to win.
Woods said, "I feel like my game is finally ready to compete at the highest level."
The time is now and the setting is perfect. Who will last year's champion Bubba Watson put the green jacket on in historic Butler Cabin on Sunday afternoon? It might very well be Tiger Woods.
Popular in the Community