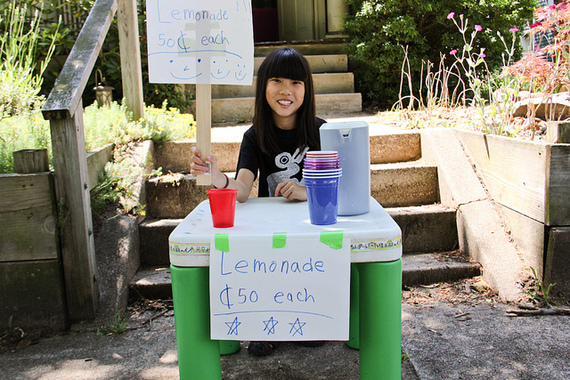 The other day I got word that a family member lost his job. When I asked what happened, I got a back a one-word response that explained it all.
I've heard this story before. You have too, I'm sure.
Super qualified person does great work, but gets let go because he doesn't fit with the "in" crowd.
Or this story:

Man can't find work because he's "overqualified" for the open positions.
And still too often, this one:

Rock star woman executive makes 78% of her male peers.
These sad stories are all too common.
So it's time to put them to rest. And the best way to make sure an unfortunate story like this doesn't happen to you, is to rewrite it. Here's how.
Become the type of person that doesn't do job interviews. The type of person where people bang down your door to get access to your expertise. The type of person that is fully in charge of your own career.
Here are five reasons why now is the best time to enter the realm of entrepreneurship (read: unemployability).
1. Being employed is becoming more difficult
A study done by Intuit projected that by 2020, traditional full-time, full-benefit jobs will be harder to find. The study also projected that by 2020, 40% of the U.S. workforce will be some type of contingent worker, including freelancers, and contract workers.
In other words, the job pool is getting smaller.
The report also noted that more than 80% of large companies are planning to dramatically increase their use of freelancers and part-time workers.
For many large companies, hiring "unemployables" will be more desirable than having full-time employees.
Position yourself now to be ready to take advantage of this coming trend. Otherwise, you may be forced to adapt when it arrives.
2. Permission not required
With the exception of professional services fields such as doctors, lawyers, and accountants, you don't need permission to start a business doing most types of work.
If you want to teach dance, teach it. If you want to start a podcast, grab a mic and start recording. Or if you want to be a chef, fire up the stove and start cooking.
If you sell something that people want to buy, no one cares much about fancy degrees, certifications, or how many years you've been in business.
Of course, this doesn't mean you don't have to invest time learning how to be better at your craft and learning the business of your business. It just means you can seek out the information and training you need to get started.
No one has to invite you to have a seat at the table. These days you can just walk up and sit down.
3. It's easier than ever to start a business
Years ago, it used to be that you needed friends in high places, a fancy degree, and super deep pockets to start a business.
Today, you can start a business for less than the price of your monthly cable bill. In his best selling book The $100 Startup, Chris Guillebeau shared case studies of many people who launched thriving businesses with $100 or less.
Gone are the days when you need hundreds of thousands of dollars to open a brick and mortar shop to sell your stuff. You can open an online store on Etsy or Shopify and get access to customers around the world.
Sites like Fiverr and Upwork can help you get projects done quickly on a small budget. This is especially helpful for tasks outside your area of expertise and skill level.
There are countless tutorials and other content online that teaches you how to do just about anything you want.
Money, information, and access are no longer barriers to entry when it comes to starting a business.
It's a bootstrapper's paradise.
Why not spend the precious time you have creating the life you want, doing what you love?
Have you ever thought that two weeks vacation wasn't enough? Or reasoned that there are better ways to spend your time than to sit in traffic commuting twice a day? Or felt that wearing a suit wasn't necessary to prove you're "professional" and do good work?
If so, then it's time to ditch the rules others have deemed most appropriate for you.
It's time for you to make the rules for your own life instead.
Sonia Simone, the pink-haired queen of Rainmaker Digital said it best:
"Your business, your rules."
As an unemployable entrepreneur, you can build a business and a life that works for you.
5. Somebody's waiting on you
Think about the products and services that are an integral part of your life. The ones that have made your life better in some way big or small. What would your life be like if those business owners decided not to answer the call to create them?
Your ideas matter. And no matter how many people you reach, the work you do has the ability to impact another soul.
Don't deprive them of what you have to offer.
The people you can serve with your business are waiting for you to come and solve their problem.
Don't leave them waiting.
It's time to rewrite your story
Life as an entrepreneur isn't easy. There are many bumps and bruises along the way.
But the rewards are plentiful, and worth all the effort.
It's your life. You are the author.
Make sure you write yourself a happy ending. Instead of waiting on the usual unfortunate story.
Popular in the Community