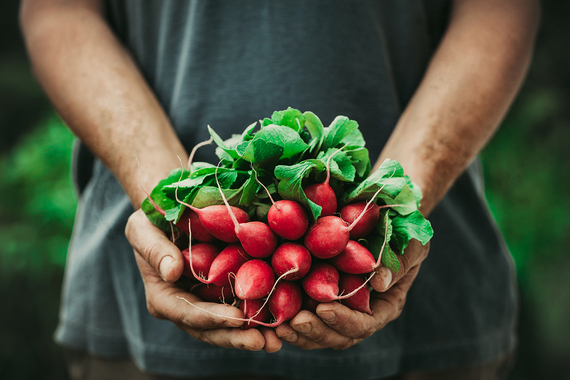 Arsenic goes into the chicken in order to make it look prettier on the supermarket shelves. (Don't worry, they're scheduled to stop doing that soon.) Much of our food is genetically modified in order to increase its resistance to insects, herbicides and other crop killers. Small pieces of plastic floating in the ocean are ingested by small fish that end up on our dinner plate, thereby filling humans up with more plastic, too. (An oh, by the way, that plastic attracts pollutants and has chemicals in it.)
If any of the above is giving you the heebie-jeebies and/or you love play out theoretical Armageddon scenarios at the dinner table "just for fun," you may be the perfect candidate to practice forest gardening. When the sh*t hits the fan and the world's food supply is in jeopardy, you'll have built your own self-sustaining utopia on which to live and thrive.
Derived from woodland ecosystems and incorporating layers of fruit trees, nut trees, herbs and perennial vegetables, root plants, ground cover plants and a vertical layers of vine plants, forest gardening is a low maintenance and sustainable gardening system that also yields a useful food supply. Farming the Woods says, " Dave Jacke and others advocate that in Forest Gardening we want to mimic mid-succession forests and woodlands with a 40 - 50% canopy cover. It is here that many shrubs and herbaceous plants can thrive and many of our multi-functional species are adapted to this phase of growth." Once planted, you can watch your garden take care of itself.
According to Tammy Sons at Tn Nursery, "Forest gardening makes use of a technique that involves planting different but complementary plant species close together for the purpose of controlling pests while providing a safe harbor for beneficial wildlife. This system also aides in pollination, efficiently maximizes use of space, and increases sustainable crop output."
Here are 5 reasons to build your own forest garden:
It's self-maintaining. When you take the time to design your garden, plant it and care for it, you have created something that will largely take care of itself. Edible Forest Gardens advises, "Create a set of ecosystem dynamics that will in turn yield the desired conditions of high yields, maximum self-maintenance and maximum ecological health as inherent by-products of the ecosystem."
You're imitating what already naturally occurs in nature. The design of a forest garden is just mimicking what is present in nature, so it is a tried and true design that is both hearty and plentiful. "The idea behind forest gardening is that natural forests produce an abundance of food. People the world over have harvested food from the forest, reaping where they did not sow. Forest gardeners imitate the forest's natural structure to take advantage of this abundance, but they increase yields even further through careful planning and management. The result is a productive fusion of garden, orchard and woodland," says Mother Earth News.
Fruit trees. Canopy fruit trees form the umbrella of your forest garden, providing shade for crops beneath them and food to all whom are able to enjoy the trees when they bear fruit. Edible Forest Gardens adds, "While the majority of tree roots grow in the top two or three feet of soil, it turns out that fruit trees that get even a small percentage of their roots deep into the soil produce fruit more consistently, resist pests and diseases more effectively, and live longer than those that have only shallow root systems."
Nut trees. "Packed with protein, fiber and essential fats," according to BBC Good Food, nuts can be a great source of food rich in vitamins and minerals. In general, nuts tend to be heart healthy.
Root plants. Root plants thrive in the off-season and yield excellent crops while your fruit trees and other trees higher up take a hiatus. In "Edible Plants That You Can Grow in Autumn and Winter," Catherine Winter-Hebert of Inhabitat says, "There are many cold-hardy plants that can be sown in the autumn and harvested over the winter...indulge in fresh produce right through to January or February."
You needn't have a lot of land to start your own forest garden - you can begin with a space as small as 30 ft x 60 ft and up your acreage from there. Armageddon? Bah. Look on the bright side. At least you won't go hungry (or have ingested arsenic, GMOs or plastic chemicals).