Happy New Year - Happy Songkram!

Songkram is Thai New Year, which is on 13 April each year, but has the celebrations continuing on 14 and 15 April too, with the famous water festival as well as naturally a time to reflect on transformation and change.
It's made me think about my own new year's resolutions made back in January -- or intentions perhaps rather than resolutions, which just sounds a bit more positive and like things I actually want to achieve and do or become.
Mine included wanting to feel lighter and more energised and yes, to lose some weight. And with Songkram, inspiration (finally) struck.
I write about, develop and share recipes for Thai food. After years ago spending a lot of time n Thailand, including a time living there, I love the food and cook (and eat) it most of the time.
It's happy, healthy food.
I also cook and host my monthly supperclub, The Tiniest Thai in London, held in my flat -- so I'm always thinking about food and menus, and there's always something in development, something I'm cooking or something I'm cooking to blog about and share.
It's good food, healthy food, but I do eat a bit too much of it and it's starting to show.
Inspiration struck -- and... of course!
Why I haven't thought of this before I don't know.
A Thai diet is a perfect way of eating for those of us looking to drop a few pounds.
Yes, I'll cut down on some of the recipe development a little and be a bit more mindful about the amount of oil I use to stir-fry and, in fact, cut down on stir fries.
There's 5 very good reasons why eating Thai-style is going to help my new focus on healthy weight-loss - without weighing food, counting calories or cutting out food groups.
I'm starting today ... and I'll be reporting back in my weekly email and on my blog.
Want to join me? Comment and let me know.
Here's my 5 areas of focus
1. A lot of Thai food is so flavourful that you don't need to eat as much to feel satisfied and also, and importantly, it's not dependent on fats for the flavour.
With lime juice and fish sauce and chillies, the food is vibrant and tasty without the need for oil I'm going to be trying lots of hot and hour salads, and steamed fish with tons of flavour, served with rice.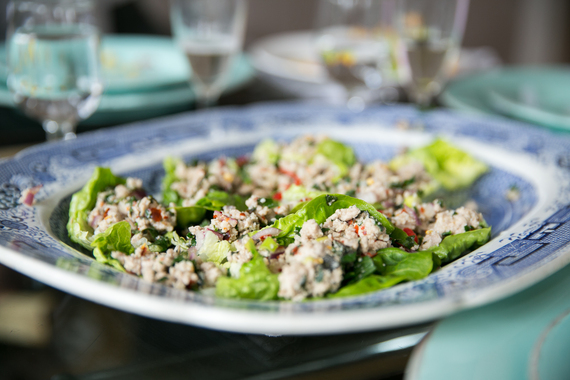 Rice is the staple of Thai cooking. Even the words for eating, for having a meal, 'gin kao' means literally 'eat rice'. Rice is more easily digestible than wheat carbohydrates such as bread and pasta, and suitable for those on a gluten-free diet. Cooked rice has a lot of water in it too, which fills you up. The only thing is to be a little bit careful with portion sizes -- it's easy (well, I find it so) to eat too much rice when you only need a handful (your handful, yes!).
3. Snacks! There is food everywhere in Thailand, in shops and restaurants, street cafes and stalls and food sellers walking past you all time time with sliced fruits and hard boiled eggs. This has made me realise just how easy it is in that environment to snack healthily -- when there's so much choice of beautiful fruits ready prepared particularly.
I'm going to be making sure I've got interesting fruit and salad vegetables prepared to snack on during the day -- oh and hard boiled eggs too -- perfect with a little salt and pepper or dipped in a little soy sauce (at around 85 calories per egg).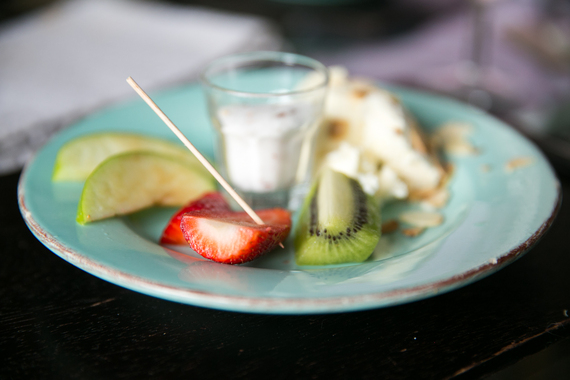 4. The way of eating is to share. So, no big plate heaped with food. A bowl of rice and several smaller dishes for everyone to try -- and it's considered rude (naturally) to take a huge portion. So you'll have a couple of spoonfuls of rice and then try a little of the other dishes.Communal eating means you also generally eat slower which gives you to time to feel full.
It's easy to eat like this even if you're cooking for just one or two -- put the rice in a bowl and make a couple of smaller dishes, perhaps a salad and a stir fry (going easy on the oil). Anything left can be eaten at the next meal (or even for breakfast -- I love that the Thai way of eating means you can eat anything for breakfast, not just 'breakfast' foods).
5. There's no dairy, really. I love cheese so much that I have to be really careful about buying it -- basically, if it's in the fridge, there I am slicing off tiny piece after tiny piece until... oh it's gone. I have no self control when it comes to cheese. I love a sprinkling of feta on things but if I'm honest, I don't eat just the sprinkling. If I'm at home, I'd be going back to break off a piece more. No temptation on the Thai diet -- because there won't be any cheese to be tempted with!
I'll be going back through my own archive of recipes (as I'm putting down the development of new ones for a while) and making sure I reduce the oil where possible to make some delicious Thai food for my weight loss diet.
Oh and with a little bit more mindfulness on portion sizes too.
A Thai friend once told me, "eat spicy, get small"!
I'm putting her theory to the test now.
Related