Summer is almost over and if you've been hiding your body under cover-ups at the pool for months, listen up: Now is the time to embrace your #mombod. Before you know it, school will be back in session. You'll be running the kids to and fro and once again dust-bustering the cat hair off your stretchy-pants before you get to school pick up.
The truth is, you are way too awesome and have far more important things on your agenda than stressing about what anyone thinks of your muffin top or lack of a thigh gap. Here's a tip: most people are far more worried about their own jiggles than yours.
So for the last few weeks of summer, start living it up. While you're chasing your kiddos at the pool, beach or down the street in the bikini top that you are definitely NOT getting too old for, here's a few things to ease your mind and help you embrace your beautiful, amazing #mombod.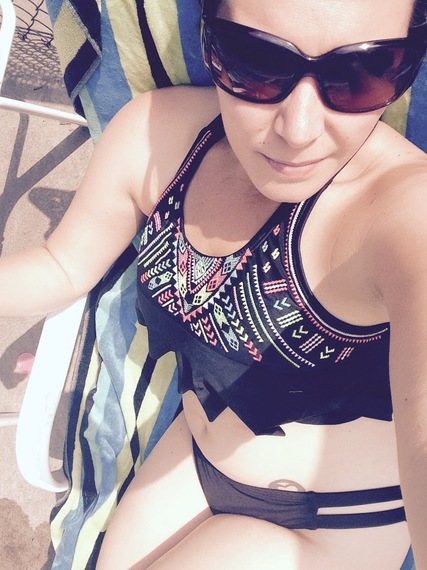 The #dadbod might be all the rage, but moms can embrace their curves, too.
1. Focus on feeling healthy and happy, rather than on your size. Eating well and exercising is the best way to feel good about your body. It is not... I repeat it is not about size. It is about feeling strong, confident and comfortable in your skin.
2. Don't let lack of confidence limit your activities. The worst thing you can do is sit on the sidelines because you aren't feeling your absolute best. Being active will only help you in your quest for overall wellness. It also models positive body-image for your kids. Don't let them see you hiding your body unnecessarily. After all, you want them to grow up and love every inch of themselves, too.
3. Don't obsess about traditional workouts if you're short on time -- just move. Move your body every day. Yoga. Walking. Swimming. Jogging. Spend your days running wild and free. That's what summer is all about. Don't worry about the length of your workout or how many reps you did (if that helps you). Take the pressure off and just move! P.S. Swimming with a kid on your back is pretty darn good cardio.
4. Remember all the amazing things your body can do and has done. If you're rocking flabby-abs or a little extra arm jiggle, don't let it get you down. Your body is capable of so much amazingness. Arm flab is a small price to pay for bringing humans in the world and leading a crazy, busy life. In the grand scheme, it don't mean a thing.
5. Practice self-acceptance. Remember that everyone has things about their shape that they don't particularly love. But learning to accept and love yourself the way you are makes it easier to create the change that you do want to see. Start from a place of love and the rest will follow.
Popular in the Community