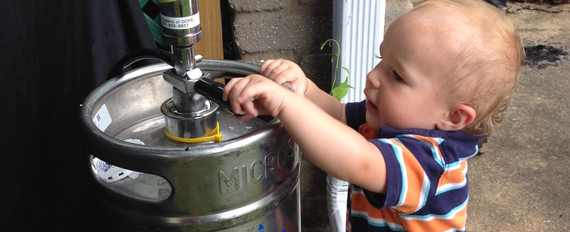 Birthday parties are something all kids look forward to. But as a parent, let's face it -- they basically suck. Spending the day at Chuck E. Cheese's or Jump Zone (which entices kids of all ages with its wall-to-wall trampolines and distinct smell of vomit and French fries) might leave you wondering where you went wrong in life. The older your kids get, the less say you have in who they hang out with and where they choose to celebrate their birthday. Sometimes, you find yourself enjoying the perils of awkward socialization with parents you might not jive with at 10:00 a.m. on a Saturday. I mean, what better way is there to celebrate the anniversary of the day you lost nearly all bladder control than fighting back nausea and eating questionable looking pizza while 4-year-olds fling themselves into one another, amiright? Of course not, but this is about the kids.
If your kids aren't old enough to have any opinion regarding their birthday parties just yet, consider yourself lucky. Here are five reasons to have a blow-out party for your child's first birthday:
1. Because you aren't pregnant.
A year ago, you were pacing around waiting for a watermelon to make its way out of you one way or another and wondering when your body would ever even remotely feel normal again. Well, aside from a few minor inconveniences and possibly some hair loss, it's been a year and things are working fairly well. Not great, but you've learned to accept the things you cannot change. You can also ingest alcohol again (or even sneak a cig on the side porch with your friends who still smoke. You'll definitely regret the migraine those three drags gave you before you came to your senses but, still, the option is there).
2. Because your 1-year-old doesn't have any friends yet, so you can invite all yours.
Invite your friends with kids. Invite your friends without kids, even the "uncle" who says inappropriate things. Invite the grandparents. Your neighbors. Really anyone who doesn't drive you batshit crazy. Sure, this party is for your baby, but your baby doesn't really give a crap who's there as long as he gets to demolish his first cupcake and someone changes his diaper in a reasonable amount of time. Remember, this is the last time you get to call all the shots so take full advantage. Next year, he may already have a 2-year-old bestie you can't pry him away from whose mother's voice reminds you of Janice from Friends.
3. Because you survived a full year of parenting and it was no easy feat.
You got used to not sleeping, to not relaxing and being in go-mode all the time. If you have older children, you also got used to the challenges of wrangling multiple kids at one time. Basically, it was a year of hard work and adjusting for everyone and you may or may not have gained 15 pounds and lost the will to even attempt to clean your house.
4. Because it's an excuse to socialize while not wearing yoga pants.
The past year may have been a blur and a lesson in mom-fashion. If you've been slacking on your personal style choices, now is the time to embrace getting a little glammed up. And by glammed up, I mean putting on a bra for once and maybe letting your hair down. And if you're feeling really saucy, maybe slap on a little mascara. It'll be all the more possible everyone won't be lying when they say "motherhood looks good on you!"
5. Because it's the last time you'll see most of these people.
Minus their dutiful postpartum visits, unless you worked exceptionally hard at keeping up your friendships during the busiest year of your life, you probably didn't see that many friends who don't live on your block and didn't offer to come over so you could take a nap or chug a beer. Minus the really good friends who go out of their way for you now that you're a parent, you may have lost touch with a lot of people. The bigger your kids get, and the more of their own friends and interests they acquire, the harder it becomes to keep up with your larger circle of pals. All is not lost. When your kids are getting ready for college, you can invite them to their huge high school graduation party. Assuming there's a keg and an ice luge. If there's booze, they will come.
Photo courtesy of Sarah Bregel