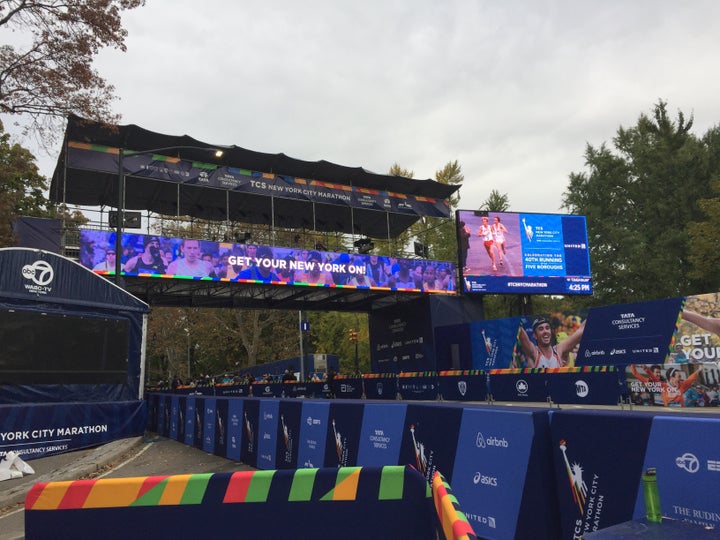 The New York City Marathon is the largest, most popular marathon in the world! There's no weekend in New York City more electric than marathon weekend. It's big, it's energetic, and completely soul lifting!
Can you tell I am a fan? Our entire family is. Our Uncle Arthur ran his first marathon in 1976. 1976 was the first year that the marathon was held outside of Central Park. 2,090 runners including Arthur Duffy made history that year! Arthur ran 5 NYC marathons and numerous others over his life time. He volunteered with the NY Road Runners Club during the years that he didn't run. He inspired my husband to run in 2004 and we love looking at their stats on the official marathon website.
We were given the opportunity to attend the marathon eve dinner event in Central Park this evening. Even though we were not running I took my nine year old son as a tribute to Arthur who recently passed away. I was glad my son got to see the excitement first hand. He was very proud that both his great uncle and his father took part in the magic and I hope it inspires him to pick up the baton and run one day.
There are endless reasons to love the NYC marathon but I'd like to think these might be some that Arthur would agree with.
Marathon parties. If you are lucky enough to have a friend who lives along the race route treat them well all year in preparation. Nothing beats getting up early and brunching with your friends from an apartment overlooking the race route. Bagels, mimosas and friends cannot be beat! Depending on your fitness level lifting the cream cheese tub may be the most movement you will get all day.
The "I can't leave the city today" excuse! Your family wants you to visit but its marathon Sunday! It is really the only day of the year you can claim to be held captive in the city and get away with it. All the roads are shut down and mass transportation is jam packed. Sorry I'll have to stay local and be bored...(ha!)
Approximately 50,000 runners from around the world descend on NYC for the weekend. So many people from so many backgrounds coming to NYC for one reason. What a sense of community it inspires! For one day everyone comes together for the same purpose and has got each other's backs. Fun Fact: In 2012 the marathon was canceled due to Hurricaine Sandy. Thousands of runners showed up to Central Park and ran 26 miles anyway. They collected donations for Sandy relief!
It's inspiring! Trust me the feeling is like no other. I cry every year. I try not to but at some point I cry when I see a runner struggling during the race or overcoming a physical limitation but participating and loving it. No matter what your life situation is I dare you to come and watch and not be moved by the experience.
My favorite reason to love the NYC marathon is that it is a big, brash celebration of life. Everyone gets a runners high! Even if you are not running just cheering on the runners is exhilarating! You can cheer, dance and sing along the side lines and no one is going to stop you. In fact everyone will join in. Everyone loves a party and this one is irresistible.
*In loving memory of Arthur Duffy (1928-2016). Love and light.*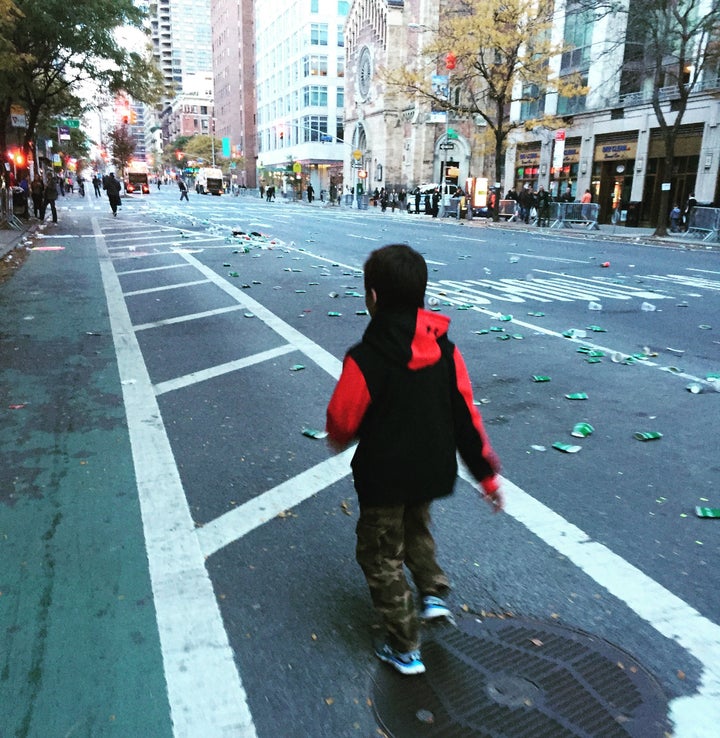 Michele F. Carroll writes the blog Kid Congeniality. Stop by for more fun adventures.
Calling all HuffPost superfans!
Sign up for membership to become a founding member and help shape HuffPost's next chapter