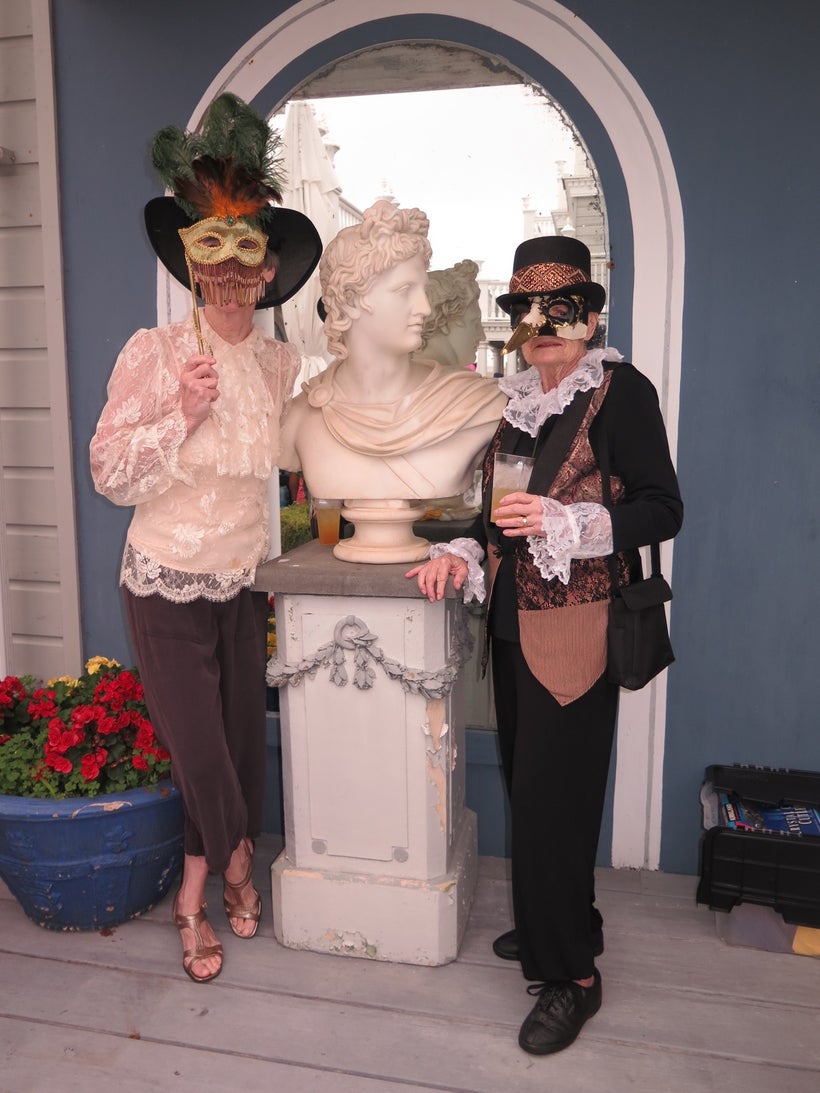 Friends whom I've know for over a decade sent me this photo (actually, two photos, but in one, the woman on the left is unmasked), and I immediately asked their permission to write about it. I know them. You're fortunate if you know people like them. Here's why:

1. Their relationship is a power of example. They met at UC/Berkeley in 1959, legally married in 2008. No doubt, as my late mother-in-law would have said, the rocks in one's head fill the holes in the other's. But each woman is independent, smart, and accomplished in her own right, and at the same time, persistently and eternally respectful of the other. Hard and rare, that's what it takes for a relationship to last 57 years. That, and a sense of humor.
2. They scions of the community. They give time, money, and very direct and honest advice to friends and acquaintances. Their We is the product of two very different humans, but both individuals are uncommonly kind, charitable, and genuine. They mix a sense of social dedication with devotion to each other.
3. They are free and unafraid. Oh, to dress up – to step out of yourself and, even better to step into another time. So rare for both partners to be equally playful and game. In the moment of this snapshot (as we used to call candid photos), they challenge convention and conform to it.
4. The photo is eye candy. Not because the subjects are beautiful. They are so much more. The outfits themselves are spectacular – I want the story behind them – and would be enough. But you can also feel the wearers' energy, their simultaneous sense of seriousness and whimsy.
5. They are this cultural moment. They are the giddiness of legalized pot, the fluidity of gender-bending. They are joy in the face of horrific and inhuman acts. They are women on the eve of an historical Presidential election who fought to get here. They are anything goes. Anything, except Trump.
REAL LIFE. REAL NEWS. REAL VOICES.
Help us tell more of the stories that matter from voices that too often remain unheard.
This post was published on the now-closed HuffPost Contributor platform. Contributors control their own work and posted freely to our site. If you need to flag this entry as abusive,
send us an email
.