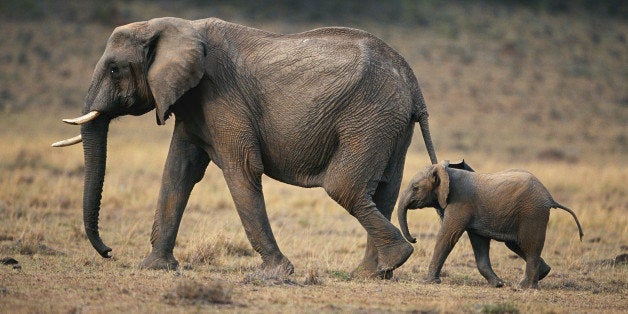 Visiting Africa is a trip of a lifetime.
Granted, it's not something you can plan at the last minute, and you need to carve out at least 10 days; but other than the airfare, if you go and volunteer, it's more affordable than you think.
Last summer, my 15-year-old daughter and I embarked on an extraordinary trip together to work with children in a remote village in Tanzania. Getting to spend such quality time with my daughter and experience the beautiful nature of the Tanzanians was a dream come true. Counter to the negative associations we consumers of Western media harbor about Africa of late (Ebola, Boko Harem, malaria, etc.), there's another side of Africa that truly makes it a fantasy destination for countless others -- especially us parents who are looking to enlighten our children through real life experiences with other children from halfway around the world.
Two summers before last, we traveled to Tanzania as a family, through an extremely worthwhile organization -- aptly named: Unite the World with Africa and its Unite Tours Service and Safari Programs. We went on safari -- and although seeing elephants and lions up close was utterly amazing, the highlight of our trip was visiting some schools and orphanages. While visiting a magnificent place called the Rift Valley Children's Village, we were told that for students aged fifteen and older, there were mother/daughter volunteer teams that came to work with the children during summer and winter school breaks. For two years, I held that idea in the back of my mind for my girl and me.
We flew to Kilimanjaro airport, and after bidding well wishes to the throngs of backpackers we met on the flight and at the airport, we spent a night at a local inn in anticipation of the next morning's three hour drive to the Rift Valley. We enjoyed and evening of TV, room service, and hot showers, as we knew that we would have none of that during our three week stay at the Children's Village.
Our lovely driver, Elias, who had driven us two years before, was on hand to take us up to the red-earthed mountainous region called Rift Valley, which is known for its coffee plantations. We were greeted by much fanfare and excitement from the fourteen girls (ages 8-15) with whom we were to live for the next three weeks. They were most interested in our hair and asked to later brush and style that of my daughter. We were given our own bedroom and bathroom in our house and "our girls" introduced us to the other girls' house next door and later, the staff gave us a tour of the grounds and we met many of the boys from the three boys' houses.
Our days began early -- arising in the dark, before 6:00 a.m. to help the "mama" of the house prepare the girls' breakfast and get them ready for and walk them down the road to their school. As all the children learn English, part of our job was to help teach English -- through reading, talking, playing games -- to the younger preschool age children. When our girls came home from school, we helped prepare their snacks and played with them, taught them some yoga, and watched movies on their VHS with them.
The other volunteers there were of mixed ages and were all quite special. On our Sunday off every week, we all did something together -- whether it was going to a local hotel and getting $25 massages or going on a day safari -- it was all wonderfully memorable.
The faces of our girls and the openness of their hearts will stay with me forever. And the thrill I got watching my daughter teach the young children was unparalleled. We are planning to return the summer after this one.
Especially for those of us urbanites, life in Africa is the polar opposite -- and is something that, if at all possible, must be experienced in this lifetime.
Here are my five reasons to visit Africa with your teenager:
1. Get to spend true quality time with your child before they leave the nest. There's nothing like traveling together to create a deeper bond. My daughter and I shared countless belly laughs and a few decent bickering sessions during our trip. We had to resolve whatever issues arose as it was just the two of us a long way from home.
2. Create lifelong memories. A recent study showed that traveling and creating memories was more fulfilling for the body and soul than spending money on material goods. So forget about renovating that bathroom, and instead, renew that passport and put it to good use!
3. Get out of your comfort zone. Living for a few weeks without our creature comforts like hot running water, blow dryers, cappuccinos, and HBO lends a new perspective and appreciation for what we do have and shakes things up a bit for the better.
4. Get to know and love the people. The warmth and good nature of all the people we met in Africa was indescribable. There is a radiance that emanates from the youngest child to the most revered elder. (Nice for our teens to realize that in certain places in the world, getting older means you are MORE respected and relevant -- not less.) They exude a kind of peace and contentment that is rare in our competitive society. It's what we are all trying to achieve when we meditate and live a more simple, conscious lifestyle -- but in Africa it is what comes naturally.
5. Get disconnected! What an enormous relief to not deal with texts and email. We can all disconnect when required, but in Africa it's much easier because while we did get some Internet service, it was spotty and not totally reliable. We cut way back and never used our cell phones and only went online for about 30 minutes a day. That gave us lots more time to BE in Africa and really experience the other side of the world and all it has to offer.
No more excuses, parents!
You won't find a trip that's more affordable or an experience that is more indelible.