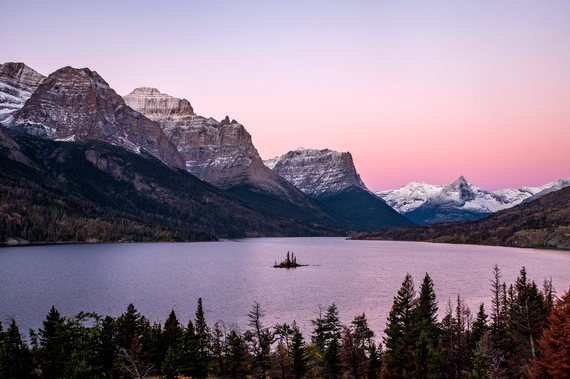 A view from the Wild Goose Island Overlook puts visitors into an instant dream state. Photo credit: Jonathan Irish
Glacier National Park in Montana is steadfastly considered to be one of the most beautiful places on Earth. John Muir once said that it holds "...the best care-killing scenery on the continent." The late Robin Williams called it God's backyard. In 1890, naturalist and historian George Bird Grinnell described it as the "Crown of the Continent"--a two-tiered idea acknowledging the triple headwaters of the continent that flow out to three seas, and mountainous formations that decorate the rooftop of Big Sky Montana.
For millennia, the movement of glaciers in this area of the Rockies has carved out valleys and lakes while pushing peaks, cirques, ridges, and fins into the sky. Atop those peaks are snow and glaciers (which are sadly disappearing); and surrounding them are sub-alpine conifer forests and vast meadow slopes that create a wonderful home and habitat for wildlife. The grizzly bear--whose population of 300-strong beckons people from all over the world for a sighting--is the most recognizable species of them all. As you dig in, you will start to see creatures that are essential to the strength of the ecosystem including scores of birdlife, elk, moose, and mountain goat--the last of which has become a symbol for the park.
All of that is the who, what, where--what follows is the why and how...
From January to March, Glacier is a premier destination for cross-country skiing, snowshoeing, and for other winter sports. In the fall, autumn leaves burst with color complementing the epic mountain scenery. During summer, people come to see wildlife, go camping, fish and boat on perfect glacial lakes, and hit the ground to explore a trail network surpassing 700 that are consistently maintained. Long-distance treks, day hikes, wilderness walks, and backpacking adventures transcend visitors to that carefree state of being that Muir spoke of so long ago. Along these trails, visitors find out why Glacier is regarded to be among Earth's most lovely places with every sublime step. This environment is truly a wilderness hiker's paradise. In that spirit, we are sharing 5 epic hikes in America's 10th national park.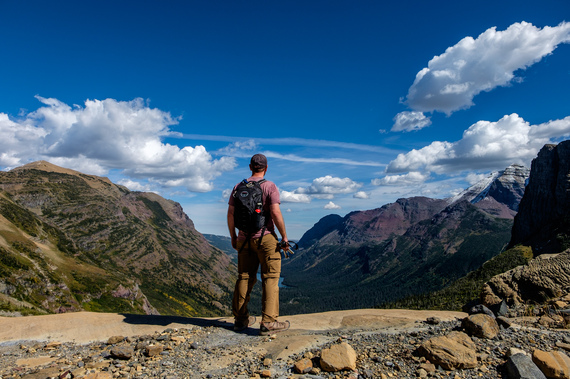 Glacier National Park in Montana is one of the best places to hike in the world. Photo credit: Jonathan Irish
Beginning at the Trail of the Cedars off of Going-to-the-Sun Road is this awesome, 4.5 mile half-day hike that is totally unique in the park. The first section crosses an elevated boardwalk through ancient red cedar and western hemlock trees, and onward through dense vegetation of ferns and mosses. Where the forest-walk ends, the moderate hike begins as you ascend aside a roaring Avalanche Creek as it rushes downward through a narrow gorge. Its power is a result of glacier runoff cascading down from high mountain peaks that eventually give way to clear, blue, still reflective waters. On the shores of Avalanche Lake, the peaceful setting continues as it changes, with spectacular views of Bearhat Mountain prominently dominating the skyline above the lake.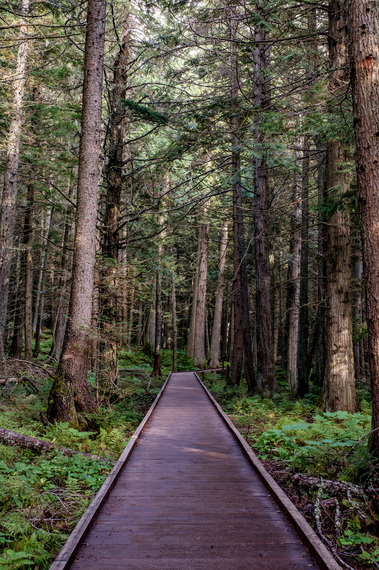 The Avalanche Lake hike kicks off with an incredible stroll through the Trail of the Cedars. Photo credit: Jonathan Irish
The Hidden Lake Trail is a foray across diverse terrain starting in a forested area at the Logan Pass Visitor Center before winding across alpine meadows that are home to many wildlife species including mountain goats, sheep, wolverine, and grizzly; during the spring and summer, this area is blanketed with colorful displays of wildflowers. You will take in your first glimpse of the twinkling alpine blue lake at the Hidden Lake Overlook, where the iconic Bearhat Mountain towers over the scene. The shores of the lake are located 1.5-miles down from the overlook across relatively easy terrain on a well marked trail. Because of its easy starting location at the visitor center, its relatively short distance (1.3-miles one way,) as well as the fact that much of the early part of the hike crosses a wooden boardwalk, this first section is a great easy adventure for large groups and families. Starting at 6,375 feet, it is also a great acclimatization hike to prepare your body and breath for the thin-air environment before setting off on other hikes in the park that face an even higher elevation gain, which most big hikes in the park do.
The Grinnell Glacier Trail starts at a gentle incline before ascending 1,600 feet across terrain that is a mixture of crystal lakes, glacier views, and gorgeous peaks accentuated by the drama of Mount Gould, standing at 9,554 feet. At the top of the hike is a small alpine pool where you can see icebergs--a rarity in the park and a great place to stop to refuel with some food before starting the equally intense descent down the range. This 10.3-mile out-and-back trail is far and away one of the most popular hikes in the park because it showcases everything that makes Glacier so epic, all rolled into one full-day hike.
Highline to the Loop Trail
If there is one hike not to be missed in Glacier, it is the Highline Trail. There are several ways to tackle it--our recommendation is to park your car at the Loop parking area then hop on the free park shuttle to the Visitor Center (VC) at Logan Pass and head out from there. With dramatic views that are revealed instantly as you walk onto the trail, the beginning of it is typically quite congested. However, after passing the first couple of miles, the crowds begin to dissipate and you will find yourself quickly immersed in a sea of vast wilderness. At the Granite Park Chalet you will connect to the Loop Trail to begin your descent of 2,200-feet across four miles which eventually brings you back to your car in the parking lot. Note that this 11.8 mile beast is not a "loop" trail, that name was designated as a reference to a bend in the trail.
St. Mary Falls and Virginia Falls
If you are looking for a hike with abundant waterfalls within a lovely protected forest, this network of trails is your jam. From the St. Mary Trailhead, the hike meanders a series of foot bridges across St. Mary River before climbing up to two-tiered Virginia Falls. As you continue to make way through the conifer forest, you will find that this trails is not one to just two falls, but a waterfall spectacular. Easy access from Going-to-the-Sun Road and makes this hike a an all-time-favorite in the park for visitors of all ages.