I think we've all gotten the message that winter has been extended. If you're ready to pack your bags and head south, Panama City is the ticket. Exotica plus ease. Sunshine and smiles.
What are you waiting for?
1. The Panama International Film Festival Runs Through April 9.
In three years, IFF Panama has established itself as a noteworthy festival, marked by world premieres, hard to come by Latin and South American films, global flicks, documentaries and industry panels. Festival director Pitukea Ortega Heilbron -- a filmmaker herself -- and artisitic director, Diana Sanchez, who also programs the Toronto Film Fest's Latin American lineup, always seem to get the goods and attract talent like this year's guests Mexican maestro Arturo Ripstein and French cineaste Claire Denis. Tons of screening around town including free outdoor projections in a gorgeous plaza in El Casco Antiguo, the old and quaint part of town.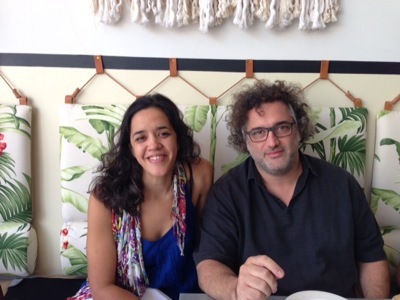 Argentine producer, Gema Juarez, will present "Midsummer Night Tango" about tango in Finland and Panamanian director, Abner Benaim will present "Invasion" about the 1989 U.S. invasion of Panama.
2. El Casco Antiguo Finally Has a Fabulous Hotel
The opening of The American Trade Hotel, a collaboration between Ace Hotels and a Casco development group, means it is now possible to actually reside in stylish luxury in the 340-year old Old Quarter of the city, a UNESCO World Heritage site. Created in a landmark building that once housed elegant apartments, a bank and department store, the hotel boasts panoramic views, leather and dark hardwood details and a sumptuous lobby with a soaring ceiling. There's even a pool with inviting lounges and a small but functional gym.
3. Non-Stop Service Via COPA From Several U.S. Cities Including LA
COPA, the Panamanian airline, offers you service you rarely find on a U.S. carrier. On my last flight, the head attendant actually went down the aisle thanking people for choosing the airline. No eye rolling here when you have a request, just smiles all around. And the fares, especially if you book in advance, are attractive and generally beat the American carriers. You can often find genuinely affordable business class fares from the west coast and other destinations.
4. The Frank Gehry-designed Biomuseo
The famed American architect, who is married to a Panamanian, outdid himself with his first project in Latin America, a museum that showcases the isthmus's natural treasures and remarkable flora and fauna. The design was a gift from Gehry to the city and the exterior of the 43,000-square foot space is even more jaw-dropping than the Bilbao Guggenheim: its roof consists of brightly colored aluminum panels meant to represent flags blowing in the wind. Though its opening has been pushed forward, one can book a semi-private tour of the site and, with a very small group, visit this architectural gem before it is open to the public.
5. Beaches Just an Hour from Downtown.
Since the isthmus at its narrowest point is only 60 miles wide, driving an hour north or west of the city will present you with an array of Pacific or Caribbean beaches: surfing beaches, swimming beaches, beaches with cliffs cascading down to the sea. Spend a day in the sea and arrive home in time to watch the sun cast its glow on El Casco from the wrap-around windows of your fabulously chic hotel room.
And there's that canal...