On a recent trip to St. Vincent & the Grenadines, I found an idyllic island lifestyle amid unspoiled stretches of sand. Looking to go yourself? Read on.
St. Vincent's Botanical Gardens are thought to be among the oldest in the western world; only London's Kew Gardens and Bartram's Garden in Philadelphia have been around longer. A guide can show you around for a nominal fee; ours pointed out sap from a rubber tree, chopped open a fallen nutmeg fruit, and posed with us for a selfie beneath a towering baobab. An aviary plays host to the St. Vincent parrot, the national bird whose colors appear on the country's flag. And a modest breadfruit tree offers a fascinating link to the past -- it's descended from a plant brought over by Captain William Bligh, best known for falling victim to mutiny on the infamous HMS Bounty. The visit takes about an hour.
Jack Sparrow would be right at home

Wallilabou Bay, a pretty spot on St. Vincent's leeward coast, may not sound familiar, but you've probably seen it. In 2003, it was transformed into the harbor town of Port Royal for "Pirates of the Caribbean: The Curse of the Black Pearl." Pieces of the impressive set constructed for the movie remain intact, and a row of cannons along the shore completes the picture. The site has returned to its primary use as a hotel, but many visitors prefer to simply stop for lunch and a couple of photo ops.
You can vacation with the rich and the famous

Although much of St. Vincent is affordable, the private island of Mustique is not for the light-pocketed. Celebrity visitors have included the Queen of England, who has been to the island three times. If you have $85,000 of spare change, you could spend Christmas in a villa called "Palm Beach," described as "ideal for large families with children and nannies." The six-acre estate features eight master bedrooms, a library, tennis courts and a waterfront pool with matching gazebos; also at your disposal are a chef, a butler, four housekeepers, three gardeners, a jeep, a land rover and a mule. And if one visit simply isn't enough, David Bowie's old vacation home could be yours for a mere $20 million.
"It could easily pass for a Bond villain lair," writes The Daily Mail about Moonhole, a one-of-a-kind resort founded in the 1960s by a couple from the New York advertising scene seeking to escape the Mad Men lifestyle. Built under a natural arch of volcanic rock using stone, whalebone, driftwood and shells, it's a whimsical structure that somehow fits in perfectly with the natural surroundings. Villas overlooking the water start at $1500 per week, including the services of a cook and housekeeper. They're located on Bequia, "the most perfect island in the whole of the Grenadines" according to Lonely Planet, a claim we certainly wouldn't dispute.
An international airport is coming soon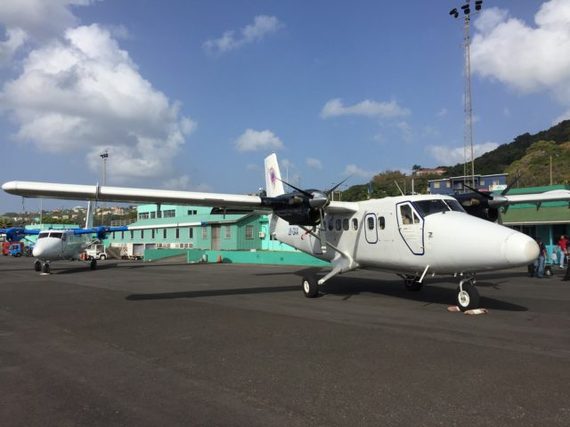 Flying to Kingstown is a quaint affair, requiring a stopover in either Barbados or Trinidad, and landing in a puddle jumper at a terminal scarcely bigger than a Starbucks. For some visitors, unattainable exoticism is part of the appeal, ensuring that pristine beaches are rarely overrun with tourists. But for others, including locals who want better transport options, it's a chokehold on the economy. Guaranteed to be a game-changer is the completion of Argyle International Airport, which according to reports will be capable of handling 1.5 million passengers per year. It could arrive by the end of 2016, transforming the tourism industry on these beautiful islands.
Travelzoo Tip: At 70% off regular rates, a five-night all-inclusive getaway at Buccament Bay Resort is available for travel with arrival options into December.

Greg Kunstler is a deal expert at Travelzoo and based in Toronto. Travelzoo has 250 deal experts from around the world who rigorously research, evaluate and test thousands of deals to find those with true value.