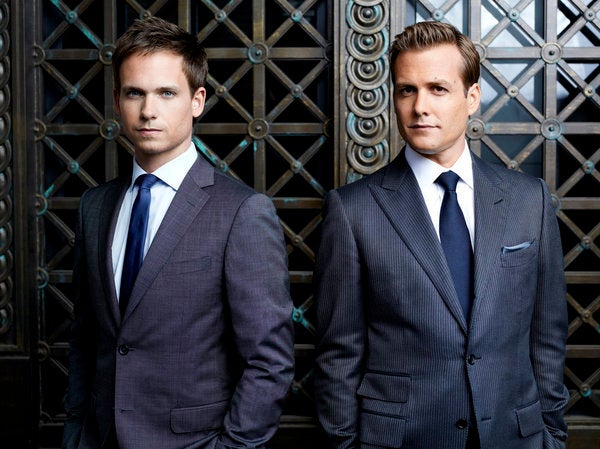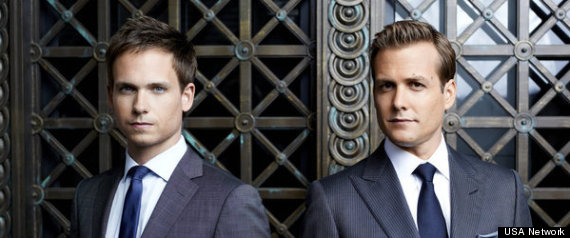 I don't get hooked on too many summer shows -- it's just a fact -- but "Suits" is decidedly different.
With its second season (premieres Thurs., June 14, 10 p.m. ET on USA), the sophomore legal drama is picking up right where we left off -- with Pearson Hardman boss lady Jessica Pearson (Gina Torres) finding out the truth about not-quite-legal lawyer Mike Ross (Patrick J. Adams) and the partner who's been covering for him, Harvey Specter (Gabriel Macht).
The two male lead characters balance their slick personas with personality and heart, much in the same way the show manages to find a balance between the high-stakes cases and the entertaining ways the team tries to win them.
There are several nice twists in the Season 2 premiere that reminded me why I fell so in love with this show last year. Have you not given it a shot yet? Here are five reasons why you should:
1. Characters you root for
It doesn't matter that Mike doesn't have a law degree -- or even a college degree for that matter. In fact, that's what makes him such a relatable protagonist. Mike just so happens to be a total legal genius with skills that are invaluable to Harvey, who had to work a bit harder for his hotshot lawyer status. Together, they are two sides to the same coin, and it's a lot of fun watching them work together.
2. A believable bromance
It's so fun, in fact, that their collaborative work relationship often teeters on the verge of bromance territory. But before you conjure up the cheesy, forced relationships of most TV bromances, know that this one feels realistic because it's based on a mutual respect and a shared secret that could ruin both their careers. They delight in having each other around to bounce ideas or verbally spar, and they legitimately need each other.
3. Smart legal cases
If you've seen one legal drama, you've seen them all, right? I thought so too, but "Suits" actually manages to get me invested in their cases of the week, even if they aren't necessarily always the episodes' biggest storylines. The joy of seeing their cases resolved (usually with a win for Pearson Hardman, obviously) is in the execution: They ditched the played-out courtroom/sassy judge combo, and instead settle most cases out of court. It's more about the research and massaging the system than closing arguments in front of juries. And they get great guest stars, too -- Margo Martindale, Rachael Harris, Eric Close and Macht's real-life wife Jacinda Barrett are all on tap for Season 2.
4. And smart women, too
Not only is the boss a woman, she can out-lawyer any of her employees, and they all respect her for it. Looks like the woefully underappreciated (until now) Gina Torres is getting even more to do this season as well, with her corporate other half Daniel Hardman (David Costabile) eyeing a return to the firm. And paralegal Rachel Zane (Meghan Markle) continues to go toe-to-toe with Mike, keeping him in his place.
5. It's summer -- what the hell else are you watching?
This summer is actually chock-full of goodness, but it's still summer. If you need a series that's smart, fun, has a catchy theme song over the opening credits (thanks, Ima Robot!) and doesn't rely on USA's ever-popular "blue sky" formula of pretty, beachy locations serving as another character, I highly recommend "Suits." It gives you fewer pangs of jealousy about wanting to be somewhere tropical too, and reminds us all that we're not the only ones with real jobs in corporate offices.
Tell us: Are you excited for "Suits" to return?
"Suits" Season 2 premieres Thurs., June 14, 10 p.m. ET on USA.
Calling all HuffPost superfans!
Sign up for membership to become a founding member and help shape HuffPost's next chapter