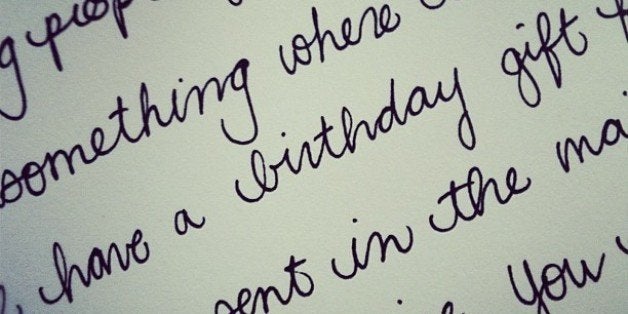 Close to a decade ago, I sat down and wrote letters to people who influenced my life as a teenager.
Jug and Jerry Woodruff, who gave me my first job at the Dairy Queen in Urbana, Ohio, and taught me the value of hard work. The words, "If you've got time to lean, you've got time to clean!" will forever be ingrained in my head.
Bev Barnes, who opened her home to me as a teenager and let me live there for over a year.
The Spellman family, who secretly purchased a flight for me from Ohio to Florida when my cheerleading team won a spot at the National Championship competition, but I couldn't afford to go. Despite their attempts to be anonymous, boarding the plane, I saw their name -- "Spellman" -- inscribed on the ticket under "purchaser." They, too, opened their home to me for the better part of my sophomore year. I'm forever grateful.
There were many more... lots of people stepped in and helped me become the woman I am today. Through handwritten letters, I've expressed my gratitude and acknowledged the impact they had on my life. I wanted these special people to know how I felt, because they were the difference between me being a truant or an achiever. These three letters in particular were incredibly meaningful to me, because I always wondered if they knew how much I appreciated what they had done for me. There's nothing worse than having something to say, but keeping it inside.
Looking back, some of the people I wrote letters to have since passed away. I'm so grateful I had the opportunity to share my gratitude and to be specific in how they changed my life.
How long has it been since you last wrote a handwritten letter to someone you love?

Mother's Day just passed and Father's Day is quickly approaching. Perhaps you have an upcoming anniversary or a friend with a birthday on the horizon. The best gift you can give is the release of words, on paper, through a handwritten letter.
"Who writes letters anymore?"

That's the point. Very few people take the time to put pen to paper and express their feelings. It's time-consuming, requires vulnerability and in truth, well, seems a little old-fashioned. Yet, who doesn't long to receive a handwritten letter in the mail? I bet, to this day, you still walk to the mailbox with anticipation, thinking that just maybe, there's a letter for you. There's no feeling like it when someone taking the time to share their feelings in a letter meant just for you. I imagine there's someone on your mind right now.
To further encourage you; here are five reasons to write a handwritten letter now, not later. It will become a lifelong treasure to the person lucky enough to receive it:
1. A Lifetime Keepsake: Personal handwritten notes grow rarer by the day. According to the U.S. Postal Service's annual survey, the average home only received a personal letter once every seven weeks in 2010, down from once every two weeks in 1987. In a world where people seem to have everything, words on paper, sealed with a stamp, can be far more valuable than any material item purchased.
2. Your Heart on Paper: In a wired world -- where emails, tweets and text messages are more accessible than handwritten notes -- there is something magical about reading words written in longhand.
3. The Ultimate Surprise: Let's be honest: How do you feel when someone handwrites you a note? Imagine the person you write walking to their mailbox, opening it and finding a letter inscribed to them from you. It will be the best part of their day!
4. A Feeling of Importance: What people want more than anything is to feel validated and to know they matter. Your handwritten letter will send a clear message: You are important and you do matter to me.
5. It's Fun! Purchase beautiful stationary that reflects your personality, buy interesting stamps and try out a sealing wax stamp to secure the envelope. I have a butterfly and a heart and it's like putting a cherry on top!
6. No Regrets: How many times have you missed the opportunity to say what needed to be said, only to find it was too late? Make a point of letting people you care about, who have influenced and shaped your life know how you feel. Don't forget your children. I try to write Noah and Paris letters at least twice a year and while they may not understand their power now, I'm keeping them in a box so they have them to re-read when they grow up. I'm certain they will be treasures.
I'll never forget when my mother-in-law Pat died. Dave and I scoured her art room -- every drawer, closet and book -- to find a letter she had written but perhaps failed to send. We were so hungry to have a piece of her, to read her words, hear her thoughts. Just when we were about to give up, we found a letter she had written to her husband, but neglected to send. The feeling was indescribable and putting that letter in my father-in-law's hands was something I'll never forget.
This is one of the reasons I write letters to my children. I will never forget the desperation we felt at losing Pat and how silly something like seeing her handwriting would mean to us after her passing. My hope is that as they progress to teenagers, adults and ultimately life without me, they will be lifelong treasures. That is the power of the handwritten letter; it's priceless.
Check out my clip from the Today Show, where I discuss a box of letters spanning 20 years written to my husband Dave http://on.today.com/1DdeuMO and get inspired to write your own!
Traci Bild is the author of the forthcoming book, Get Your Girl Back: Revisit What's Possible for Your Life. Pre-order on Amazon http://amzn.to/1zkP2dh .

Related
Popular in the Community