The NBA is back, which means you need to dust off that old Halloween costume and tell the story of why you didn't have time to buy a new one. It also means we get to talk about Kobe's return and why Kevin Durant faces more pressure than ever before. Here are the five best reasons why we love the NBA this season.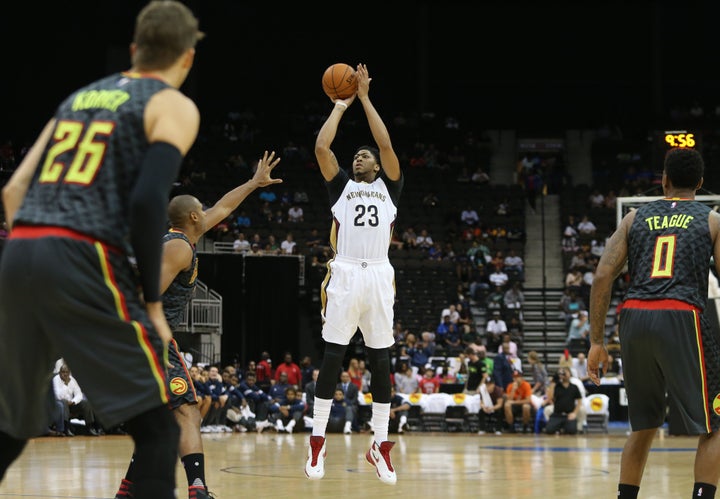 Gone are the days when every kid in America wanted to become a traditional big man. But then again, what does that even mean anymore? The NBA hasn't had such an influx of frontcourt talent in who knows how long, but the best part about it is the versatility we are bearing witness to.
Prodding centers who merely clog the paint and rebound -- think Kendrick Perkins -- aren't useful anymore. Not in today's up-tempo style of basketball. What the league rewards are athletic, rangy bigs who are dynamic on both sides of the floor, 7-footers who can switch onto point guards and then beat them down the floor during a fast break.
Anthony Davis, the top overall pick in the 2012 draft, is the definition of this. Before he left Kentucky and before he guided the Wildcats to the national championship, I wrote that there was little doubt as to the player he would become. But did we expect him to be this good, this fast? At just 22 years old, though, Davis remains light-years ahead of schedule. He averaged 24 points, 10 rebounds and three blocks last year. Is there anyone you would rather start a franchise with?
There may not be a more complete player in the game today -- that's how dominant Davis has become. He can shoot it, he can pick-and-pop, he finishes everything in the paint, he blocks shots, he covers up perimeter mistakes and, as The Huffington Post learned during last year's All-Star break, he is equally humble.
Don't forget about fellow Kentucky product DeMarcus Cousins, either. He plays in a small market for a bad Sacramento team, but Cousins quietly amassed a sensational fourth pro season in which he averaged 24 points and 13 rebounds. If he can keep his relationship with head coach George Karl kosher, Cousins is in line for another massive year.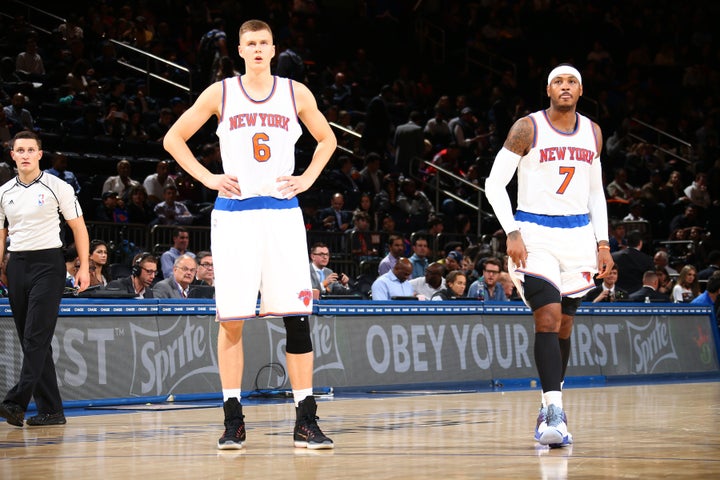 Since we're on the topic of athletic bigs, Kristaps Porzingis, the New York Knicks fourth overall pick from Latvia, enters the league with Herculean expectations. When he was booed on draft night, Porzingis talked about his confusion as to why. "I mean, a lot of fans weren't happy that they drafted me, but I have to do everything that's in my hands to turn those booing fans into clapping fans," Porzingis said.
The 20-year-old won't be an enigma to Knicks fans for long, though. Despite his lack of strength, he plays extremely hard and with a mean streak. Carmelo Anthony will welcome that in a young player, especially one who can alleviate some of the scoring load. The Knicks, we know, are a mess -- and that's hardly limited to Derek Fisher's personal life either.
The roster is devoid of elite talent and Anthony, at 31 years old, has managed to win three playoff series in 12 seasons. Porzingis will do three things right away: He will run the floor with reckless abandon, he will make shots and, maybe most importantly in New York, he will be fearless. Despite his NBA inexperience, Porzingis has been playing pro ball -- against grown men in Europe -- since he was 17. The glitz and glamour of the Garden will hardly be an issue.
Durant's Last Hoorah In OKC?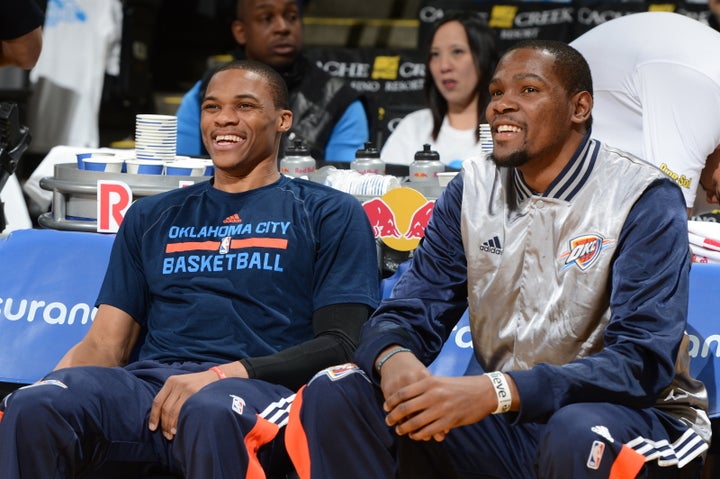 Whether or not you buy into the whole Kevin Durant-to-the-Wizards notion -- he will be an unrestricted free agent next summer -- it is hard to deny the pressure facing the 27-year-old megastar in Oklahoma City. Durant, for all his greatness, remains ringless, no doubt the game's premier player yet to capture a title.
A free agent after this season, KD faces immense pressure to win and win now. He has the luxury of another top-10 player in Russell Westbrook; a talented and deep roster built to win now; and a new head coach, Billy Donovan, who won't mess around. Durant played a measly 27 games last year after being sidelined with a foot fracture. He finally appears to be fully healthy, however, and has run out of excuses for another deep postseason push. If he fails to accomplish it, or if he faces the seemingly endless drama surrounding him and Westbrook, Durant would presumably be all but out the door.
Speaking of injured former MVPs, Kobe Bryant has played just 41 games during the past two seasons. At 37 years old, Bryant's legacy contract has hampered the Lakers' ability to put together a competitive roster in the always-competitive Western Conference. As I've noted previously, counting Kobe out has never been an especially wise move, but then again, we're talking about a guy who legitimately has been in the NBA over half his life.
What is a reasonable amount of minutes head coach Byron Scott can give him, though, and just how much can we expect from No. 24? This will be the hardest part for Scott, given Kobe's insatiable drive to compete. Is Scott a glorified babysitter or will he have a stern enough hand to sit Bryant when need be?
The East Is Still LeBron's To Lose. So What?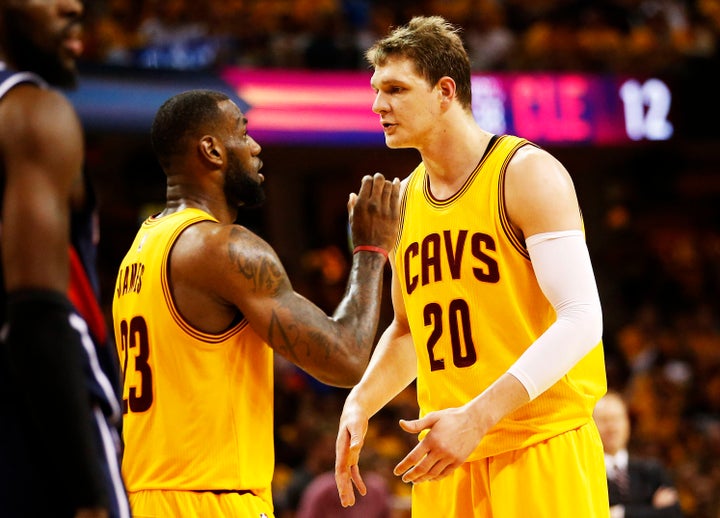 LeBron James may be 30 years old, but he hasn't lost a step. You don't need me to tell you that. You also don't need me to tell you that the Eastern Conference goes through Cleveland. Sure, maybe Derrick Rose will surprise and lead Chicago to 55 wins. Perhaps Washington gets another bump from John Wall and Bradley Beal, or maybe Atlanta continues its ascension. Even still, James is flanked by Kevin Love and Kyrie Irving -- once he returns from injury -- and his coach, David Blatt, will only be stronger from the firestorm he survived after last year's woeful start.
The question is whether or not that will be enough to get through whoever emerges from the West, be it Golden State, San Antonio, OKC, etc. James will need help from the ancillary parts to get it done, much like he received during Miami's back-to-back title stretch.
Seven-footer Timofey Mozgov (acquired from Denver during the middle of last season), was a revelation in the playoffs and appears to be in tiptop shape entering 2015. He's worth mentioning because of LeBron's capacity to play the two-man game with a big who can shoot the ball as well as catch it in traffic. That was Chris Bosh's role, and Mozgov, while not the elite mid-range shooter that Bosh is, has become a viable pick-and-roll candidate for James. The 29-year-old center could be the difference between Cleveland's first world championship in over 51 years.
CORRECTION: An earlier version of this story incorrectly stated that DeMarcus Cousins had not been named to an All-Star team. The story also incorrectly stated the year Anthony Davis was drafted and Carmelo Anthony's age; Davis was drafted in 2012 and Anthony is 31.
Popular in the Community